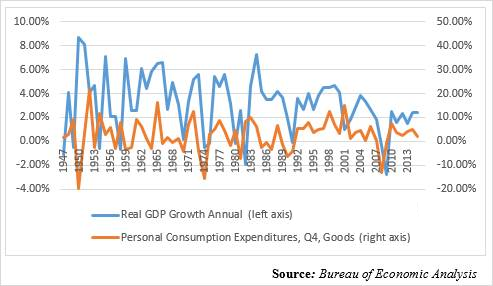 By Natalia Castro
After an emotional election season comes the far more pleasant holiday shopping season, but for most retail chains this could be more problematic than lucrative. As the retail market braces for its holiday push, stores are finding it difficult to hire seasonal workers thanks to lower labor force participation. This bleak prospect for the retail market sends a signal of worry for the status of the entire American economy.
The retail market predicts the entire market, or at least this has been the trend for the last 60 years.
In the years 1953, 1957, 1973, 1979, 1981, 1990, and 2008 negative growth in the final quarter of the personal consumption expenditures of goods foretold a drop in the annual GDP for the following year. Not every time, there are exceptions, but still, these were some of the more serious recessions in modern American economic history. Point is, a drop in goods purchases in the fourth quarter could be an extremely bearish indicator for the following year.
This year Forbes contributor Steven Barr of Nov. 2016 notes that retailers have changed "Black Friday" into "Black November", extending sales through the month in order to continue to keep consumers active. With nearly 30 percent of consumers already claiming to have completed their holiday shopping, the strain has been places on retailers to draw in as many customers as possible for as long as possible.
Unfortunately for the retail markets, Kevin Wong of Motherboard News explains this trend is exactly what could result in a losing year for retailers. Retail strategist Sucharita Mulpuru explained in an interview that, "Some companies will start promotions even as early as September or October. For certain categories like apparel or jewelry that are highly seasonal, they're very dependent on Q4. And if they don't have a lot of other tricks up their sleeves, starting sales earlier is an easy way to try and get their numbers." However, for small retailers this constant state of "sale" can be unsustainable and non-profitable.
As stores race to keep their doors open longer, a lack of labor participation presents a secondary problem for stores. As reported by CNBC.com's Krystina Gustafson on Sept. 20 in "Retailers can't find enough workers to fill holiday job openings," retail managers across the country are struggling to fill seasonal positions to work through the holiday season and end their employment just after the new year.
This year the earlier push by consumers has forced retailers to begin season employment hiring as early as August. Large retail corporations have been under extreme stress to fill positions as demand for products increases. The Wall Street Journal of Oct. 2016 explains, "J.C. Penney Co. began posting holiday positions earlier this year because it plans to add 20 percent more seasonal staff to its stores after year-round employees were reluctant to take on more overtime."
This urgency has not just been felt by retail sellers themselves, but from production to shipment companies have been scrambling to find employees willing to work on season terms. The Journal continues, "Competing with retailers that can offer discounted products, UPS is paying bonuses to bring back former temporary workers. The logistics firm offered Kyle Gregory, 19, more than a $1,000 incentive to return for about three weeks of work at UPS's global air hub in Louisville, Ky."
The lack of seasonal employees available has been blamed on the current U.S. labor force. While unemployment hovers around 5 percent, the number of Americans participating in the labor force has decreased significantly.
Americans for Limited Government President Rick Manning explained in a press release on Oct. 7, 2016 that, "Since 1997, the labor force participation rate for 16-64 year olds, that is, excluding seniors, has declined from 77.4 percent to 73.2 percent, accounting for 8.7 million working age adults who have either left the labor force or not entered on a net basis. These are Americans in their prime working years but are simply not participating."
This lack of participation is fueled by a lack of full time employment, the Journal continued to note that while seasonal employment is theoretically better than no employment at all, many workers do not see the incentive in working part time for part of the year.
Manning also remarked in a later press release on the topic that, "We had the most highly educated generation ever and we've squandered it, producing jobs at a much slower pace and making it more difficult for younger Americans to get their start. In the meantime, the only real growth to be found is overseas, where all of our jobs are headed."
The retail job market is a prime example of this problem. A highly educated group which is unwilling to submit to seasonal employment could cripple the retail industry in a critical time for the economy. As the retail market attempts to expand its outreach to recreate pre-recession consumer spending, the lack of labor force participation risks making achieving this goal more difficult.
And if the retail market continues to foreshadow the greater American market, any struggles by retailers in the fourth quarter of 2016 could present dramatic challenges for the 2017 economy and the incoming Trump administration.
Natalia Castro is a contributing editor at Americans for Limited Government.