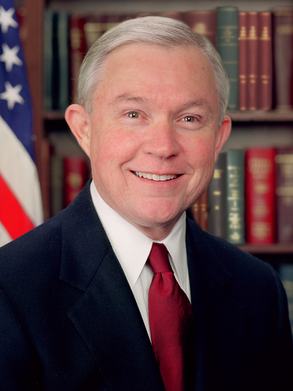 By Natalia Castro
President Barack Obama is letting more and more prisoners go every day, but the worst part, is that he does not even know who they are.
Obama framed Alton Mill as a low level drug courier, plagued by a criminal justice system working against him and facilitated his release in December of 2015. However, court records prove that after three arrests Mills was still working a high level position in an illicit organization which transported and delivered crack cocaine.
As the Daily Caller of May 2016 explains, Mills could easily make nearly $25,000 on a "good day" and was personally accountable for 20.5 kilograms of crack cocaine at the time of arrest. A far different picture than the Democrats poster child for wronged justice.
But if the American people cannot trust Obama to keep them safe, luckily, President-elect DonaldTrump has already found a person to watch over federal law: Sen. Jeff Sessions (R-Ala.).
Sessions is no stranger to sentencing reform. In 2010, Illinois Democratic Senator Richard Durbin proposed decreased mandatory minimum sentencing and increased financial penalty for nonviolent drug related crime, including the cocaine and crack sentencing disparity. Sessions encouraged bipartisan support for the measure and ultimately assisted in the measures passing.
While Sessions was willing to come to bipartisan conclusions on sentencing, he was also able to remain resolute when the left pushed hard to expand it.
In 2011, when U.S. Sentencing Commission enforced the aforementioned legislation retroactively to all past criminals convicted of drug offenses, Session made it clear this legislation was not a get out of jail free card.
During his time as ranking member of the Senate Budget Committee, Sessions joined other Senators, advocating that the bill remain implemented as written and debated by congress. The letter explained, "In the floor statements on the bill, not one Senator, from either party, mentioned retroactivity. In addition, retroactivity was not implicated in the Honse deliberations, either. Had Congress intended that the Act be applicable retroactively, there would have been bi-cameral debate about it instead of silence."
Unfortunately, the Commission prioritized its own power and reduced sentences for drug offenses by 37 months on average, or an additional 3 years off of the offender's sentence.
Sessions was at the forefront of opposition to furthering sentencing changes in 2016, this time which overtly would have been applied retroactively.
In preserving the integrity of Congress and working to hold all areas of government accountable to rule of law, Sessions has already displayed the workings of an effective and fair Attorney General.
Now as Sessions is grilled at his nomination hearing, Democrats are more eager than ever to nullify history of providing justice for all.
For example, Democratic Senator Cory Booker on Jan. 11 testified before Congress that his "conscience tell him" Sessions is not what is best for our country because Sessions would not be able to look out for the rights of all Americans, insinuating Sessions was hostile to civil rights.
That testimony was rather shocking considering less than a year ago, Booker and Sessions joined together to honor African American civil rights leaders. The Washington Free Beacon of Jan 2017 highlighted Booker's statements from a celebration honoring the 1965 Foot Soldiers who traveled from Selma to Montgomery, Ala. promoting civil rights, when Booker said, "I feel blessed and honored to have partnered with Sen. Sessions in being the Senate sponsors of this important award."
Booker hailed Sessions' civil rights agenda a matter of months ago, but now he has joined the liberal elite in hating all things Republican, and has betrayed his fellow Senate colleague. Meanwhile, Sessions has consistently advocated for bipartisan reform, proper policy implementation, and civil rights acknowledgment.
Obama made our nation dangerous over the last eight years, but with Sessions in place to restore law and order, the U.S. might have a chance of building safer and stronger communities.
Natalia Castro is a contributing editor at Americans for Limited Government.