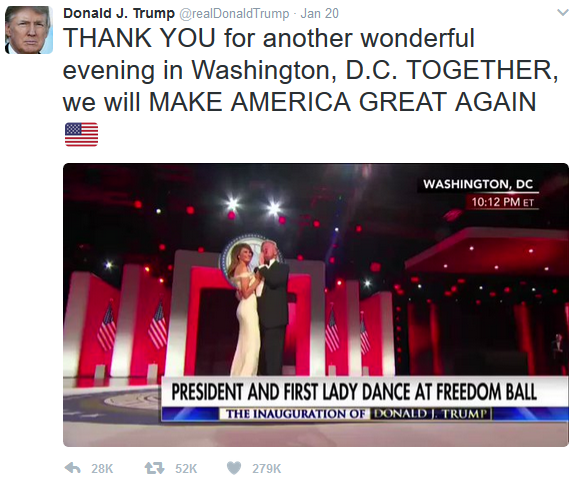 By Natalia Castro
President Donald Trump has used Twitter to generate an audience that helped him win the election on Nov. 8. Now, Twitter has provided a live feed with public reaction for the entirety of the inauguration. While many have been critical of the new President, many more were eager congratulate Trump on his journey to make America great again. Here are the voices of the people Trump told the world at the inauguration, "joined in a great national effort to rebuild our country and to restore its promise for all of our citizens."
Trump's words immediately inspired many with a new belief in unity.
Twitter user Mike Anderson writes, "Saying America First is no different than me saying Family First. It is the fundamental building block of a civilized society." Other users expressed similar joy through Trumps own words such as, JohnTrump Fan writing "'We will unite the civilized world against radical Islam,' says #PresidentTrump" and Carmine Zozzora "'I will fight for you with every breath in my body and I will never ever let you down.'-President Trump. #MAGA"
As Twitter user Carolina Girl63 points out, "In President Trump's inaugural speech he said 'America, You, and We' 106 times, 'I' 3 times. What a difference an election makes!"
Soldiers across the world heralded Trump's ability to reach out to Americans fighting for freedom across the globe. Twitter user Jeremy Nolt exclaimed, "President Trump thanks our troops in Afghanistan via live stream at the #ArmedServicesBall Very cool moment."
Unfortunately, liberals across the country felt Inauguration Day was the apocalypse and took to social media with their distress.
Molly Tarlov wrote, "Just a resident, not my President." And Allie Malloy kept her Twitter feed updated every step of the way, writing, "Protestors in the #WomensMarch greeting President Trump's motorcade back to the White House with loud chants of 'not my president'"
But while liberals took their plight to the streets in protest during the women's march, Republican women once again used Twitter to let the world know they do not agree.
SavvyDoc4Trump proudly tweeted, "#NastyWomen at #Liberals #WomensMarch do NOT speak for ME or millions of #StrongWomen4Trump who work hard, care 4 more than SELF. #MAGA"
Other Republican women simply thanked Trump for his leadership. Twitter user Linda Suhler writes "Today is President Donald J. Trump's day. Thank you for taking us along with you, Sir. It's been an amazing journey." Another user Cari Kelemen happily agrees, "What a day! And its only just the beginning! #MAGA"
While liberal news agencies compared Trumps crowd size to Obama's in a critical fashion, Fox News host Todd Starnes tweeted to his followers that "The only crowd size that matters is on Election Day — not Inauguration Day." And Carmine Zozzora once again clarifies, "How many attended Hillary Clinton's inauguration on January 20, 2017..? Not a single damn soul. And THAT's real news, buddy."
Trump has already begun his work as President, and Twitter user and columnist Katie Hopkins echoed the excitement Trump supporters across the country are feeling, writing "Lovely – Trump sits down and signs his first Executive Order to ease the burden of Obamacare. Message: less talk, more action." Trump's initiative has thrilled Americans everywhere who have been waiting for his promise, like Brittany Pettibone tweeted, "Today we stop talking about making American great again and start doing it. Welcome President Trump."
While it may have been a divisive journey to the top, Donald Trump is now President Trump and Americans everywhere must accept his position. Americans for Limited Government's own twitter feed embodied this best, as Rick Manning joined several other conservative organizations in remindeing Americans everywhere that "If you hate Trump more than you love America, you never loved America. #TimeToUnite #StopBuildingResistance."
Natalia Castro is a contributing editor at Americans for Limited Government.