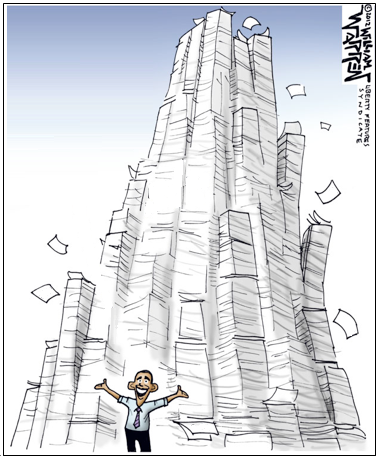 Matt Drudge, founder of the media giant Drudge Report that publishes headlines from throughout the mainstream media, has made headlines of its own lately, chastising the Republican Congress for not yet acting to pass tax cuts and repeal Obamacare — two key issues Republicans including President Donald Trump campaigned on in 2016.
Congress for its part has initiated the budget reconciliation process, which continues at the committee level, but to date still has not revealed the text of the health care law repeal.
In the meantime, Treasury Secretary Steven Mnuchin in a Feb. 23 interview with CNBC stated he expects a tax reform plan to be on the president's desk by August. No text of legislation is yet available to be viewed publicly.
Critics have charged that Republicans have been out of power for years, and surely have had the time they need to draft legislation on health care and taxes. Indeed, it would be unbelievable if the GOP were simply starting from scratch.
In the least, Congress should be able to repeal all the parts of Obamacare that were repealed last year in H.R. 3762 — which passed both houses of Congress but was vetoed by President Barack Obama. That bill got rid of Medicaid expansion, premium subsidies, cost-sharing subsidies, the individual and employer mandates, reinsurance, risk corridors and risk-adjustment, and the many taxes and spending from the health care law.
If it was good enough for Obama to veto, it should be good enough for Trump to sign.
That said, there is still time, there is an important reason why tax cuts and the health care repeal have not yet come to the floor. And that is the Congressional Review Act (CRA), law that gives Congress the power to repeal recent regulations on a semi-expedited basis without any 60-vote supermajorities in the Senate required.
These CRA regulatory rescissions have time windows of 60 legislative days. Meaning, Congress has a limited time to do away with as many harmful midnight regulations as possible and ensure they or nothing substantially similar can ever again be issued without Congressional approval.
After that, the regulations are set in stone and can only be overturned through the normal lawmaking process — with 60 vote majorities needed in the Senate — or under the Administrative Procedures Act, a process that can take a couple of years.
To be certain, some of the bills that have already gotten to Trump's desk are in fact CRA rescissions.
H.J. Res. 38 repeals a regulation adversely impacting on surface coal mining operations.
H.J. Res. 41 gets rid of a rule requiring "resource extraction issuers to disclose payments made to governments for the commercial development of oil, natural gas, or minerals."
These have already been signed. Another, H.J. Res. 40, which does away with an Obama regulation that barred those deemed mentally incapable, without any due process, of purchasing a firearm, has not yet been signed.
That's already more repeals of regulations under the CRA than has ever been accomplished in U.S. history. Prior to that, just one had been overturned in 2001: a Labor Department regulation on ergonomics.
Overall, the House has already passed 13 such CRA regulatory rescissions since the year began. Not too shabby.
The Senate for its part has only passed the three aforementioned resolutions repealing harmful Obama midnight regulations. But to be fair, the Senate's floor time has been tied up with nominations. It will need to kick into higher gear to catch up to the House, cognizant that each rescission can take up to 10 hours of floor time debate. However, under 5 U.S.C. Section 802(d)(2), debate can be limited further to expedite the process in a nondebatable motion.
So, if Senate Majority Leader Mitch McConnell wished it, he could limit debate on the pending CRA rescissions to less than an hour apiece, and conduct the votes in a sprint instead of a protracted marathon.
There is no reason Congress should not try to repeal as many regulations under CRA as possible.
And that would be a very good reason for tax cuts and the Obamacare repeal to have been postponed until later this year. They could be eating the legislative calendar, but that will necessarily mean less CRA rescissions. But that reason will only be valid if the Senate gets its act together and at a minimum takes up the same regulatory rescissions that the House has.
Drudge for his part has criticized Congress for not yet voting on tax cuts or repealing Obamacare, and those will remain valid concerns until they are done and done right. But let's get past the 60-legislative day CRA window before we start to worry.
Robert Romano is the senior editor of Americans for Limited Government.