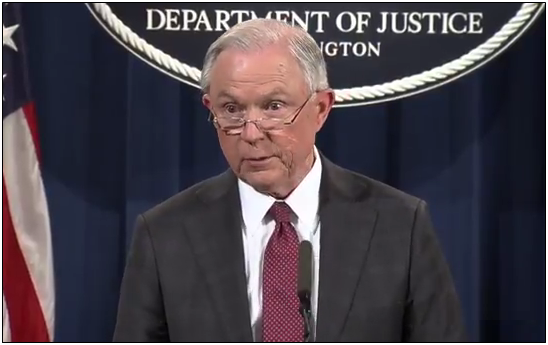 Attorney General Jeff Sessions has recused himself from any matters that come up or may come up at the Justice Department into President Donald Trump's 2016 electoral campaign, which he participated in, including the presumed ongoing probe into all questions about Russia.
But, said Sessions, "this should not be interpreted as confirmation of the existence of any investigation [into the campaign] or suggestive of the scope of any such investigation because we in the Department of Justice resist confirming or denying the very existence of investigations."
This raises the question of whether the FBI is even investigating any former Trump campaign officials pursuant to Russia or any other question.
Because if there isn't, or if it's over and there are no charges forthcoming, somebody really needs to say so.
After meeting with FBI Director James Comey on March 2, Ranking Member of the House Intelligence Committee, U.S. Rep. Adam Schiff (D-Calif.) complained that Comey would not confirm if there was any such investigation. "We can't do a complete job unless the director is willing to discuss anything that they are investigating," Schiff said, adding, "At this point we know less than a fraction of what the FBI knows."
So, who knows?
Yet that is the consistent allegation made, that there is some sort of massive investigation, wherein any revealed contact with Trump officials and foreign diplomats — which are common place for senators and incoming administration officials to meet with ambassadors — are somehow being conflated as evidence of such collusion.
Still, Sessions and apparently Comey will not confirm any such probe, so there may not even be much going on at the Justice Department right now. But if there is an investigation, Sessions said it will be handled by acting Deputy Attorney General Dana Boente.
The recusal — which came after it was revealed then-Senator Sessions met with Russian ambassador Sergey Kislyak twice in 2016 but did not disclose at his confirmation hearing in January upon questioning about the now-discredited Buzzfeed dossier — appears to have been initiated by Sessions himself. After President Trump said he had "total" confidence in Sessions, Sessions stated independently he consulted with ethics officials at the Department, who recommended recusal on any matters pursuant to the 2016 election.
On the other hand, the episode does raise disturbing questions about how Sessions' meetings — which appear to be innocuous — with Kislyak came to light in the first place. If Kislyak was under Foreign Intelligence Surveillance Act (FISA) court warrant, it is possible that netted conversations with Sessions, even those conducted in his own Senate office, apparently.
Former National Security Advisor Mike Flynn lost his job when he did not fully recollect his Dec. 29, 2016 conversation with Kislyak as a part of his duties in preparing the transition. The contents were subsequently leaked and appeared to be netted by surveillance.
Was that what happened to Sessions? Was he another victim of Obama's Russia witch hunt?
Flynn ought to sue, for his Fourth Amendment rights were absolutely violated. Later, it was revealed that the FBI had looked into Flynn's conversation, and had found no crime had been committed. Perhaps a civil suit against the former Obama administration for warrantless surveillance could prevent this from ever happening again and would get to the bottom of what really happened.
In 2016, Paul Manafort was ousted as Trump's campaign manager, after reporting of his tenure with former Prime Minister of Ukraine, Viktor Yanukovych, for his reelection campaign in 2005 — which was public knowledge — hit the spotlight again with a focus on corruption in Ukraine. Later he was subjected to an apparent FBI probe — leaked to the press a week before the election — but no charges were ever brought. Was he a victim too?
Carter Page, a campaign consultant, was similarly deposed after business ties to Russia — which is no crime — became a media story. Later it was revealed the FBI had investigated those ties, a story leaked and then published in September. No charges were brought, but he lost his job, too.
Hillary Clinton, too, was the subject of an ongoing FBI investigation throughout the election campaign, which was widely reported to the press, often by leaks, but ultimately, no charges were brought against her for having a private email server storing classified information. She lost the election.
Is anyone even investigating these leaks?
The Russia witch hunt alone must be generating pressure internally to produce some sort of prosecution simply to justify its existence. Otherwise what was it all about? But then the FBI would then try explaining to the American people why Clinton got off scot-free but Trump, the duly elected president, who was then the opposition party in 2016, must now submit to highly politicized charges that were originally ordered while Obama was still in office as the incumbent party — an unbelievable abuse of power.
So, it might not be standard practice for the Justice Department to comment on ongoing investigations, but that is precisely what has happened throughout this whole Russia business. The FBI has launched probes, it gets reported by the press, careers are destroyed but so far nobody has gotten charged. Is that justice? Or something else?
For certain, it is undermining the foreign affairs responsibilities of the president. As Russian spokesman Dmitry Peskov noted on March 2, the Sessions episode has led to "an emotional atmosphere [that] leads to resistance to the idea of some kind of U.S.-Russia dialogue."
Meaning, these FBI and intelligence investigations into Russia are now becoming a threat to U.S.-Russian relations, and with both countries armed to the teeth with nuclear weapons, a legitimate danger to national security and, indeed, humanity itself.
Is there anything to this, or what?
If there is no evidence of collusion between the 2016 Trump campaign and Russia on supposed hacking — if no charges are coming — the FBI needs to wrap this up as soon as is practicable, and publicly, for all our sakes.
Robert Romano is the senior editor of Americans for Limited Government.