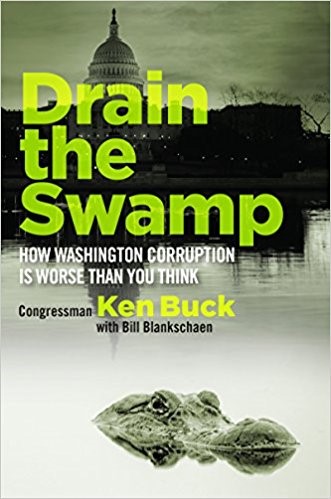 By ALG staff
President Trump promised to "Drain the Swamp" while campaigning last year. It was a slogan that resonated with the people, and galvanized them to get to the polls. At least one Member of Congress has taken the first step in helping President Trump keep his promise.
"Drain the Swamp: How Washington Corruption is Worse than you think", authored by Congressman Ken Buck (R-Colo.) and published by Regnery Publishing, is an insider's guide to Washington D.C. Buck is shining a bright light on the culture of the Washington D.C. swamp. Buck has the courage to take on his own party bosses, and expose why nothing ever seems to change in D.C., regardless of which party is in control.
Buck was elected to the House of Representatives from the 4th District of Colorado in 2014. He is a member of the House Freedom Caucus, the group largely credited with forcing the resignation of Speaker John Boehner (R-Ohio).
If you are thinking about running for Congress, for the right reasons, you must read this book. The book will enlighten you about the tools used by the swamp creatures to bully you in the murky waters of D.C. The D.C. swamp is full of fat happy taxpayer revenue eating creatures looking to sink their teeth into naive Members of Congress.
When you send someone to Washington D.C., to represent you and your family, they must know what to expect. Congressman Buck goes into detail about his freshman orientation on Capitol Hill. The multiple parties at venues average Americans can only see on TV. The onslaught of high profile guests, and extravagant diners dazzled the incoming freshman class.
Buck described his feelings shortly after arriving, writing, "Once again, my clear impression was that we were meant to think we were no longer like everyone else. As members of Congress, we were something special, and if we played the game the party leadership wanted us to play, our elite status could carry on indefinitely."
In the 2010 Pledge to America, Republican leadership complained about the lack of regular order in the House of Representatives. Then Minority Leader, John Boehner went so far as to call for regular order while trying to become Speaker. He didn't seem to feel the same way a few short months later, as Buck explained,
"After promising to restore regular order, he used the same crisis manipulation tactics to bully members to comply. He continued to draft spending bills in the Speaker's office and dump them on the House floor at the last minute. He continued to negotiate independently with Senate Leadership and President Obama, thereby bypassing the House of Representatives, the voice of the people."
Speaker Boehner used this tactic numerous times, including the December 2012 debt ceiling battle. Republican leadership would ignore the people and members of Congress that put them in power, only to negotiate with the Democrat controlled Senate and President Obama.
Speaker Boehner would again do the bidding of the opposition party, and push a discharge petition to reauthorized the highly corrupt Export Import Bank, after conservatives won a hard-fought battle to let the bank's authorization lapse. The discharge petitioned is a mechanism, almost never used by the party in power, to force legislation out of committee and to the floor for a vote. 62 Republicans with 184 Democrats signed the petition. The bill would pass the House the next day, and President Obama signed the reauthorization on December 4, 2015.
The Republican leadership also routinely bullies members to help maintain its power. In late 2012, Congresswoman Cynthia Lummis (R-Wyo.) simply tried to read report language on an appropriations bill in the Interior, Environment and Related Agencies subcommittee. Keep in mind, Lummis was serving on the Appropriations Committee. What happened next, bears no resemblance to chivalry.
According to Buck, "The committee cardinal not only berated her from the House floor, he swore, at her, thundering, 'God damn it! You take that back!' Lummis replied, 'I want to read what I voted for!' It only got uglier from there. The cardinal was among Speaker Boehner's inner circle, and leadership pressure forced Lummis to resign from the Appropriations Committee."
Pushing members out of committee spots is nothing new to Republican leadership. Representatives Tim Huelskamp (R-Kan.), Rep. Justin Amash (R-Mich.), and Rep. David Schweikert (R-Ariz.) were all kicked off high profile committees for not supporting legislation they believed their district would not like.
Elsewhere, Buck takes on the myth that bipartisanship is dead in the heated political times we live in. Congressman Buck exposes what he calls bipartisan bankruptcy practiced by the D.C. swamp creatures. The leadership of both parties comes together often, to rob your children and grandchildren of any possible future.
Let's face it, politicians lie, and this book will inform you how to know if your Member or Senator believes what they say. From the incorrectly named Department of Transportation to the myth that bipartisanship is dead, "Drain the Swamp" is a must read for anyone that wants to know what really happens in Washington D.C.