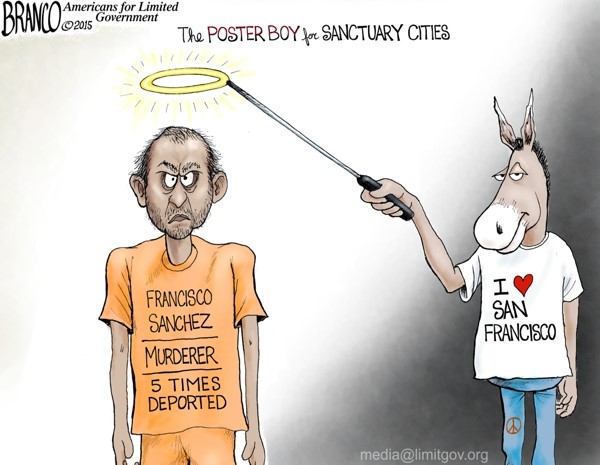 By Natalia Castro
President Trump's war on sanctuary cities came to a sudden halt when a federal judge deemed the President's executive order to defund the cities unconstitutional. While the clearly left-leaning judge called into question the executive office's ability to act on this issue, it is important to remember how necessary action against sanctuary cities is — in fact, now is a better time than ever for Congress to step up to the plate.
Conservatives were rightly frustrated when this week's budget resolution did not include a defunding for sanctuary cities, something Trump has been expecting Republican support on since his own executive order. The purpose of this legislation is to defund the cities who knowingly violate federal immigration guidelines in order to provide a "sanctuary" for illegal immigrants, something well within Congress's Article I power of the purse responsibilities to the people.
The urgent need for Congressional action is clear.
In South Portland, Maine, City Council members considered a proposal which defied federal immigration law by directly forcing local police to neglect their jobs. The Portland Press Herald explained, "the proposed amendment says South Portland police will not assist, cooperate or provide information in any federal raids, detentions or deportations of immigrants."
Presumably that would include no longer submitting criminal records to the FBI's National Crime Information Center database — which state and local police departments voluntarily cooperate with and assist in automatically alerting federal officials when individuals wanted for federal crimes are booked — including those wanted for violations federal immigration law.
Meanwhile, in Maryland's most populous county, Prince George's, the county began refusing to comply with U.S. Immigration and Customs Enforcement (ICE) detainer requests in 2014 unless ICE procured a judicially issued warrant as opposed to the administrative warrants used by the agency. In 2016, the county board unanimously passed a resolution calling ICE's immigration enforcement procedures "unduly aggressive."
While preventing local police to enforce federal laws seems to have become common in sanctuary cities, often cities take their sanctuary status a step further; not only rejecting federal immigration enforcement but hindering federal investigations as well.
In California, legislation deeming the state a sanctuary state, rather than just a city, if enacted would bar state and local law enforcement agencies from "[m]ak[ing] agency or department databases, including databases maintained for the agency or department by private vendors, or the information therein other than information regarding an individual's citizenship or immigration status, available to anyone or any entity for the purpose of immigration enforcement." Essentially, telling law enforcement officers not to utilize databases led by the FBI to locate illegal immigrants, usually after they have committed minor crimes or traffic infractions.
This legislation passed the Senate in California last month on a 27-12 vote, meaning if California does not experience repercussions for violating federal law, they could prevent the estimated three million illegal immigrants living in California's borders alone from being tracked by FBI databases or being detained by ICE.
Clearly action must be taken against these cities, which is exactly why President Trump's January executive order "Enhancing Public Safety in the Interior of the United States" prevented these jurisdictions from receiving federal funds. But federal judge William Orrick felt these were "means that are so coercive as to compel [states] compliance," too coercive, he claims, to be constitutional.
Yet even when the Supreme Court handled National Federation of Independent Business (NFIB) v. Sebelius, a case Orrick relied on, that was a case that centered around the Obamacare's forced expansion of Medicaid onto states, not terms and conditions for receiving existing federal grants.
In fact, all members of the court defended Congress's right to offer grants to states and require states to comply with certain conditions in return. In fact, this case was the first time the Court has ever found that a federal condition on a fund to states was unconstitutionally coercive. The difference, according to the decision led by Chief Justice Roberts, is that "Congress may offer states grants and require states to comply with accompanying conditions, but states, as independent sovereigns, must have a genuine choice about whether to accept such offers."
Judge Orrick's main concern seems to be that this is coming from the executive branch, rather than the legislative so while this judge partially limited the impact of Trump's executive order, it merely underscored that there are limits to what President Trump can accomplish on his own and the need for Congress to prove they will not back down on this issue. If the courts are going to circumscribe executive power to rein in sanctuary cities, then Congress must exercise its own power to defund them.
Congress ultimately has the power of the purse.
In South Dakota v. Dole the Supreme Court ruled that under the spending clause of the Constitution the federal government could withhold highway funds to exert control over the states. Providing clear legal precedent for Congress to deny funds, while the courts are debating Trump.
Moreover, under the 14th Amendment, each state has a duty to guarantee every citizen of the U.S. equal protection of the laws, and "The Congress shall have power to enforce, by appropriate legislation, the provisions of this article."
Unfortunately, Kate Steinle who was tragically gunned down in San Francisco by an illegal immigrant, and the 14 year old girl in Rockville Montgomery High School who was allegedly raped by two illegal immigrant men, did not have equal protection of the laws — because their cities chose to let illegal immigrants live within their borders.
When cities and states refuse to enforce the law, they place every day Americans at constant risk. Sanctuary cities are evolving, and finding new ways to circumvent the law to make the federal government's job even harder. While Trump's executive orders are held up in federal courts, Congress must take action; it is no longer just their job, but their duty.
Natalia Castro is a contributing editor at Americans for Limited Government.