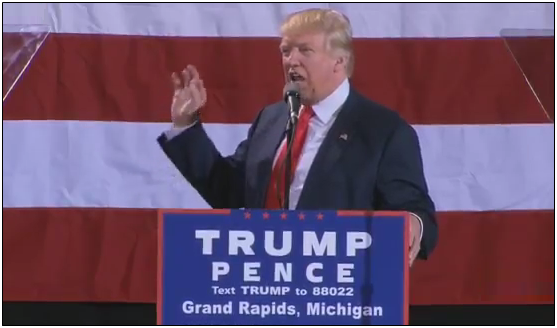 By Natalia Castro
President Trump is utilizing a new platform to engage in foreign trade relations — Twitter. With simple tweets Trump has made it clear that the United States is completely willing to withdraw from the North Atlantic Free Trade Agreement (NAFTA) if the deal does not better suit American economic needs, now Mexico and Canada have already begun backing off and allowing Trump to renegotiate what he calls the "worst trade deal in the history of the world."
President Trump campaigned on removing the United States from bad trade deals that harmed our manufacturing industries. On Oct. 26, 2016, he tweeted, "I will renegotiate NAFTA. If I can't make a great deal, we're going to tear it up. We're going to get this economy running again," to express the need to push Mexico and Canada to the negotiating table.
It was one of the reasons Trump swept the Rust Belt, winning Ohio, Michigan, Pennsylvania and Wisconsin and became President — combining conservative and union households were both dissatisfied with current U.S. economic policy towards the world.
Fast forward to April 26, and Trump had a trial balloon floated to the Washington Post that he was ready to issue an order to begin the process of withdrawing from NAFTA — and forcing Mexico and Canada to the table was exactly what he has been able to do. A day later on April 27, Trump took to Twitter once again to announce, "I received calls from the President of Mexico and the Prime Minister of Canada asking to renegotiate NAFTA rather than terminate. I agreed… subject to the fact that if we do not reach a fair deal for all, we will then terminate NAFTA. Relationships are good — deal very possible!"
Trump has directly critiqued the U.S. trade deficit with Mexico as a result of poor NAFTA negotiations, on Twitter Trump wrote, "The U.S. has a 60 billion dollar trade deficit with Mexico. It has been a one-sided deal from the beginning of NAFTA."
Trump is correct; in 2016 alone, U.S. goods were at a $63.2 billion trade deficit with Mexico and $11.2 billion with Canada, according to data compiled by the U.S. Census Bureau, a relationship the Office of the U.S. Trade Representative even admits NAFTA has fostered "by virtue of the agreement's comprehensive, market-opening rules." Highlighting the United States need to produce more goods domestically, a call Trump has echoed through his campaign.
Luckily, Trump's Commerce Secretary Wilbur Ross also defended during his confirmation hearing that the best way to stimulate the economy through trade was not to limit imports, but increase exports. He defended the Presidents stance on Mexico and Canada saying, "The president has done a wonderful job preconditioning other countries with whom we will be negotiating that change is coming."
However, one key voice is missing in this conversation. The voice of Trump's nomination for U.S. Trade Representative, who should be leading these negotiations. Trump's pick Robert Lighthizer has been silent, but not because of his own choice, but because the Senate has not confirmed him yet.
Despite moving past his Senate committee hearing on March 14, the Senate has not taken a vote to the floor to confirm him, making it impossible for him to pursue his duties as U.S. Trade Representative.
And this is critical, because while Secretary Ross is focusing on expanding exports and tariff-driven trade barriers, Lighthizer could be focusing on non-tariff trade barriers such as currency devaluations. Trump took a hard stance during the 2016 campaign on calling China a currency manipulator, but has not yet spoken out against Mexico and Canada doing the same.
Historically, world trade rules seem to neglect currency related issues, yet devaluation has an obvious effect on prices, with devaluing currencies achieving reductions in the price of exports while increasing the price of imports. Since 2002, the peso has devalued against the dollar 52 percent to $0.0533 as of this writing, and from its peak in 2011, the Canadian dollar has devalued against the dollar almost 31 percent to $0.7322.
An issue which makes it difficult for the United States to win on trade. Emily Stewart of The Street news explains that even if Trump put a 20 percent tariff on Mexican imports, Mexico could just devalue their currency to essentially nullify Trump's policy.
Currency manipulation makes bad trade deals like NAFTA even worse, and without a U.S. Trade Representative to negotiate with trade partners it makes it likely that the U.S. will continue to fall behind. The Senate must move forward with Lighthizer's confirmation, until then, it appears President Trump will continue forcing Mexico and Canada to the trade table — 140 characters a time.
Natalia Castro is a contributing editor at Americans for Limited Government.