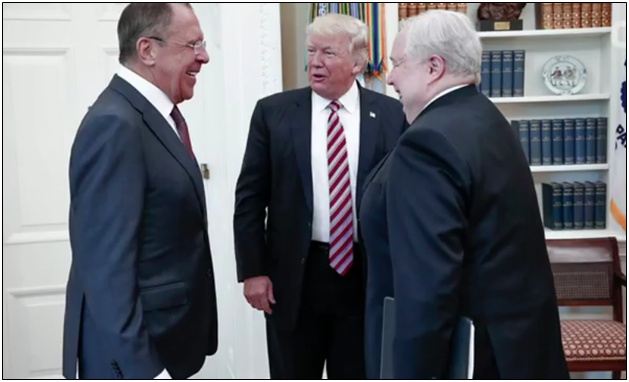 Considering the statement from National Security Advisor H.R. McMaster that "at no time were intelligence sources or methods discussed" at President Donald Trump's meeting with Russian Foreign Minister Sergey Lavrov, it would appear that the mainstream media has done far more to expose how certain intelligence about potential terrorist attacks was gathered.
According to Trump, posting on Twitter, "As President I wanted to share with Russia (at an openly scheduled W.H. meeting) which I have the absolute right to do, facts pertaining… to terrorism and airline flight safety. Humanitarian reasons, plus I want Russia to greatly step up their fight against ISIS & terrorism."
That seems plausible. If the U.S. had intelligence of an active terror plot that might result in the mass killing of civilians, including Russians, sharing such intelligence could save lives.
And it might also help to ease tensions between the U.S. and Russia, the world's foremost nuclear powers.
So what's the problem? And how does any of that jeopardize intelligence gathering?
Compare that to breathless reporting from the Washington Post's May 15 report by Greg Miller and Greg Jaffe that stated, "The information the president relayed had been provided by a U.S. partner through an intelligence-sharing arrangement considered so sensitive that details have been withheld from allies and tightly restricted even within the U.S. government, officials said."
Also that the disclosure supposedly "endangers cooperation from an ally that has access to the inner workings of the Islamic State."
And a May 16 New York Times report by Adam Goldman, Matthew Rosenberg, Matt Apuzzo and Eric Schmitt, which flat-out exposed that "The classified intelligence that President Trump disclosed in a meeting last week with Russian officials at the White House was provided by Israel," adding that according to the sources, "Israel previously had urged the United States to be careful about the handling of the intelligence that Mr. Trump discussed."
These disclosures, McMaster charged at the May 16 White House press briefing, were the real problem. "Our national security has been put at risk by those violating confidentiality and those releasing information to the press that could be used connected with other information available to make American citizens and others more vulnerable," McMaster said.
"What was shared was wholly appropriate given the purpose of that conversation and the purpose of what the President was trying to achieve through that meeting," McMaster added, citing Trump's goal of achieving cooperation from Russia on fighting international terrorism and was "consistent with the routine sharing of information between the President and any leaders with whom he is engaged."
In fact, McMaster noted, Russia was not the only country to be briefed on the threat: "information on this topic, of the threat to aviation, was shared with multiple allies, as you know, there are already policies being put in place to protect against that threat."
So, if anything, the news stories have done more to damage national security, compared to what Trump did — acting as a president should in candidly sharing information to avert terrorist attacks in a meeting designed to achieve more cooperation on fighting international terrorism. Trump broke the ice and has now made such cooperation more possible, potentially making it easier to deal with Russia on other issues, the express aim of the Trump policy.
Later, on Twitter on May 11, Trump described the meetings, not just with Lavrov but also Ukrainian Foreign Minister Pavlo Klimkin, as an attempt to move toward ending the civil war in Ukraine: "Yesterday, on the same day — I had meetings with Russian Foreign Minister Sergei Lavrov and the FM of Ukraine, Pavlo Klimkin. #LetsMake Peace!"
So, if by disclosing threats to civilians who travel via air to Russia as a gesture of good will in combating terrorism, Trump has also made the prospects of ending the civil war in Ukraine — which could pit the U.S. and Russia on opposing sides of the conflict — then he is doing his job as the President. These acts of trust-building by the U.S. and Russia make war less likely.
Which, after all the innuendo by the media and elected officials surrounding Trump and the evidenceless claims he somehow colluded with Russia on hacking and putting on Wikileaks the DNC and John Podesta emails, for him to still pursue the Russia policy he proposed in the 2016 election campaign is commendable. Trump is doing what he perceives to be the right thing to cool tensions with Russia; he is keeping his promise.
What this really looks like is that without a shred of proof on such collusion — heck, it appears the federal government cannot even prove that Russia was behind the hack — government officials and the complicit media are so desperate they felt a need to concoct such evidence.
Robert Romano is the senior editor of Americans for Limited Government.