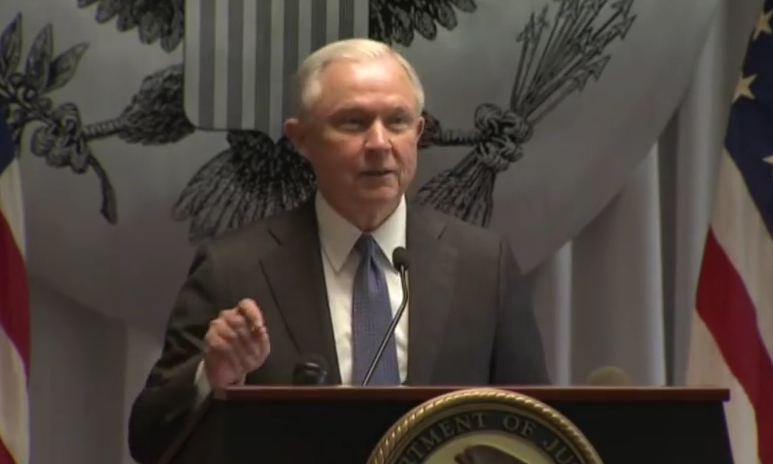 By Peter Hong
The know-it-alls and the mainstream media in Washington (if there's a difference anymore) may want to tear down U.S. Attorney General Jeff Sessions right now, but they may have to answer first to the people of Long island — at least, the law-abiding ones.
In just the past 30 days, federal officials have arrested nearly 40 members of the much-feared MS-13 gang that has been plaguing the New York metropolitan area, particularly the Long Island suburbs. The arrests are a result of a newly formed task force,  "Operation Matador," launched shortly after an appearance in Long Island by Sessions to address MS-13s growing presence in the area.
"The MS-13 mantra is kill, rape and control, and so that should tell us enough about the kind of groups we confront," Sessions said during his April visit. "Our motto is justice for victims and consequences for criminals."
"We are targeting you. We are coming after you," he warned the vicious El Salvadoran gang.  Sessions' tough message was reinforced by President Trump during a May 15 ceremony at the U.S. Capitol honoring fallen officers:  "MS-13 is going to be gone from our streets very soon, believe me."
Apparently, the President and his Attorney General are men of their word.
MS-13 (Mara Salvatrucha) is a transnational criminal gang that sprung up in Los Angeles in the 1980s and spread throughout North America, Mexico, and Central America. Their members, predominantly Salvadoran by nationality, self-identify with tattoos covering their bodies and faces.
Once isolated to the streets of inner-city neighborhoods, the spread of gang violence – by killers like MS-13 — is rapidly spreading horror throughout immigrant communities in America's suburbs, like Suffolk County, NY.
This is not West Side Story's Sharks and the Jets singing, dancing, and rumbling throughout the streets of New York.  In April, the bodies of four men between the ages of 16 to 20 were found inside Central Islip's Recreation Village Town Park, just several hundred feet south of the soccer fields.  The men, who were brutally beaten and stabbed to death, are believed to be victims of MS-13.
Curtis Sliwa, founder of the Guardian Angels said of the gang: "MS-13 is unlike any street gang that we have dealt with before. They are organized and behave like a paramilitary organization. And the violence is incredibly brutal."
No one knows that better than Robert Mickens and Elizabeth Alverado, whose 15-year old daughter Nisa was beaten by baseball bats and hacked to death with a machete after a social media disagreement with MS-13 members. Nisa's best friend, 16-year old Kayla Cuevas, was also killed after being chased down by the gang members. Ten illegal immigrant members of the MS-13, including one person who was previously deported, were indicted as part of the wave that cost Nisa and Kayla their lives.
"They're evil. They're coming over the border, then coming back after they get kicked out," said Alverado of her daughter's murderers.  "Things should change. It shouldn't take my daughter's death." Mickens, her husband, said he "welcomed" Sessions's April visit to Long Island and called out Assemblyman Phil Ramos for telling Sessions to "stay in Washington" unless he planned on bringing "resources for local nonprofits" during his visit.  Mickens and Alverado both met with Sessions during his visit.
Not everyone greeted the Attorney General's visit and his get tough on violent gangs policy with open arms. According to news reports, a crowd of more than 50 anti-Trump protestors attended Sessions' April visit bearing signs that read "Build bridges, not walls" and "Immigrants & refugees are welcome. Sessions? NOPE."
Unless they were members of MS-13, those knuckleheads should be the first ones to apologize to the Attorney General and thank him for cleaning up the streets of Long Island.  Apologies should also be forthcoming from the rest of the "Hate America First" crowd and their megaphones in the mainstream media.
Since being appointed by President Trump to head up the Justice Department, Jeff Sessions has been savagely and universally pilloried by the anti-Trump crowd.  A reasonable observer might think that somewhere amidst the barrage of attacks on Sessions, the Washington media might pay him at least one compliment for rounding up a murderous transnational gang, like the MS-13.
Don't hold your breath.
Instead, suggest to the Washington media scribes that they take a Greyhound to Long Island where they can personally ask Robert Mickens, Elizabeth Alverado, and the parents of other victims of MS-13 what they think of Jeff Sessions.
Just don't hold your breath.
Peter Hong is a contributing reporter at Americans for Limited Government.