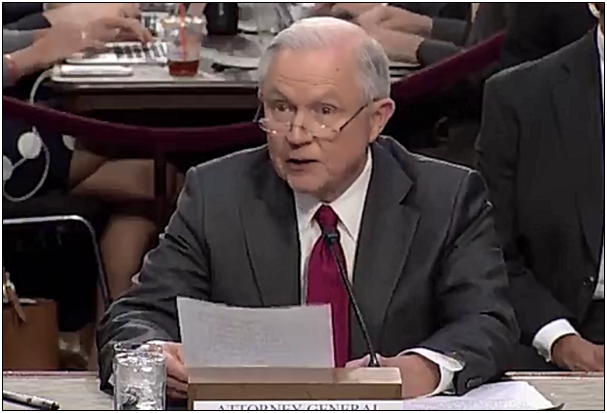 It turns out that it was Attorney General Jeff Sessions himself who was one of the sources that revealed to a reporter that in his capacity as Senator, he had had a meeting with Russian Ambassador Sergey Kislyak in 2016 — as well as another event at in Cleveland at the Republican National Convention in July 2016 where both had attended.
"It was only in March, after my confirmation hearing, that a reporter asked my spokesperson whether I had ever met with any Russian officials. This was the first time that question had squarely been posed to me. On the same day we provided the reporter the information related to the meeting that I and my staff had held in my Senate office with Ambassador [Sergey] Kislyak as well as the brief encounter in July after a speech that I had given during the convention in Cleveland, Ohio," Sessions testified at the June 13 hearing before the Senate Select Committee on Intelligence.
That story ultimately was published on March 1 by the Washington Post, and Sessions recused himself from any part of the Russia investigation or any other matter pertaining to the 2016 campaign a day later.
This was one of the more surprising revelations at Sessions' testimony and admittedly, Sessions himself was not a possibility this author had previously considered as to as one of the sources of that particular story.
The encounters had not been previously disclosed at Sessions' confirmation hearing in response to sweeping allegations made by Sen. Al Franken (D-Minn.) that the U.S. intelligence community had advised then-President Elect Donald Trump that Russian intelligence had compromising information on Trump and that there had been continued communications between the Trump campaign and the Russian government, presumably colluding on hacking the election.
That line of questioning was ultimately referring to the now-discredited Christopher Steele dossier, which had alleged that not only had Russia hacked the Democratic National Committee emails and had them published on Wikileaks, but that the Trump campaign had aided and abetted that endeavor.
Yet, the meetings Sessions had that occurred were either in the conduct of his official duties as a U.S. senator, or chance encounters at receptions and speeches with lots of ambassadors from many countries as well as U.S. officials attending, including a reception at the Mayfloyer Hotel in April 2016, which Sessions said he did not recall meeting Kislyak. These were not occasions to do with any collusion whatsoever, and certainly nothing that was alleged in the Steele dossier, and therefore, had no bearing whatsoever on Franken's question.
Sessions said those fantastic allegations were "through the looking glass," particularly at the hotel with dozens of guests at a dinner — but the same could be said for a Senate meeting with his senior staff present — that it was some sort of occasion to engage in espionage.
"I have never met with or had any conversations with any Russians or any foreign officials concerning any type of interference with any campaign or election in the United States. Further, I have no knowledge of any such conversations by anyone connected to the Trump campaign," Sessions confirmed in his testimony.
But Sessions went further, calling "any suggestion that I participated in any collusion, that I was aware of any collusion with the Russian government to hurt this country which I have served for 35 years, or to undermine the integrity of our democratic process is an appalling and detestable lie."
Also, very early into taking the office as Attorney General, Sessions was apparently looking to recuse himself from anything to do with the Justice Department's ongoing investigation of Russia's supposed hacking of the Democratic National Committee and John Podesta emails and publishing them on Wikileaks, and any allegations that they might have had something to do with the Trump campaign.
At the hearing, Sessions said he believed that he had to recuse himself, because it was required under 28 CFR 45.2, which bars any Department of Justice employee from participating in any potential investigation of a political campaign to which he or she was a party.
As the Justice Department was already investigating any possible ties between the alleged Russian hacking and the Trump campaign, it was wholly appropriate for Sessions to have recused himself.
It was that recusal that ultimately led to Deputy Attorney General Rod Rosenstein assuming oversight of the investigation, and then delegating that investigation to Special Counsel Robert Mueller.
To allay fears that Sessions had not been pushed off of the investigation with the publication of the March Washington Post story — it was followed by his prompt, subsequent recusal — it might have been better in hindsight to have preempted that story's revelations with his public statement on the matter. But there may not have been time.
That said, now we know the rest of the story, which is that Sessions was always going to recuse himself as he was discussing the matter with Justice Department attorneys from the onset of his tenure.
It also explains how former FBI Director James Comey could have possibly known ahead of time that Sessions was going to recuse himself, who in his own testimony last week stated, "We concluded it made little sense to report [the Feb. 14 meeting] to Attorney General Sessions, who we expected would likely recuse himself from involvement in Russia-related investigations." Sessions suggested later in his testimony that his discussions of his recusal likely had circulated through the department.
Finally, Sessions hinted that although he has recused himself from anything to do with the campaign, he may still involved with cases to do with the leaking of classified information. Answering a direct question from Sen. Tom Cotton (R-Ark.), Sessions stated, for the record, not backing away, "We have had one successful case very recently in Georgia, that person has been denied bail, I believe, and is being held in custody. But some of these leaks, as you well know, are extraordinarily damaging to the United States' security and we have got to restore a regular order principle. We cannot have persons in our intelligence agencies, our investigative agencies or in Congress leaking sensitive matters on staff."
Sessions added, warning, "And this is I'm afraid, will result — is already resulting in investigations and I fear that some people may find that they wish they hadn't leaked." No mention of recusal.
Meaning that, the scope of Special Counsel Robert Mueller's investigation may be slightly narrower than some have believed, and that Sessions' own recusal may not extend beyond matters that occurred after the election on  Nov. 8, 2016, when the campaign ended. Sessions had no trouble talking about the case of Reality Winner, who is accused of leaking a classified assessment — even though it was about Russia's alleged attempts to hack U.S. election-related software companies.
Recall, that in Sessions' recusal he stated, at his March 2 press conference, "I have recused myself in the matters that deal with the Trump campaign." The actual text of the recusal states, "I have decided to recuse myself from any existing or future investigations of any matters related in any way to the campaigns for President of the United States."
The classified intelligence assessment in the Winner case and its disclosure evidently did not cross over into the campaigns for president, either by Trump or Hillary Clinton, and still appears to be a matter that he can oversee as Attorney General. The intelligence came forward in April, 2017, after the election, just as some of the most damaging leaks and unmaskings by the Obama administration occurred after the election, during the transition phase.
Meaning, leakers beware, it looks like Sessions is still on the job.
Robert Romano is the senior editor of Americans for Limited Government.