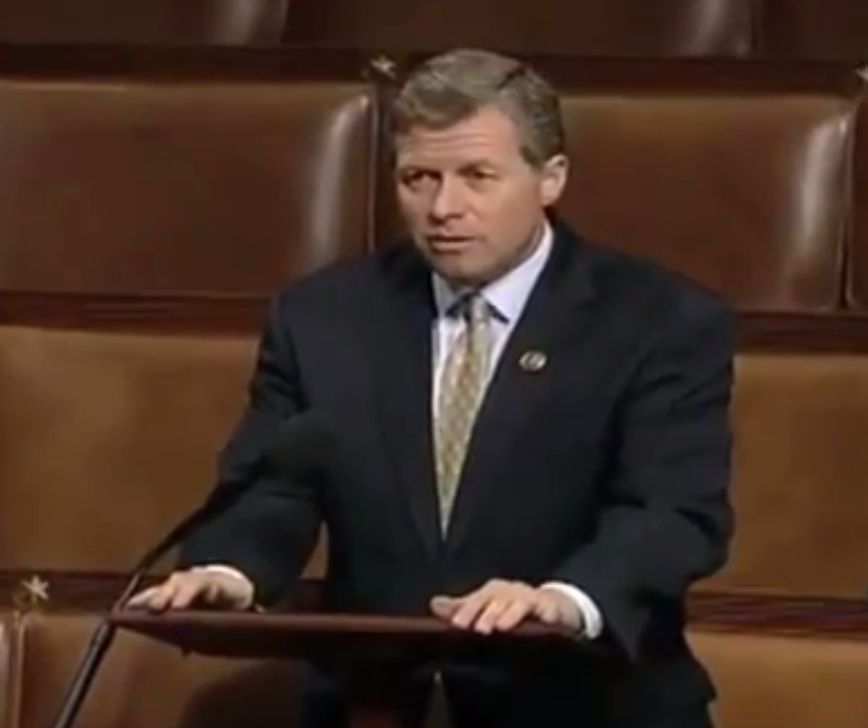 As a career politician, Congressman Charlie Dent (R-PA) should know that politics is a team sport. He should also recognize that he's not his team's owner, or his team's coach, or even his team's quarterback. But instead of being a team player, Dent's acting like a disgruntled player who keeps trying to hand the ball to the other team because his coach won't let him call the plays.
Along with his vote against President Trump in the general election last fall, one of Dent's biggest betrayals was his vote against rolling back ObamaCare this spring. It should be noted that he was the only one of three co-chairs of the moderate Tuesday Group who voted against the American Health Care Act (AHCA). The other two co-chairs, Congresswoman Elise Stefanik (R-NY) and Congressman Tom MacArthur (R-NJ), voted for the AHCA in spite of the fact that both are quite moderate.
When House leaders failed to gather sufficient support for the first version of the AHCA, Dent immediately called for Republicans to abandon their efforts to repeal ObamaCare and to work with Democrats to reform health care – while refusing to negotiate with conservatives in his own caucus.
He immediately took his own advice and began negotiating with Democrats; the result is a pretty underwhelming plan. Two of the main provisions of the plan are to continue federal subsidies to health insurance companies and to give more money to the states so they can give more money to health insurance companies.
Under Obama, when his vote didn't matter, Dent repeatedly voted to repeal ObamaCare. Could his sudden opposition to repealing ObamaCare – and his desire to give more taxpayer money to the insurance companies – have anything to do with the fact that four of the industries that have been most generous to him over his Congressional career have been health professionals, pharmaceutical/health products, insurance, and hospitals/nursing homes?
But Dent's opposition to repealing ObamaCare hasn't been his only betrayal of the party's base. Last month, he voted against a ban on Pentagon funding for gender-transition surgeries. It should be noted that this amendment did not ban transgenders from the military; it simply prohibited spending defense dollars on medically unnecessary surgeries. With the US facing increasingly aggressive foreign adversaries, a shrinking US military, many aging weapons systems, and hugely expensive Defense procurement programs, voting to disallow spending on these surgeries, which can cost over $100,000, should have been an easy vote.
Earlier this year, Dent voted against repealing an Obama Era rule that prohibited states from defunding Planned Parenthood. He was one of only two Republicans to vote to uphold the Obama regulation; two Democrats even voted against it. Two years ago, he voted against a ban on late-term abortions; and in 2011, he voted against defunding Planned Parenthood.
In 2015, he voted to continue paying federal bureaucrats to do work for their unions instead of performing their government jobs. In 2013, he voted against additional work requirements for food stamps. The year before, he voted for a $1.2 trillion tax hike coupled with defense cuts.
When he's not voting the wrong way, Dent loves to blast the president and House conservatives. For example, he called for Trump to step down a month before the election last year; and shortly after Trump took office, Dent attacked Trump's temporary travel ban.
Dealing with Dent's drama might be worth it if he represented a particularly difficult district and if the House majority were razor-thin. But he doesn't represent an especially tough district, and the Republicans have a good-sized majority. In fact, Dent's district is a safe Republican one that Trump comfortably carried by more than 7 points last fall.
With his disloyal behavior, Dent is begging for a challenge from the right next year, and he should get it. In the meantime, he should be benched – bounced from his seat on the Appropriations Committee, where he chairs a subcommittee. There's no need to waste such a highly-valued seat on a caucus member who stirs up unnecessary conflict in his party. As someone who has argued in favor of punishing wayward caucus members, Dent would have no room to complain.
Richard McCarty is Director of Research for Americans for Limited Government Foundation