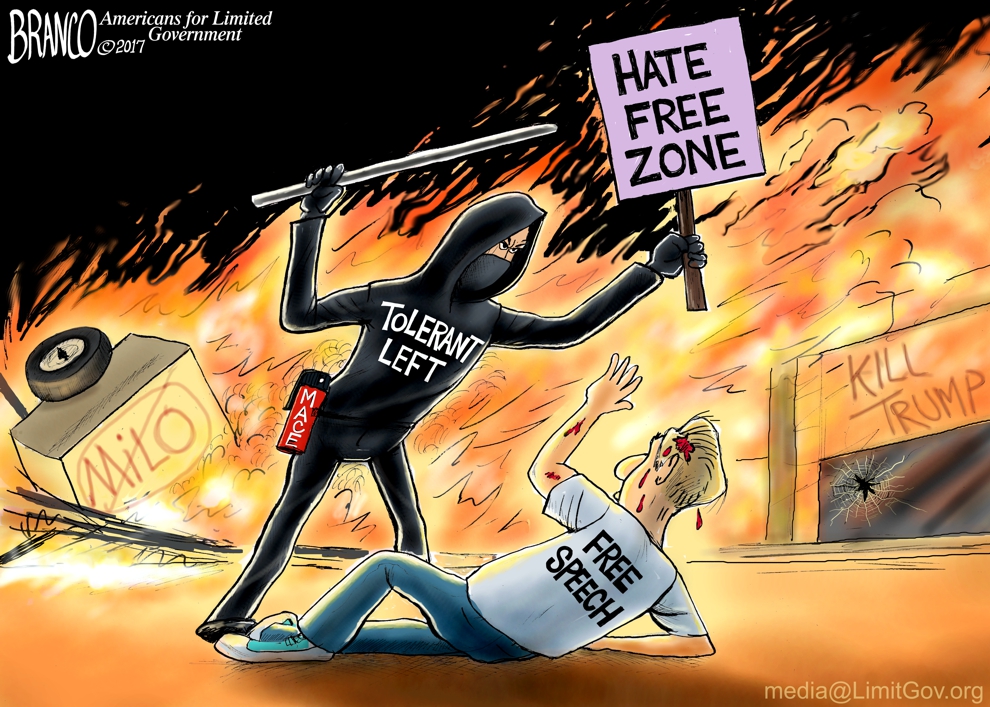 63 percent of Americans oppose the political violence of Antifa in a new poll by Center for Security Policy/Eagle Forum/McLaughlin & Associates, conducted Aug. 28 online among 1,000 adults. Only 21 percent supported the group's violence against those they disagree with.
The poll stated, "During the recent protests in Charlottesville, there were left-wing protesters from a group called Antifa. Given that Antifa advocates violence as the appropriate response to free speech they disagree with, do you support or oppose Antifa?"
Since 2016, the left-wing radical group Antifa has engaged in political violence directed at their perceived adversaries, including attacking police officers with rocks and bottles, at rallies in San Jose, Calif., Portland, Oreg., San Francisco, Calif., Ferguson, Mo., Boston, Mass. and Washington, D.C.
Overall, 55 percent of Democrats, 68 percent of Republicans and 67 percent of Independents were similarly opposed to Antifa.
That includes 52 percent of Hillary Clinton supporters who reject Antifa and 73 percent of those who backed President Donald Trump in the 2016 race oppose Antifa.
In fact, majorities of almost every single grouping of Americans you can think of overwhelmingly oppose the violent Antifa movement. But is it enough?
The exceptions in the poll were liberals, who only oppose Antifa 44 percent to 42 percent, Hispanics, who oppose it 44 to 42 percent, and African-Americans, who oppose it 46 to 31 percent. That is to say, these groups were far more split on the issue of the ongoing political violence perpetrated by Antifa than others.
Overall, 85 percent of Americans believe "the Constitution guarantees that all Americans are entitled to free speech" as opposed to some of us, and that "freedom of speech a fundamental right" and should not be restricted, even if it offends some people.
Perhaps numbers like these, mixed as they are, explain why House Minority Leader Nancy Pelosi (D-Calif.) only recently came out to denounce the violence perpetrated by Antifa after further incidents at Berkeley College in her home state of California.
On Aug. 29, Pelosi blasted the group, saying, "Our democracy has no room for inciting violence or endangering the public, no matter the ideology of those who commit such acts. The violent actions of people calling themselves Antifa in Berkeley this weekend deserve unequivocal condemnation, and the perpetrators should be arrested and prosecuted."
To be clear, these criticisms of political violence coming from leaders on the left are welcome. This could be a turning point.
In the main, Pelosi is correct. Political violence, whether on the left or the right, can neither be allowed nor condoned in our civil society; the freedom from such violence is a critical underpinning to maintaining republican and democratic forms of government.
The Pelosi denunciation came amid a plethora of condemnations from liberal newspapers including the Washington Post, the Los Angeles Times, the Atlantic, and so forth following the most recent episode of violence last month at Berkeley.
Just as President Donald Trump responded to all of the violence that occurred at Charlottesville, Va., including the death of Heather Heyer, the American people stand by the same ideal. He weathered scathing criticism in light of his response, but it turns out most Americans reject such violence in all of its forms, even if it's directed at unpopular groups like the KKK or white supremacists.
Ultimately, the question is what type of society we want to live in. The First Amendment allows for speech, even unpopular speech, and guarantees the protection of that speech. It's good to know that the principle is still intact for the vast majority of Americans.
That's all reassuring. But, a cautionary note. 21 percent of Americans still support the political violence being waged by Antifa. Here's the problem. That represents almost 54 million people.
9 percent think it's okay for the government to shut down unpopular speech. That represents 23 million people.
That is disturbing, to say the least. Stunning, even.
Even with 161 million opposed to the proposition of political violence by Antifa and 217 million steadfastly opposed to government censorship of unpopular views, that is far too many tens of millions of Americans who have already been radicalized and believe it is okay to use violence or governmental force to shut down unpopular speech.
23 million to 54 million is more than enough to wage a successful revolution. Are we ready?
Meaning, more needs to be done, particularly on the left, to denounce the ongoing violence by Antifa. Much more.
Robert Romano is the Vice President of Public Policy at Americans for Limited Government.