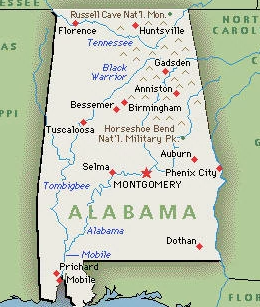 By Peter Hong
You can tell a person by the company he keeps, especially in politics.  You can tell more about where a politician stands or is going to stand by those with whom he surrounds himself than by the words that come out of his mouth.
Nowhere is that clearer than in the Alabama Senate GOP runoff scheduled for September 26th. At first glance, little seems to separate appointed Senator Luther Strange and former State Supreme Court Justice Roy Moore:  two older, white, Republican political figures who basically agree on most issues.
But as sides are being drawn, the dividing lines between the two are bold and stark.
First, consider Strange, the former Alabama Attorney General who was appointed by disgraced, then- Governor Robert Bentley to the seat left vacant by current U.S. Attorney General Jeff Sessions. Strange counts among his supporters: Senate Majority Leader McConnell; the National Republican Senatorial Committee; most members of the Senate GOP Conference, including fellow Alabama Senator Richard Shelby; and a bevy of DC and Alabama lobbyists. Bankrolling the multi-million dollar Strange effort are McConnell's Senate Leadership Fund, the U.S. Chamber of Commerce, and the National Rifle Association.
On the other hand, Roy Moore, who was twice removed from the Alabama Supreme Court for refusing to take down a replica of the Ten Commandments from the Alabama Judicial Building and issue marriage licenses to same-sex couples, includes among his supporters: many members of the House Freedom Caucus, including his former opponent Rep. Mo Brooks; Sean Hannity and Laura Ingraham; former Governors Mike Huckabee and Sarah Palin; Breitbart News' Steve Bannon; Ann Coulter; and the Senate Conservatives Fund.
In other words, it's pretty much a GOP family feud pitting the candidate of the GOP Establishment (Strange) against the candidate of the "rest of us" caucus (Moore). The race pretty much tracks the current front lines in the internecine battle for control of the Republican Party.
There is one notable exception. President Trump is supporting Strange, a peculiar decision, given that most of the energy behind his anti-establishment, take no prisoners campaign is behind Moore. Even Trump-aligned super PACs are split on the race: America First Action is running a digital ad campaign for Strange while Great America Alliance is hosting Sarah Palin and Sebastian Gorka on behalf of Moore.
The President himself is appearing at a pro-Strange rally in Alabama on Friday, to be followed on Monday by Vice President Pence. After Trump's endorsement before the August 15th primary helped Strange squeak past Brooks to make it into the runoff with Moore, the President's Twitter account went quiet on the Alabama race. This radio silence led many to wonder if Trump had abandoned Strange after he fell well behind Moore in the polls. The situation was further complicated when Bannon left his post as White House chief strategist and declared war on Strange and other incumbent Republicans in Congress.
Despite a tremendous financial advantage, both in actual campaign dollars and the multi-million dollar effort by McConnell-aligned PACs on Strange's behalf, "Big Luther" finds himself swimming upstream.  After finishing nearly 10 points behind Moore in the primary, Strange has never been ahead or tied in the polls, even the push polls released by his allies.
Perhaps realizing that he could not be seen as a puppet of the unpopular McConnell and win, Strange announced that he was switching his position supporting the use of the filibuster. While his newly found opposition officially sides him with President Trump and against McConnell, the move may seem a bit disingenuous, given that in April, Strange signed a bipartisan letter supporting the dilatory tactic. If Strange is willing in his first few months in office to switch positions so blatantly for political gain, what – Alabama voters may wonder – would prevent him, once elected, from switching back? Or from flip-flopping on other issues?
Aside from his ties to McConnell and the dreaded Establishment, Strange has his own personal areas of vulnerability, such as being the subject of a disturbing number of ethics charges. Plaguing the former attorney general is the deep impression in Alabama that his very appointment to the Senate was tainted by the criminal activities of ex-Governor Bentley. Republican voters in Alabama who want to put this sordid tale of sex and corruption behind them may not see Strange and the cloud of scandal enveloping him as the most prudent choice.
The largest obstacle facing Strange may be something he can't-do anything about: that Roy Moore, while not the Trump-endorsed candidate, may be the most "Trumpian" choice in the race.
Like Trump in 2016, Moore is not only the anti-Establishment candidate; he actually frightens the Establishment. Based on his record on the Alabama Supreme Court of refusing to back down on principle, a Senator Moore could very well make even Tea Party favorites Ted Cruz, Mike Lee and Rand Paul look pretty Washington by comparison. For Alabama Republicans wanting to poke the Establishment in the eye, a vote for Roy Moore would be like a gouging.
Also, like Trump, Roy Moore may be impervious to the millions of dollars of negative advertising being run against him by the Establishment. In Alabama, Roy Moore is a known quantity – and no amount of money is likely to move the needle in any significant way. If you're a Republican in Alabama, you may think Roy Moore is nuts, but he's your nut.  And you might just resent the millions of dollars being spent by the Washington Establishment to persuade you otherwise. You might also wonder why this money is being spent to defame a Republican in Alabama, as opposed to going after any number of vulnerable Senate Democrats across the country.
It may be that this Trump-like appeal is exactly what gets Trump supporters in Alabama (and there are a lot of them) fired up for Moore, in spite of the Trump endorsement. And if Roy Moore becomes Senator Moore next Tuesday, he won't owe a thing to anyone inside the Beltway – including Trump and McConnell.
Take cover Washington – the rising crimson tide of Hurricane Roy may come crashing down on a swamp near you!
Peter Hong is a contributing editor for Americans for Limited Government