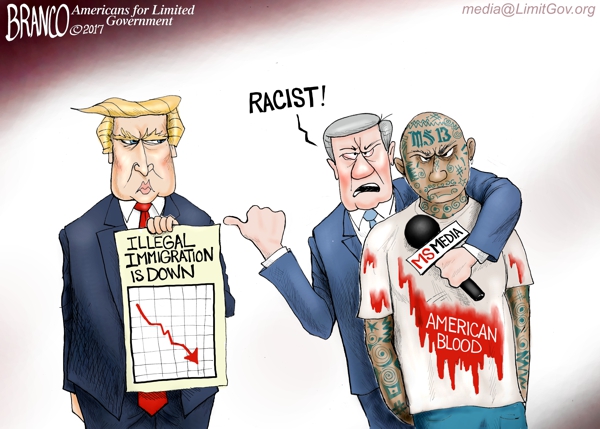 By Printus LeBlanc
California is one step closer to full lunacy, and the final step is expected to be taken this week. Late last week the California State Assembly passed the California Values Act. Over the weekend the Senate followed suit and passed the legislation, and Democrat Governor Jerry Brown hinted he intends to sign the bill. What kind of nation can we have if states can choose which federal laws to follow and not follow, especially when immigration is clearly a federal issue?
What California is attempting to do is nothing more than nullification. The Supremacy Clause of the Constitution (Article VI, Clause 2) establishes that the Constitution, federal laws made pursuant to it, and treaties made under its authority, constitute the supreme law of the land. To put it simply, a state cannot make a law that supersedes federal law.
California has a history of prioritizing the needs of illegal and non-U.S. citizens over their own citizens. District Attorneys are intentionally reducing violent felonies to misdemeanors in order to prevent immigration enforcement from being notified. The Santa Clara DA ignored a woman being beating and tortured for years for fear if a felony was charged the immigrant would be kicked out of the country, obviously not caring about the woman was being subjected to on a daily basis.
Just one month ago Erick Garcia-Pineda was linked to the killing of a popular community volunteer in San Francisco. Garcia-Pineda was awaiting deportation when he was picked up by local sheriffs for battery charges. Upon his arrest, ICE sent a detainer to the sheriff's department. The department ignored the detainer and released the violent criminal on the population. The result was the murder of 23-year-old Abel Esquivel.
Many like to argue that enforcing immigration law makes communities less safe, and the job of law enforcement harder. If only someone asked law enforcement. Bill Brown, the sheriff for Santa Barbara County who serves as president of the California State Sheriffs Association stated, "It's a hazardous law for Californians and people sworn to protect and serve Californians and we would like to see it changed."
Michael Durant, president of the Peace Officers Research Association of California, a union representing 70,000 law enforcement officers in California and Nevada, echoed his statements asserting, "I do believe those who voted for this law are making California less safe, and at some point, there is going to be an incident that is going to backfire on the legislature when one of these criminal aliens is released."
President Donald Trump and Congress can help to fix this. H.Amdt 301 was introduced to the year-end omnibus to be voted on December. The amendment was introduced by Rep. Jason Smith (R-Mo.) and passed with bipartisan support. The legislation would block federal funds from flowing into jurisdictions that interfere with Immigration and Customs Enforcement, including jurisdictions that do not honor ICE detainers.
Another option is the removal of immunity from local government officials. If a local official refuses to cooperate with federal officials and releases an illegal immigrant, the official can be held financially liable for crimes committed by the illegal immigrant after release. There is a bill in the Colorado General Assembly that does just that. It is time to bring SB17-281 to Washington D.C. Local officials will never change unless they feel the pain financially.
In the meantime, the Trump administration must be prepared to fight sanctuary jurisdictions like California in federal court to uphold the law of the land.
Illegal immigration was one of the top campaign issues across the nation that put President Trump over the top in 2016. He won on the issue of getting illegal immigration under control. Republicans were given control of the House and Senate for the purpose of backing up the President. They, particularly the GOP Congress, cannot afford ignore this threat to the Constitution and homeland security, or they will risk losing any credibility they have left.
Printus LeBlanc is a contributing editor with Americans for Limited Government.