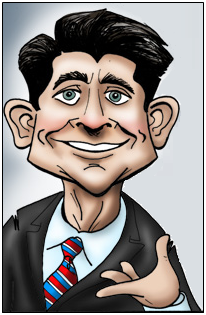 By Natalia Castro
Today's political climate is certainly strange. Rather than running for office on the pledge to support GOP Congressional leadership, Republican politicians gearing up for House races are finding the exact opposite to be beneficial.
House Minority Nancy Pelosi's (D-Calif.) high unfavorability has been a prominent point for Republican primary seekers, but the four Republican candidates in Minnesota are instead refusing to say if they can back Republican House Speaker, Paul Ryan.  As Minnesota primary candidates swear against backing Ryan, he must consider if the job he is doing is making the cut.
The Washington Post reported that at a Minnesota state fair, State Representative Tim Miller, commercial pilot Dave Hughes, businessman Jim Hagedorn, and St. Louis County Commissioner Pete Stauber are all running for swing seats in the House and have made claims that they are wary to support Ryan as Speaker because of the direction in which he is leading Congress — which so far has not repealed Obamacare, cut taxes, passed infrastructure or built the wall and got it on President Donald Trump's desk.
This shift in criticism comes on the backs of low approval ratings for Ryan. The latest NBC News/ Survey Monkey polls show Ryan is nearly exactly as unpopular as Pelosi; with 63 percent viewing him as unfavorable, compared to 64 percent who feel the same way regarding Pelosi. Ryan seems to be the people's target for blame for the stagnation within the entire House and Congress more broadly.
The full repeal and replace of Obamacare is still a dark spot which Trump has pressured both Ryan and Senate Majority Leader McConnell (R-Ky.) to correct.
This has not been the only point of disagreement between the American people and GOP Congressional leaders.
Despite the President's refusal to concede funding the immigration wall during this year's budgeting, Ryan has asserted that it is not as necessary as Trump feels. Trump has repeatedly said he would be willing to veto any appropriations legislation which does not fund the wall, possibly causing a partial government shutdown. While Ryan, has toned down that rhetoric, dismissing the idea of a government shutdown is needed to ensure border funding.
Primary candidates are choosing to distance themselves from Ryan due to the slow implementation of the Trump agenda. Even Trump has called Republican leadership's ability into question.
As the President is now moving toward tax reform, this could be an opportunity for Ryan to regain momentum for the Republican Congressional majorities. But time is not necessarily on his side with members already switching into campaign mode. Like on building the wall or repealing Obamacare, Ryan has already claimed to be in line with Trump as far reducing taxes and simplifying the tax code. The Milwaukee Journal Sentinel predicts that with success on tax reform, Ryan might also be able to revisit health care alongside the Senate.
But the American people will believe it when they see it.
While it is still early in the primary season, the question of loyalty to leadership will surely come up again. Ryan is certainly in the hot seat, but in order to remain in the Speaker's seat in 2019 he will have to work hard on instituting the President's agenda that won the election in 2016.
Natalia Castro is a contributing editor at Americans for Limited Government.