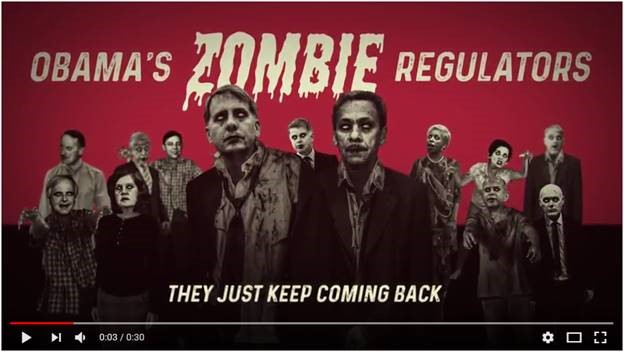 By Rick Manning
As originally published at http://www.washingtonexaminer.com/now-that-richard-cordray-is-gone-its-time-to-undo-his-work/article/2640976
Consumer Financial Protection Bureau Director Richard Cordray announced his resignation last week. This is a victory for consumers and businesses, as he will no longer be able to wreak regulatory havoc on the American people and the economy.
But that doesn't mean we are out of the woods just yet. While President Trump continues to successfully roll back Obama-era regulations, he cannot stop midstream in this effort.
Before Cordray is shown the door out of Washington to pursue what is expected to be a run for Ohio Governor, we need to first look back at the damage he has left in his wake.
Earlier this month, President Trump signed into law a repeal of the Consumer Financial Protection Bureau's punitive arbitration rule. This regulation was the latest example of how this rogue agency's actions are meant to protect anyone but consumers. While the rule would have made it easier for consumers to sue their bank in the event of a dispute, the reality is that it would have resulted in thousands of lawsuits and hundreds of millions of dollars in costs to banks to protect themselves in litigation, costs which will ultimately be passed onto consumers. What was even more troubling were reports that by his own admission, Cordray said that many banks don't even have arbitration clauses.
In an Oct. 13 letter to Senate Banking Committee Ranking Member, Sherrod Brown, Cordray said: "roughly half of the credit card market does not have arbitration clauses in their agreements." So, as Darren McKinney of the American Tort Reform Association rightly asked in a recent opinion piece: "how in the world did the CFPB ever conclude it needed to impose itself on a sound and functioning market — a market in which consumers have plenty of choices and banks that don't require arbitration are free to advertise themselves as such?"
It's a great question, and one we now don't have to answer, thanks to Senator Mike Crapo, R-Idaho, Rep. Keith Rothfus, R-Pa., and others who worked tirelessly in Congress to make sure this rule never saw the light of day. However, there are plenty of other CFPB actions that are harming consumers and businesses as we speak.
Last month, the agency released a 1,700-page rule to regulate short-term loans, which will result in cutting off a critical source of income, especially for unbanked and underbanked Americans that need assistance when a financial emergency or a natural disaster strikes. In a twist of irony, it is the Bureau's own abusive policies that have forced many banks to deny basic services to these consumers.
Additionally, the agency has also been busy building the largest government consumer database by monitoring more than 87 percent of the credit card market, even while Cordray has admitted he can't guarantee the data the CFPB has collected is 100 percent secure. After the devastating data beaches at Wells Fargo and more recently Equifax, the last thing the CFPB should be in the business of doing is collecting such large amounts of sensitive and unprotected data. It's clear from Cordray's actions that the CFPB is more concerned about using taxpayer dollars to protect and promote Cordray than to protect American consumers.
So, while 143 million Americans just had their personal information exposed by the reckless actions of Equifax, the CFPB was busy completing a $145 million building makeover.
Richard Cordray should have never been working on the public dime in the first place. Last month, my group released a Halloween themed ad calling on Trump to remove Obama-era "zombie" regulators like Cordray, because the longer he stayed as head of the CFPB, the more damage he could inflict on the American people and undermine the Trump agenda.
Now that Cordray is gone, much work remains to undo what he did in office. Mick Mulvaney certainly has the proven steady hand to right the agency's ship. In the meantime, Congress needs to continue to use the Congressional Review Act (CRA) to undo the incredible damage the CFPB has already inflected on taxpayers and the economy, and ultimately they need to put an end to this Dodd-Frank regulatory monstrosity altogether.
Rick Manning is President of Americans for Limited Government.