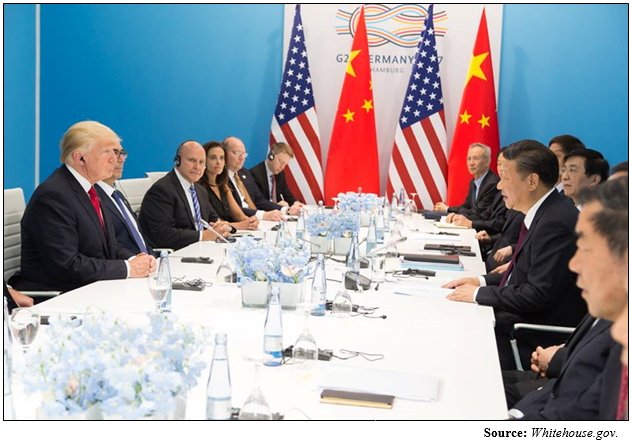 Perhaps more than any other issue, getting a better deal for the American people on international trade is why President Donald Trump won the election in 2016. Trump promised he would put America first for a change.
That message not only resonated in the Republican primary, which Trump won decisively, it helped the President secure votes from disgruntled Democrats, union and conservative households in Rust Belt states like Pennsylvania, Ohio, Michigan and Wisconsin that put him over the top in the Electoral College.
And now that Trump is in the White House, one year later, he is keeping his promises. Already, Trump has withdrawn from the 12-nation Trans-Pacific Partnership (TPP), emphasizing a preference for bilateral trade deals.
In addition, Trump is renegotiating the North American Free Trade Agreement (NAFTA), another kept promise, and is threatening to withdraw from the agreement completely if a better deal cannot be had.
Trump has also withdrawn the Paris climate accords, another bad deal where the U.S. had unilaterally agreed, without anything in return, to reduce carbon emissions. It was a self-inflicted wound on the American economy, yet another global agreement that raised the cost of doing business in the U.S., costing jobs and hampering growth.
At the agency level, Trump has reinvigorated trade enforcement, winning Commerce Department victory against sugar dumping by Mexico and an International Trade Commission victory against residential washers dumping by LG and Samsung in response to a complaint by the U.S.-based Whirlpool Corp., with further action by the department expected.
In dealing with China, Trump in June achieved an agreement with China on importing U.S. beef, while opening up a wider dialogue with Pacific trading partners in his recent Asia trip.
On Nov. 15 Trump declared that the purpose of his trip was "to finally — after many years — insist on fair and reciprocal trade. Fair and reciprocal trade — so important. These two words — fairness and reciprocity — are an open invitation to every country that seeks to do business with the United States, and they are a firm warning to every country that cheats, breaks the rules, and engages in economic aggression — like they've been doing in the past, especially in the recent past."
This is an absolute sea change on global trade for the U.S. and it could not come a moment too soon. At the World Trade Organization (WTO), developing economies do not have to play by the same rules as the U.S. The policy, called "special and differential" treatment has been standard operating procedure since Tokyo Round of GATT that began in 1973. Then, the concept was called "non-reciprocity."
It states, "The developed contracting parties do not expect reciprocity for commitments made by them in trade negotiations to reduce or remove tariffs and other barriers to the trade of less-developed contracting parties." And specifically, that "the less-developed contracting parties should not be   expected, in the course of trade negotiations, to make contributions which are inconsistent with their individual development, financial and trade needs, taking into consideration past trade developments."
So, by design, the U.S. has been allowing other economies to ship goods to the U.S. at cheaper prices, incentivizing development and industrialization overseas, and outsourcing and downsizing in the U.S. The results have been catastrophic for working Americans.
4.9 million manufacturing jobs were lost after 2000, when China was granted permanent normal trade relations and a year later entered the WTO.
Since that time, the U.S. has been losing labor participation among 16-to-64-year-olds, those in their prime working years, which has declined from more than a 77 percent rate at the turn of the century to just 72.95 percent in 2016, accounting for nearly 9 million who either left the labor force or never entered on a net basis since then.
At the same time, U.S. market share of manufactures exports worldwide — that is, U.S. exported manufactures as a percent of worldwide exported manufactures — peaked in 2000 at 13.98 percent, and has been declining ever since, according to data compiled by the World Bank. In 2016, it was down to 7.91 percent.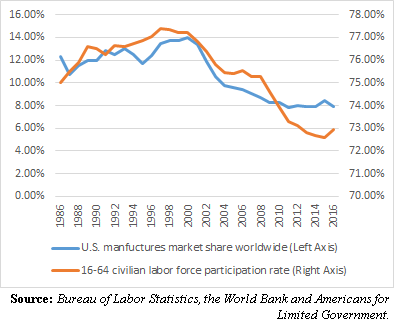 As U.S. market share of manufacturing rose worldwide in the late 1980s and 1990s, so too did labor participation. And that once we were losing market share, labor participation followed closely behind. To get labor participation back up, the U.S. needs to become more competitive globally.
Fortunately, with Trump's determination and commitment to getting better trade agreements and generally to lowering the cost of doing business in the U.S., that can begin to turn around.
Since Trump took office, 171,000 new manufacturing jobs have been created.
The number of 16-to-64-year-olds who have entered the labor force has increased by 879,000, increasing labor participation to 73.3 percent for that group.
Yes, there is more to be done, but this is just the beginning. What's important is that President Trump will never be satisfied.
In his inaugural address Trump declared, "From this moment on, it's going to be America First. Every decision on trade, on taxes, on immigration, on foreign affairs, will be made to benefit American workers and American families. We must protect our borders from the ravages of other countries making our products, stealing our companies, and destroying our jobs. Protection will lead to great prosperity and strength. I will fight for you with every breath in my body — and I will never, ever let you down. America will start winning again, winning like never before."
So far, on trade, President Trump is keeping his promise. And the biggest winners so far are the American people, who, for the first time in a long time, have a President on trade who has their backs and will put America first.
Robert Romano is the Vice President of Public Policy at Americans for Limited Government.