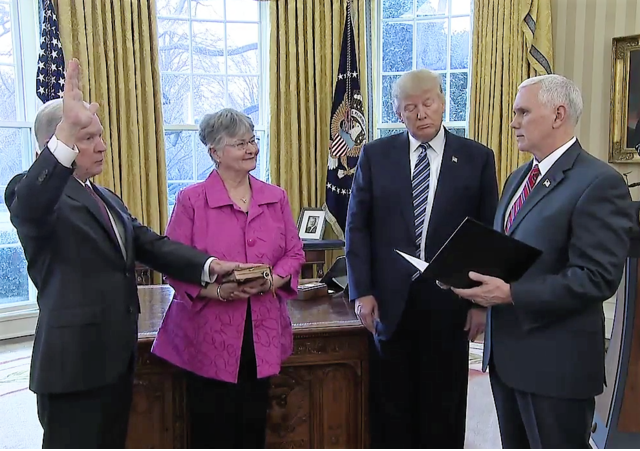 By Printus LeBlanc
In a year full of achievements for President Trump, his push for enforcement of existing immigration laws and little-noticed victories at the Department of Justice have stood out.
MS-13
The Trump DOJ, led by Attorney General Jeff Sessions, has taken a hard line against MS-13. The Salvadoran gang is a ruthless organization that has spread its tentacles across the nation. Many consider it is the most violent gang operating in the U.S. Under the previous administration they seemed to act with impunity because President Obama was sympathetic to the illegal immigrant community.
However, since taking office, the Trump administration has taken the fight to the criminal organization. Since taking office, the number of arrests of MS-13 members has increased by 83 percent. AG Sessions designated the gang a priority for the DOJ's Organized Crime Drug Enforcement Task Forces program, which allows a variety of laws to be used to prosecute MS-13 members. Sessions stated," Now they will go after MS-13 with a renewed vigor and a sharpened focus.  I am announcing that I have authorized them to use every lawful tool to investigate MS-13—not just our drug laws, but everything from RICO to our tax laws to our firearms laws.  Just like we took Al Capone off the streets with our tax laws, we will use whatever laws we have to get MS-13 off of our streets."
MS-13 was allowed to bloom and spread their murderous trade under the Obama administration; President Trump is fighting back.
Sanctuary Cities
Many of the gang members hid in sanctuary cities. These are cities that refused to cooperate with federal officials and ignored ICE detainer requests for illegal immigrants. After being arrested for a crime, an illegal immigrant would be allowed back onto the street without facing deportation, even if they were a member of a criminal gang.
President Trump decided to act. The DOJ announced it would withhold funding for certain law enforcement programs from sanctuary jurisdictions. The jurisdictions depend on DOJ funding, and if they are found to not comply with the conditions of the grants, the grants will be rescinded. Local politicians that put criminal illegal aliens above law abiding citizens should not be rewarded with federal funding for violating the law.
Third Party Payouts
One of the most important actions taken by the Trump DOJ was to end the practice of third-party payouts. The previous administration allowed companies to pay these groups instead of victims of crimes. When the Obama DOJ levied fines against most major banks, following the financial crisis, a clause was inserted into the fines that allowed money going towards third parties to count as double towards the fine. Of course, these third parties just happened to be politically aligned with President Obama and Attorney General Eric Holder. This was seen as a slush fund for political allies, and the Trump DOJ put a stop to it.
On June 7, 2017, Attorney General Sessions issued a memo to all Department of Justice components ending the practice of third-party payouts stating, "When the federal government settles a case against a corporate wrongdoer, any settlement funds should go first to the victims and then to the American people— not to bankroll third-party special interest groups or the political friends of whoever is in power," said Attorney General Jeff Sessions.  "Unfortunately, in recent years the Department of Justice has sometimes required or encouraged defendants to make these payments to third parties as a condition of settlement.  With this directive, we are ending this practice and ensuring that settlement funds are only used to compensate victims, redress harm, and punish and deter unlawful conduct."
Drug-related deaths
Under the Obama administration, the number of narcotic-related deaths skyrocketed. Since 2009, the number of drug-related deaths in the U.S. has risen by more than 50 percent, to more than 64,000 in 2016. Much of this is due to the opioid epidemic currently sweeping the nation. The previous administration was not big on securing the border to stop the tons of narcotics from flowing onto U.S. streets.
The Trump administration has taken the exact opposite approach. Trump has beefed up border security and asked for thousands more Border Patrol agents to be hired. Prototypes for a southern border wall have also been built, and there is funding in the budget to begin construction of the wall. Trump knows most of the drugs are getting into the country through the southern border.
The President also declared the opioid epidemic a "Public Health Emergency." This will allow the federal government to waive some regulations and give states more flexibility in how they use federal funds to fight the epidemic.  Over 250,000 people died of drug overdoses in the last administration, and it seemed like no action was taken, with the exception of leaving the border unguarded and letting Hezbollah operate a massive narcoterrorism in the U.S.
Gun Crimes
The left often uses victims as props in their quest to destroy the 2nd Amendment. The left complains getting a gun is entirely too easy in the U.S. President Obama was famous for this, but a closer look at his record of prosecuting gun crimes shows something shameful. President Obama rarely prosecuted gun crimes. A 2016 Inspector General's report, showed the Obama DOJ prosecuted less than 32 people per year for lying on federal forms to purchase a firearm. This happened despite the fact over 100,000 convicted felons or other prohibited persons tried to buy guns each year. For a group that supposedly cares so much about gun crimes, why didn't the Obama administration prosecute them?
Prosecutors under the Sessions led DOJ are taking a different tactic. The DOJ initiated more new gun cases every single month since February, compared to the corresponding month from last year. When asked about it, Lawrence Leiser, president of the National Association of Assistant U.S. Attorneys said, "prosecutors simply have orders to file the most significant charge that can be proven… a reversal from instructions first handed down by Holder to be more lenient in certain instances."
The Sessions led DOJ is doing more to combat violence in Chicago than President Obama ever did for his hometown. The DOJ sent 20 ATF agents to Chicago early in the year, and it seems to be paying off. In July U.S. Attorney Joel Levin stated, "his office already prosecuted more federal gun cases than all of 2016."
IRS
President Obama weaponized government against his opponents, and that included the IRS. The IRS was caught red-handed targeting groups based on their political beliefs. Lois Lerner inappropriate actions by the IRS on a press call. This began a saga of destroyed evidence, refusals to testify, and denials by government officials. It was starting to look like justice would never be served.
The DOJ under Sessions realized the wrong that was committed and settled with the aggrieved parties. Court documents stated, "The IRS admits that its treatment of Plaintiffs during the tax-exempt determination process, including screening their applications based on their names or policy positions, subjecting those applications to heightened scrutiny and inordinate delays, and demanding some Plaintiffs' information that TIGTA determined was unnecessary to the agency's determination of their tax-exempt status, was wrong…For such treatment, the IRS expresses its sincere apology."
The DOJ and the immigration system were by far the institutions damaged the most by the Obama administration. They flooded with country with illegal immigrants with hopes of turning them into voter following amnesty, they used the DOJ as a weapon to raise funds for political allies, and they targeted their opponents with governmental power. AG Sessions and President Trump have a long way to go to make the DOJ respectable again, but the actions this year, are helping to restore some of the lost confidence.
Printus LeBlanc is a contributing editor at Americans for Limited Government.