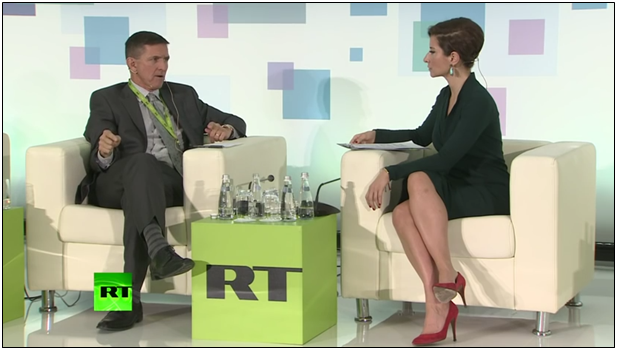 Did former National Security Advisor Michael Flynn ever even lie to the FBI on Jan. 24, 2017 about his Dec. 29, 2016 conversation he had with Russian ambassador Sergei Kislyak?
The Washington Examiner's Byron York reported on Feb. 18 that the FBI did not think so, reporting, "[Former FBI Director James] Comey told lawmakers that the FBI agents who interviewed Flynn did not believe that Flynn had lied to them, or that any inaccuracies in his answers were intentional."
Ultimately, lying to investigators was exactly the charge brought by Special Counsel Robert Mueller that Flynn has pled guilty to. But now, Flynn's sentencing has been delayed amid reports that the Mueller was compelled to turn over exculpatory evidence to Flynn's attorneys. Before that, the judge that was overseeing the case was similarly compelled to recuse himself after it was revealed he was the Foreign Intelligence Surveillance Act (FISA) court judge who had authorized surveillance on one-time Trump campaign advisor Carter Page.
The Flynn matter is also presumably what Mueller or Congress will most likely be bringing against President Donald Trump for removal on a fanciful charge of obstruction of justice.
I write "fanciful" because nobody at the time thought that Flynn had done anything wrong by having the conversation with Kislyak — including the FBI which investigated the conversation concluding no crime had been committed, the Washington Post reported a day prior to his questioning on Jan. 23, 2017 — even if the conversation did mention the Obama administration's midnight implementation of sanctions against Russia. That was no crime.
Meaning, as of Jan. 24, 2017, there was no crime for the FBI to have been investigating Flynn for having committed, by the FBI's own account, nor one to have questioned Flynn about. If the reporting by the Washington Post on Jan. 23, 2017 is correct, there should be a record of the FBI inquiry into the legality of the Flynn conversation with Kislyak, calling into question what the purpose of the interview was.
Was the Justice Department trying to set Flynn up with a process crime by interviewing him? Either way, the public and Congress should be allowed to review the transcript of the interview in its entirety immediately so we can make up our own minds about what really happened. No more guessing.
Since that time, the American people have learned that it was Deputy Attorney General Sally Yates who was obsessed with the idea that Flynn had committed a violation of the Logan Act by talking with Kislyak.
As the Examiner's York reported on Dec. 3, 2017, "Former Deputy Attorney General Sally Yates has told Congress that the Logan Act was the first reason she intervened in the Flynn case — the reason FBI agents were sent to the White House to interview Flynn in the Trump administration's early days. It was that interview, held on Jan. 24, 2017, that ultimately led to Flynn's guilty plea."
But the Justice Department's interest in the Logan Act might have predated the Kislyak phone call. As York reports: "Starting in the summer of 2016 and intensifying in the transition period, the Logan Act, while mostly unknown to the general public, became a hot topic of conversation among some Democrats. A number of lawmakers, former officials, and commentators called on the Obama administration to investigate the Trump team for a possible Logan Act violations — and to do it while Democrats still controlled the executive branch."
So, what if the Logan Act investigation had actually begun months prior to Flynn's conversation with Kislyak? After all, the investigation of Trump campaign "collusion" with Russia was already active as early as July 2016 based on public reporting.
And while the public has been primarily focused on figures such as George Papadopoulos or Carter Page as having been the nexus of this investigation, one other figure, almost mentioned in passing in the Christopher Steele dossier was Michael Flynn.
Flynn appears in the Steele dossier because of his speaking engagement, which was really an interview led by a Russian reporter, Sophie Shevardnadze, in a public forum, at the Russia Today 10-year anniversary in Moscow in Dec. 2015. Steele wrote in Aug. 2016: "Kremlin engaging with several high profile U.S. players, including… former DIA Director Michael Flynn… and funding their recent visits to Moscow."
Apparently, it was not all that controversial at the time of his visit, since Flynn apparently briefed the Defense Department both before and after the event and had his security clearance reupped in April 2016 after the fact.
Raising the question of what eventually made it so suspicious to the Justice Department later? York's reporting puts the interest in the Logan Act dating back to the summer of 2016, not Dec. 2015. Perhaps the interest was to justify an ongoing criminal or counterintelligence investigation into Flynn with ongoing surveillance. Like the Page FISA warrant, Flynn's mention in the Steele dossier might have fueled the inquiry into Trump's top foreign policy advisor. Flynn was the main target all along.
Then there was the topic that Flynn spoke of at the Russia Today event, which was the potential for U.S.-Russian cooperation to defeat Islamic State, focusing on "mutual interests" and restoring "strategic stability" to the Middle East.
Flynn was there to sell the idea that the U.S. and Russia had a common enemy in Islamic State and more broadly radical Islam, a proposal candidate Trump would adopt in 2016.
Flynn stated, "This back and forth, and I do appreciate it… and I respect it, because we have to have this debate, we absolutely have to have this debate, and we have to have it now. And we can't—the United States—and I'm speaking as a really a private citizen—the United States can't sit there and go, Russia, you're bad, and Russia can't sit there and say, the U.S., you're bad. What we have to do, like we have done in the past, and I could go into a couple of historical examples where Europe would not be the Europe that it is today, thriving, had it not been for Russia and the United States working together 75 years ago, and in other places [is] where we have worked together. So, this idea of us not being able to work together is a misnomer, and I think we have to step back and we have to say, okay, what are the common interests, and then, what are the common goals that we want to achieve, and those goals I believe the number one goal is to… eliminate the cancerous idea that exists inside of the Islamic religion, we must do that."
Flynn called on Arab leaders to work with the U.S. and Russia toward that end, and added, "the second common goal is to then, to keep some level of stability in the Middle East that creates a new set of economic conditions, to deal with these… frankly, theses 15-to-35-year-old young men that exist…"
So, in Flynn's perspective, the destabilizing proxy wars in the Middle East have done much to foster the very conditions that are favorable to groups like al Qaeda and Islamic State. So, his program was to change the paradigm in the region.
Speaking emphatically to both Russia and the U.S., on how to generate trust between the two countries, Flynn flatly stated, "Stop being like two bullies in a playground. Quit acting immature… with each other and know that I have… a disagreement with you, you have a disagreement with me. You know, this is a funny marriage between Russia and the United States, but it's a marriage… whether we like it or not. And, that marriage is very, very rocky right now, and what we don't need is we don't need that marriage to break up. We've had our break ups in the past, but we need to… look at this, I mean, I'm deadly serious about this, because I know this enemy… and I think there's some in this country that know this enemy from having dealt with it in Chechnya and Dagestan and other places. This is a very, very deadly enemy."
Finishing out his interview, Flynn expressed hope that his idea for cooperation would be accepted in both Washington, D.C. and Moscow to defeat their common enemy and to avoid a larger conflict: "My wish and my hope is that we figure out a way strategically to work together, I think that that's the way ahead. Whether or not we work together 20 years from now, I don't know, but I know if we don't work together right now, the potential for going to a larger conflict against each other or the potential for this enemy to do far more damage than they already have is very, very real."
Can you imagine anyone proposing such cooperation today in the midst of hysteria over all things Russia? Moreover, think of the level of advice that President Trump was denied at a time when escalation versus Russia would absolutely become a problem in the very regions that Flynn worried about in his Russia Today talk.
The conversation was initiated with a question about the incident of NATO member Turkey shooting down a Russian helicopter. Flynn warned that because of all the "converging interests" in Syria that such incidents were likely and needed to be warded off before they turned into something bigger. After last month's killing of more than 200 Russian soldiers by U.S. forces in Syria after they attacked a U.S. base, clearly Flynn's warnings have turned out to be prophetic.
And at the time in Dec. 2015 and the early days of 2016, Flynn's ideas might have been seen as heresy. They implicate not only U.S.-Russian relations but also the Iran nuclear deal — Iran in many ways is a client state of Russia's — which Flynn opposed. In a similar vein, you don't deal with radical Islam in the region without dealing with Iran. Finally, during the transition it was reported by Reuters on Jan. 5, 2017 that Flynn wanted to reorganize the nation's intelligence agencies. Together, this could amount to a major motive to take out Flynn.
As Trump's advisor on foreign affairs in the campaign, clearly Flynn had an impact, as the candidate Trump talked up the possibility of working with Russia to destroy Islamic State. The Iran deal was in the crosshairs. The National Security Council was about to be headed by somebody who had bucked the national security establishment. All these things were real possibilities — threats from the establishment's perspective — after Trump won the election headed into 2017.
Which may be what motivated somebody in the Obama administration to leak the Kislyak conversation to the Washington Post's David Ignatius, setting forward the chain of events that would ultimately lead to the appointment of Robert Mueller. Likely, if it was not lying to investigators, it would have been the Logan Act or something else. Anything to justify an ongoing investigation that Trump would be available to "obstruct."
In context, though, it is hard not to wonder if the plan was to stop Flynn's radical bid for U.S.-Russian cooperation that Trump embraced in the 2016 campaign, to keep the Iran deal intact and to protect the status quo in the deep state.
The real question might be when was Flynn put under surveillance by the Obama administration? After all, how did the FBI get the transcript of the Kislyak conversation? Can Congress find out? Will Mueller tell us?
What if Michael Flynn was not unmasked?
We know based on public reporting that the FBI investigators had a transcript of Flynn's conversation with Kislyak when they went to talk to him. At the time, the Washington Post reported that "The calls were picked up as part of routine electronic surveillance of Russian officials and agents in the United States, which is one of the FBI's responsibilities, according to the U.S. officials, who spoke on the condition of anonymity to discuss counterintelligence operations." Based on that account and others, everyone tends to assume that Flynn was unmasked.
When you boil it down, the transcript of Flynn and Kislyak likely came into being in one of two ways. Either, A) as is widely believed, Kislyak was under Section 702 surveillance, Flynn was minimized, and then unmasked via procedures approved by the Attorney General; or B) like Carter Page, Flynn himself was under surveillance under Title I of FISA.
When Section 702 was reauthorized, Congressional officials went out of their way to beat back opposition to renewing FISA by noting that all the abuses we've seen have come out of the FISA court abuse scandal — i.e. the Carter Page warrant that used the Steele dossier as evidence — have come about because of domestic surveillance, not foreign.
If that proves true in 100 percent of the matters we are considering, then the abuse against Flynn might not have been based on foreign surveillance, but based on domestic surveillance.
So far, over a year in Congress' intelligence committees looking into the Obama era investigation in Trump and Russia, nobody has publicly produced evidence of Flynn being unmasked and if so by who.
Meaning, Flynn might have been under surveillance himself. Perhaps there was more than one FISA court-ordered surveillance that was abused by federal officials. Recall the fact the conversation had occurred was almost instantaneously leaked to the news media. That was clearly a crime, a leak of classified information.
Now, whether it was an unmasking gleaned from surveillance of a foreign actor like Kislyak or was targeted directly on Flynn is a highly substantive matter, since it implicates how Special Counsel Robert Mueller's case against Flynn came into being. Was it incidental, or intentional surveillance?
Right now, we don't know. But Flynn, Congress and ultimately the American people clearly have a right to know. If this is what is going to be used to conjure a B.S. charge of obstruction of justice against the sitting President of the United States and overturn the 2016 election, we should everything there is to know about it, even and especially if certain aspects of how that investigation go started are currently classified. There is simply no other way to tell if the investigation into Flynn was politically tainted as the other parts of the Russia investigation, even as it appears highly likely it was.
Recall, by Jan. 23, 2017, per the Washington Post, the FBI had already concluded Flynn did nothing illegal by talking to Kislyak. A day later, the FBI was sent to question him at the White House by Yates. Months later, we learn via the Examiner's York that the FBI did not think Flynn had lied at that meeting. And now, the judge overseeing Flynn's case has ordered exculpatory evidence to be turned over to Flynn.
The misconduct of the Justice Department against Flynn does not suddenly end the moment Mueller was appointed. The transcript of the conversation was taken by the nation's intelligence agencies before President Trump was sworn into office and therefore prior to Flynn's appointment as National Security Advisor. Mueller used all this evidence against Flynn.
If Flynn was under surveillance, federal investigators would have had to demonstrate probable cause that Flynn was working as a foreign agent. But what if the evidence for doing so was the same as Carter Page? That is, the infamous Steele dossier, which similarly named Flynn as having been overseas in Moscow? Or rested on some oddball legal interpretation of the Logan Act?
Either way, the fact that Flynn had been in Moscow to speak at the Russia Today 10-year anniversary was already a matter of public record. Financial disclosures about it notwithstanding — those can be amended — this was not something worthy of a national security investigation. Anyone could have just gone to Youtube to see him speaking in a public interview. This was not collusion. It was an interview with foreign media. And, again, by April 2016, the Obama administration had renewed Flynn's security clearance.
Somewhere along the way, something changed in the posture toward Flynn. By the time the Russia investigation, or should we say, hysteria, was in full swing, Flynn was swept up just as was Trump, Page, Papapdopoulos, Paul Manafort and even Attorney General Jeff Sessions. They needed something they could stick to Trump — to stop him and the agenda Flynn was pursuing.
This all smells bad. It looks like a dirty trick. If it turns out Mueller deliberately withheld exculpatory evidence from Flynn and his attorneys to extract a guilty plea under duress, that guilty plea should be thrown out, Flynn should be pardoned and perhaps even reinstated, and Mueller should be removed as Special Counsel for yet more prosecutorial misconduct.
Because at the end of the day, it sure is looking a whole lot like Michael Flynn was set up as the means to take out President Trump and overturn the result of the 2016 election — come hell or high water.
Correction: Flynn's security clearance was reupped in April 2016, not 2017. And the Flynn-Kislyak call took place on Dec. 29, 2016, not Dec. 22.
Robert Romano is the Vice President of Public Policy at Americans for Limited Government.