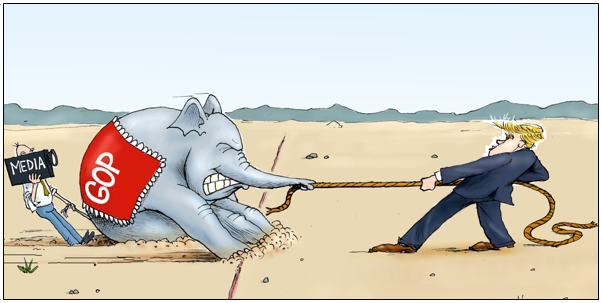 One of the principal reasons President Donald Trump won the Electoral College in 2016 was the tough stance he took specifically on global trade issues and their detrimental impacts on the U.S. economy and American workers.
Trump's blue collar economic message resonated in the Rust Belt, putting the President over the top in Pennsylvania, Ohio, Michigan and Wisconsin, without which Hillary Clinton would be president today.
Meaning no Neil Gorsuch on the Supreme Court. Instead, it's Merrick Garland or some other liberal justice, tipping the balance of power on the nation's highest court.
Clinton would be stacking the lower courts, too.
Also, no Scott Pruitt at the Environmental Protection Agency (EPA).
So, instead of replacing the Obama Clean Power Plan, it would stay in place, including the new and existing power plant regulations.
The U.S. would still be a part of the Paris Climate Accord.
The tax cuts would have never passed.
The Keystone XL and Dakota Access pipelines would not be in the process of finally being built.
The Arctic National Wildlife Refuge would not have been opened for drilling.
The Obamacare individual mandate would not have been repealed.
The U.S. would never have recognized Jerusalem as the capital of Israel.
The U.S. would still be working to join the Trans-Pacific Partnership.
Several Obama midnight regulations would have not been repealed by Congress.
We would have never found out about the abuses of the Foreign Intelligence Surveillance Act (FISA) court by the Obama administration to spy on the opposition party, the Trump campaign, in 2016.
The Justice Department would not be releasing Fast and Furious documents now.
Immigration law would remain unenforced. Deferred Action of Childhood Arrivals (DACA) would not be in the cross hairs.
It is doubtful the U.S. would be on the verge of a breakthrough with North Korea on denuclearization.
The military would be continuing its decline as social welfare priorities took precedence over combat readiness.
It is questionable the GOP would have retained the Senate without Trump on the ballot, running tough on trade.
Trump broke the blue wall, and he did it on an issue that had been a staple of Democratic union politics for a generation: trade.
Exposing the Democrats' continued vulnerability on this issue, following President Trump's announcement of a 25 percent tariff on steel imports and a 10 percent tariff on aluminum, Trump was showered with praise from Democrat representatives in the House.
"Hundreds of thousands of workers and communities, as well as critical infrastructure and defense supply chains in America, depend upon the steel industry. They deserve real enforcement of our laws to hold bad actors accountable, and the Administration is correct in taking the actions outlined today," U.S. Rep. Rosa DeLauro (D-Conn.) declared.
"[W]e are hopeful today's announcement will put an end to a long series of delays to much-needed action against a rigged global steel market. Our steelmaking businesses and workers need relief so they can compete on a fair playing ground," U.S. Rep. Marcy Kaptur (D-Ohio) stated.
In short, the Trump trade agenda today presents the same golden opportunity for Congressional Republicans and the Republican Party more broadly to make the same in-roads with working class voters that Trump did in 2016.
So, what is the GOP establishment up to? They're apparently going out of their way to alert voters that whatever Trump is doing on trade, it has nothing to do with them, effectively telling voters if they're with Trump on trade, they should just vote Democrat.
107 House Republicans fired off a letter, although reasonably calling for tariffs to be specifically tailored toward trade violators, was seized upon by media outlets — who do not have Republican majorities' best interests in mind — to cast a far less-nuanced message.
"107 GOP reps send letter to Trump asking him not to do his tariff plan," CNBC blared.
"More than 100 Republicans sign letter urging Trump to back off on tariffs," CBS News reported.
"107 House Republicans express 'deep concern' about Trump tariffs," The Hill noted.
White House chief economic advisor Gary Cohn quit in a huff over the tariff issue, which one thinks he would have been well-aware of when he took the job.
The Republican actions all but assured that congressional Republicans in Congressional would get zero credit for Trump's bold move.
Again, to be fair, House Republicans' message was actually pretty nuanced. As he rightly acknowledged the dumping and transshipping of steel and aluminum by foreign trade, House Speaker Paul Ryan called for "a more surgical approach" to the tariffs. It probably struck the right tone in the GOP's Capitol Hill Club, but it was not the message that was widely received at all.
Instead, the media went out of its way to ignore the actual position House leaders attempted to stake out, and cast Republicans as lockstep opposed to the President. What does that tell you? The mainstream media and the Democrats they're shilling for are scared.
President Trump exposed a deep vulnerability of Democrats on this issue in 2016. One that Republicans should be able to exploit in the coming months and replicate in Congressional races. But to do it, they need to not only stand with President Trump, but with their own constituents, on trade. They need to offer a full-throated defense of his approach.
At the end of the day, Trump opted for a more surgical approach, excepting NAFTA trade partners Canada and Mexico from the steel and aluminum tariffs while renegotiations are ongoing as leverage. Now, they should praise him, and embrace the politics behind it. It's a winner.
In a March 2016 poll by Pat Caddell commissioned by Americans for Limited Government found that a full 68 percent of Republicans supported the use of tariffs under certain circumstances.
72 percent of Republicans believed trade deals gave an unfair advantage to other countries.
71 percent of Republicans believed trade negotiators and corporate interests have allowed U.S. manufacturing to decline, close, or move.
73 percent of Republicans believed we should put American jobs first even if it means paying a tiny bit more for products made in America.
And so forth. As it turned out, Republican voters were even more in favor of protection on trade than Democrats were, although clear majorities of Democrats and Independents stood with Trump on these issues as well in 2016.
In short, the poll predicted not only that Trump would win the Republican nomination, but would go on to win the general election, thanks in no small part to the tough stance he took on trade.
Since then, President Trump obviously has assumed office. In the Politico-Morning Consult poll on the Trump tariffs, once again 65 percent of Republicans support the move, with only 14 percent opposed.
Conversely, 24 percent of Democrats like it and 54 percent are opposed. This is not an unexpected result. Voters of the opposition party tend to disapprove of anything the incumbent party does, even if it's an issue they agree with. Trump did it, so instinctively they oppose it. But if Obama had done it, for example, they would've supported it.
Still, the significant number of Democrats who still agree with the stance and are willing to tell a pollster they approve of it tells you Democrats remain deeply divided on this issue. As for the 54 percent of Democrats who disapprove of it, when they hear their representatives supporting Trump's position on the issue, it's like nails on the chalkboard, creating dissonance between elected Democrats and a majority of their base voters.
In many ways, Democrats in office have the same problem on trade with Trump that they have on DACA and immigration with Trump. While a portion of their constituency truly cares about the issue, a far greater percent of partisans simply cannot fathom any bargain that provides legitimacy to the Trump presidency.
Democrats have created their own trap after a year of demonizing Trump on everything in every way.
So, how might Republicans take advantage of this issue? By running with Trump on trade issues in 2018. For example, there are 25 House Democrats still in Congress who voted to give former President Barack Obama trade promotion authority in 2015 to get the Trans-Pacific Partnership (TPP). They can be targeted.
Sens. Bill Nelson (D-Fla.), Heidi Heitkamp (D-N.D.) and Claire McCaskill (D-Mo.) — all in states Trump carried in 2016 — voted to advance the TPP. This should be easy to exploit on the campaign trail.
Or, perversely, praise Democrats that have publicly stated support for Trump's position on tariffs. Partisans who simply hate Trump will be disenchanted.
This is not rocket science. Voters want their representatives to put America first. Trade is an issue where about two-thirds of the voters regardless of their political stripe actually agree with President Trump. It's a slam dunk.
Even for skeptics, the answer is that if you like tax cuts and constitutionalist judges on federal courts, Trump's approach to trade is necessary to keep the coalition that elected the President together.
It is time that the Republican Party finally come to terms with the fact that trade is the reason Trump won in 2016. Republican Congressmen should realize that the real reason they even have an opportunity to accomplish the rest of their agenda, is because of the stand Trump took in 2016. They can either learn from it, or miss a rare historic opportunity to overcome the odds and keep their majorities in the upcoming midterms.
Robert Romano is the Vice President of Public Policy at Americans for Limited Government.