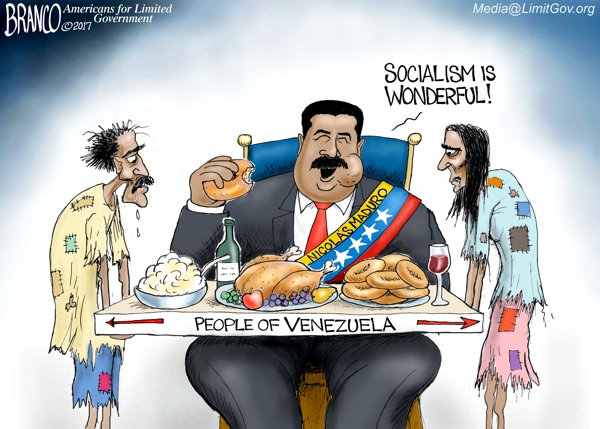 By Natalia Castro
Venezuela is a country destroyed by socialism and the most recent election is evidence of the country's crumbling institutions. Despite growing destitution, hunger, and political unrest, Nicolas Maduro has been re-elected to serve as President of Venezuela. Maduro has extended the reign of socialism and further removed the people's basic rights, while acting as a volatile international threat.
Last July, Maduro led a vote on a council to rewrite the constitution of Venezuela to dramatically expand executive control over the government. The vote was not to determine if the council would exist, but rather, who from a list of trusted government officials would be on the council. Opposition spokesman Vicente Bello criticized Maduro for using violent means to suppress opposition and for altering voter turnout numbers.
Less than a year later, Maduro is at it again.
The Wall Street Journal reported on May 21, 2018 that Maduro has won re-election for another six-year term as Venezuelan president.  Before the election even took place, opposition candidate Henri Falcón refused to recognize the electoral process as valid and called for a boycott. Falcón explains his team of electoral monitors received some 90,000 complaints of the Socialist Party accompanying voters to the polls and actually casting ballots for them.
The U.S. State Department, the European Union, and several Latin American countries have all agreed with Falcón's concerns that the vote was not legitimate.
The continuation of Maduro's centralized, heavy handed control will be continued economic devastation for the country.
Despite having the world largest oil reserves, Elizabeth Melimopoulos of Al Jazeera America explains, Venezuela's GDP has dropped by 45 percent since Maduro took office. The bankrupt country is struggling with ongoing food, medicine, transportation, and utility shortages. Unemployment within the country is similarly expected to rise to 36 percent by 2022.
Maduro has claimed his countries poverty is the result of an "economic war" waged by the U.S., but in reality, socialist policies have led to rampant over spending and dwindling business opportunity.
As a result of the sham election, the Trump Administration has issued an executive order imposing additional sanctions on the entire Venezuelan government banning U.S. firms and individuals from doing business with Maduro and encouraged the release of all political prisoners held in the country.
This increased tension between the two countries significantly, as Maduro responded by expelling top U.S. diplomats from his country.
While U.S. sanctions have the goal of forcing Maduro to take responsibility for his undemocratic policies and human rights abuses, it could have the consequence of putting additional strains on U.S. oil supply.
Dan Eberhart of Forbes explains, hostility within Venezuela has tightened global oil supply. As a result, oil prices have surged to a multi-year high of around $80 a barrel. For the individual, that means gas prices have increased 54 cents a gallon since January 2016. With peak driving season being in the summer, Americans might feel this impact.
Luckily, the Trump Administration has worked to remove regulations on oil refineries in the U.S. which produce heavy sour crude oil — the most common import from Venezuela. With the growth of more refineries, the U.S. could release their dependence on this volatile actor.
Maduro is leading an undemocratic regime that continues to oppress its people in Venezuela. The United States has imposed critical sanctions, but must continue to ramp up domestic oil production to ensure Americans don't feel an economic cost of our tense relationship with Maduro. The U.S. cannot support socialist policy that drives people into destitution, and we must continue fighting for democracy in Venezuela.
Natalia Castro is a contributing editor at Americans for Limited Government.