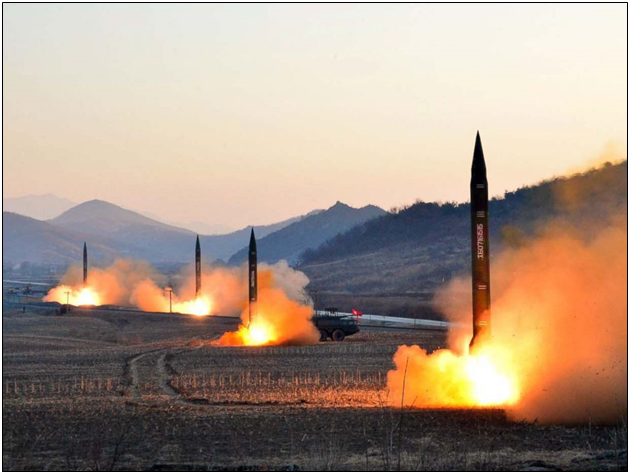 For now, the date is set for June 12, when President Donald Trump and North Korean leader Kim Jong-un will meet for a summit in Singapore to discuss nuclear disarmament of Pyongyang.
The summit was set to follow the historic meeting last month between Kim and South Korean President Moon Jae-in, where the two agreed in principle to finally end the Korean War after 68 years and to pursue denuclearization of the peninsula.
But now North Korea appears to be backing away, canceling planned talks with South Korea over routine military training exercises between the U.S. and South Korea.
According to the state-run media outlet, KCNA, "The United States will also have to undertake careful deliberations about the fate of the planned North Korea-U.S. summit in light of this provocative military ruckus jointly conducted with the South Korean authorities."
This, after the resumption of military exercises had already been announced in mid-March by the U.S. and South Korea. That was before any summit had even been agreed by the Trump administration.
There was no thought that a summit had been predicated on a cessation of such exercises.
The appearance, then, is that Kim is moving the goal posts. If North Korea had wanted military exercises to be suspended in exchange for a Trump-Kim meeting, the summit might never have been agreed to. It appears to be a bait-and-switch, an attempt to test Trump's mettle and to see if concessions can be achieved prior to the summit.
None of this is surprising. This is North Korea we're talking about. As it has moved in the direction of developing nuclear weapons, there have been numerous false starts to diplomacy where progress appeared imminent only to be dashed. In 2000, there were attempts to plan a meeting between Kim Jong-il and then-President Bill Clinton but it all fell apart.
Throughout the 2000s, the six-party talks were engaged, but all the while, work on North Korea's nuclear weapons program continued. In 2006, it conducted its first nuclear weapons test.
Most recently, in 2016 and 2017, North Korea has test-fired a number of ballistic missiles and detonated more nuclear weapons in a show of force. This led President Trump to warn that "fire and fury" would follow any attack by North Korea. Sanctions were intensified both from the U.S. and China.
But then there appeared to be a breakthrough this year with momentum mounting, first with the South and North Korean leaders meeting and then the Trump-Kim summit being agreed to.
Three hostages had just been released by North Korea in what appeared to be a show of good faith in preparation for the talks by newly minted Secretary of State Mike Pompeo. That was just on May 10.
Now Kim might be getting cold feet ahead of the summit and might want to get out of it. So what to do?
President Trump knows better than anyone that no deal is better than a bad deal. As he wrote in his book, "The Art of the Deal," "The worst thing you can possibly do in a deal is seem desperate to make it. That makes the other guy smell blood, and then you're dead."
This is the same President who ended the Iran nuclear deal, who withdrew from the Paris climate accords, and who pulled out of the Trans-Pacific Partnership. Trump has proven he is willing to walk away from the table. Throughout this process, the President has been cautious, warning he will terminate any arrangement with Kim if it does not look like a good deal that protects U.S. national security.
It is hard to foresee the U.S. giving an inch on the military front while North Korea has nuclear missiles pointed at the U.S. and her allies. After verifiable disarmament, matters could change in a deliberated manner to draw down forces from a war posture, but not prior to.
Despite last month's meeting between North and South Korea, the war still has not been ended. Nuclear disarmament is the goal. Anything else is a bonus.
This appears to be an attempt to see if Trump is willing to agree to concessions in exchange for keeping the summit. Kim wants to see if the terms of an arrangement can be changed after the fact. That's unacceptable and a poor show of trust.
President Trump must remember he doesn't have to deal with Kim, and he should not hesitate to cancel the June summit if North Korea continues to issue sudden, public demands and preconditions for that which has already been agreed to. A summit was agreed to, not any ending of military exercises. At the end of the day, if North Korea wants peace, if it wants denuclearization, it can have it, but it has to act like a credible partner first. At the end of the day, it takes two to tango.
Robert Romano is the Vice President of Public Policy at Americans for Limited Government.