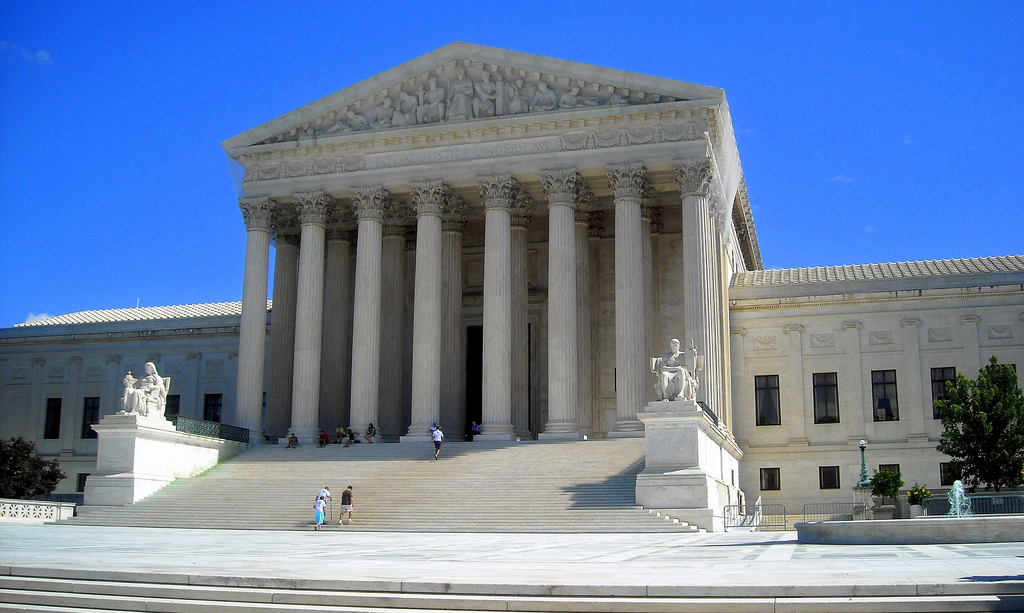 By Natalia Castro
President Trump is just days away from announcing his nominee for the open position on the Supreme Court. Following Justice Anthony Kennedy's retirement announcement last month, Republicans and Democrats have been eager to determine who the President's replacement pick will be. President Trump originally offered a list of 25 potential justices; now, experts believe he is down to just three. Here are the three individuals most likely to be replacing Justice Kennedy on the court:
Amy Coney Barrett
Barrett currently serves on the U.S. Court of Appeals for the Seventh Circuit based in Chicago. She was appointed to this position in 2017 by President Trump and confirmed by all Republicans and three Democrats. Marilyn Odendahl explained in a recent Indiana Lawyer article; the fact that Barrett completed a confirmation process recently makes her a strong candidate, if anything were to get in the way of her confirmation, it has already come out and been clarified.
Barrett previously served as a clerk to the late Justice Antonin Scalia and has taught law at Notre Dame University (her alumnus), George Washington University, and the University of Virginia.
Barrett has come under attack by the left for her religious views.
In her Seventh Circuit confirmation hearing, Democratic Senator Diane Feinstein accused Barrett of using her Catholic religious views as a guide more than the Constitution and the New York Times has framed her family's involvement in a religious group called People of Praise as a cult.
When questioned during her confirmation hearing, Barrett explained that she did not believe it was "lawful for a judge to impose personal opinions, from whatever source they derive, upon the law," and she continued to note that her views on abortion "or any other question will have no bearing on the discharge of my duties as a judge."
Brett Kavanaugh
Kavanaugh currently serves on the U.S. Court of Appeals for D.C. Edith Roberts noted in a SCOTUS Blog profile on Kavanaugh, "Kavanaugh had served for 10 years on a bench known as a springboard to the Supreme Court. With his impeccable academic credentials and sterling reputation in conservative political and legal circles, he seemed like an obvious choice."
Kavanaugh attended Yale for both undergraduate and Law School and participated in a year-long clerkship with Justice Anthony Kennedy, the Justice he would be replacing. For five years, Kavanaugh worked in the West Wing as a counsel and staff secretary to President George W. Bush.
During Kavanaugh's confirmation hearing for the D.C. Circuit Court, Democratic Senator Chuck Schumer accused Kavanaugh of being overly partisan. Despite these claims, Kavanaugh was confirmed by a 57-36 vote.
This week, NPR writers described Kavanaugh as a "connected Washington insider," a label that has caused him to receive criticism from conservatives who view him as too close with the establishment. Conservatives such as Senator Ted Cruz (R.-Texas) and Senator Rand Paul (R-Ky.) have expressed concerns that Kavanaugh will not maintain a socially conservative agenda, citing his decisions on issues such as healthcare.
Mark Levin reminded Americans in a tweet that Kavanaugh has received little attack from Democrats and strong support from beltway Republicans, hinting that Kavanaugh might be an accepted moderate rather than a strong conservative.
Raymond Kethledge
Kethledge currently serves on the U.S. Court of Appeals for the Sixth Circuit. Kethledge also clerked for Justice Anthony Kennedy and was nominated to the Appellate Court by President George W. Bush.
Roger Meyers of the National Review praised Kethledge for his originalist and textualist approach to the Constitution, as well as his avid criticism of judicial activism. Most notably, Kethledge has adjudicated nearly 120 immigration cases during his decade on the Sixth Circuit court and has "applied the same rigorous textualism he applied in every case that requires statutory interpretation." This has allowed him to affirm the Board of Immigration Appeals in 97 percent of those cases.
With immigration expected to be a hot-button issue in the next election cycle, having Kethledge on the Court could tip scales in President Trump's favor.
Kethledge's most notable ruling to the general public was his 2016 ruling in United States v. NorCal Tea Party Patriots. Damon Root of Reason, a free market publication, explains, "[Kethledge] rejected the Internal Revenue Service's attempt to withhold documents relevant to a lawsuit that charged the I.R.S. with unfairly treating conservative groups seeking tax-exempt status. The federal law applicable in the case, Kethledge wrote, 'does not entitle the IRS to keep secret (in the name of 'taxpayer privacy,' no less) every internal IRS document that reveals IRS mistreatment of a taxpayer or applicant organization.' The law 'was enacted to protect taxpayers from the IRS, not the IRS from taxpayers.'"
Kethledge has also authored notable opinions in cases defending the First Amendment and concurred on opinions defending the Second Amendment.
Now the question is, which one will get the nod?
Natalia Castro is a contributing editor at Americans for Limited Government.