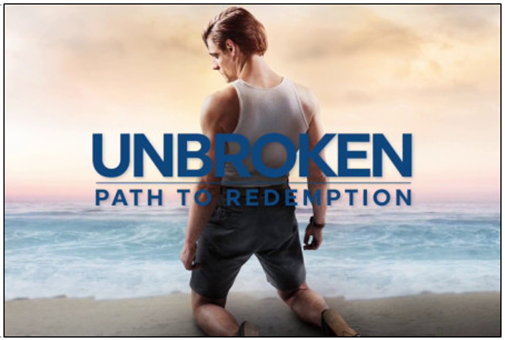 By Rick Manning
What happens when a real hero who comes home from war unbroken, breaks?
That is the rest of the story of the World War II hero, Louie Zamperini, which was left untold in the 2014 hit movie Unbroken.  Fortunately, Universal Pictures, PureFlix and WTA made the courageous decision to produce the follow up movie, Unbroken: Path to Redemption, which shows the hate and fear that can consume a hero dealing with Post Traumatic Stress Disorder, and how Zamperini received redemption at a Billy Graham tent revival.
This is not an easy movie, as it deals with a hero, Zamperini, who suffered horrific abuse at the hands of his Japanese captors in WWII, survived at sea for 47 days in a life raft surrounded by sharks which dwarfed the raft itself, not to mention the terror of having his plane shot down  and the initial fight to survive when most of his friends did not.
Zamperini was a nationally known hero even before he went to went to the Pacific to fight the Japanese, having run the mile wearing the red, white and blue in the infamous Berlin Summer Olympics of 2036. These were the same Olympics where Jesse Owens showed up Hitler's Aryan Master Race nonsense by winning four gold medals in the 100 meters, 200 meters, long jump, and 4 × 100 meter relay.
While in captivity, being an Olympic hero caused Zamperini to suffer severe targeted abuse by a sadistically vicious prison guard known as, The Bird.
And it is The Bird who torments Louie's dreams after the war, as the horrors he endured continued in his head well beyond his return home.  An internal battle that nearly cost him his wife and family, as he abused alcohol to self-medicate his PTSD induced nightmares which overwhelmed him.
As readers of the extraordinary Laura Hillenbrand book, Unbroken know, Louie's life was turned around at a Billy Graham tent revival held in the shadows of LA City Hall in 1949. The movie, Unbroken: Path to Redemption, transports the audience back to the most critical moment in Zamperini's life to that tent where Zamperini gives up his hatred of the Bird, and forgives him along with his other captors as he falls to his knees and accepts Jesus Christ into his life. It is this message of forgiveness of those who neither ask for, nor deserve it, which should be embraced by all Americans as we stumble forward in the 21st century, and it can only be done on an individual person to person level for national healing to occur.
Zamperini's story was initially bought by Universal in the late 1950s, but incredibly was never made into a movie. Producer Matt Baer was given the rights to get the movie made by Louie himself in the late 1990s, and even after that, it still took twenty years to get the movie made.  The story was too big for Hollywood to condense into the normally digestible 90 – 120 minutes, so the first movie chose not to tell the redemption and forgiveness part of the story.
And for those who read the book or knew Louie's story, the only part that mattered was left on the original movie's cutting room floor as it was his redemption through a saving knowledge of Christ that made Louie something other than another tragic war hero unable to adapt to coming home.
In watching the movie, two additional important modern issues do come to the forefront. The obvious is the challenges men and women returning from war have in dealing with what we now know as PTSD. Louie's struggle is one shared by thousands of returning veterans of the Middle East war. In this day and age of #hashtag wokeness, Unbroken: Path to Redemption, provides vivid validation that those struggles are real, and that efforts to help these returning modern heroes are important.
The second is equally clear.  In a time when a failed football player is hailed as a hero for his refusal to stand for the playing of our national anthem, Louie Zamperini is a giant.  His son Luke, in a Facebook interview seems almost flabbergasted that corporate giant NIKE would choose to lift up someone who is best known for kneeling to honor his country, when so many have truly sacrificed to give him that right.  In the social media Kardashian culture that has flooded America, the Atlas' who have sacrificed everything to preserve our individual liberties are ignored, while twitter social justice "warriors" are exalted.
It wasn't always this way, forty-two years ago Rick Monday, an extremely good, but not Hall of Fame level major league baseball player who made his own stand for America without even thinking.  While playing center field for the Chicago Cubs at Los Angeles' Chavez Ravine (Dodger Stadium), two protesters came on the field and tried to burn the American flag.  Rick Monday ran over from his position, and grabbed the flag away from them making what has been voted one of the greatest plays in Major League Baseball history.
The LA crowd reacted after a pause, by spontaneously bursting into a rendition of God Bless America as the protesters were led off the field in cuffs.
Four decades later, corporate apparel giant Nike has chosen to honor the philosophical grandchild of the flag burning protestors. Time will tell if they made the right business decision or not, but the cultural shift that the decision represents cannot be dismissed.
And for having the courage to go against this cultural grain Universal Pictures, PureFlix and WTA deserve praise for making a movie about the struggles of a real hero, at a time when the anti-hero is king.  Go see their movie and then get your kids and grandkids to read Laura Hillenbrand's book. The Louie Zamperini story is one that all American need to know, so we can be reminded about what real sacrifice from an American hero looks like.
Rick Manning is the President of Americans for Limited Government.