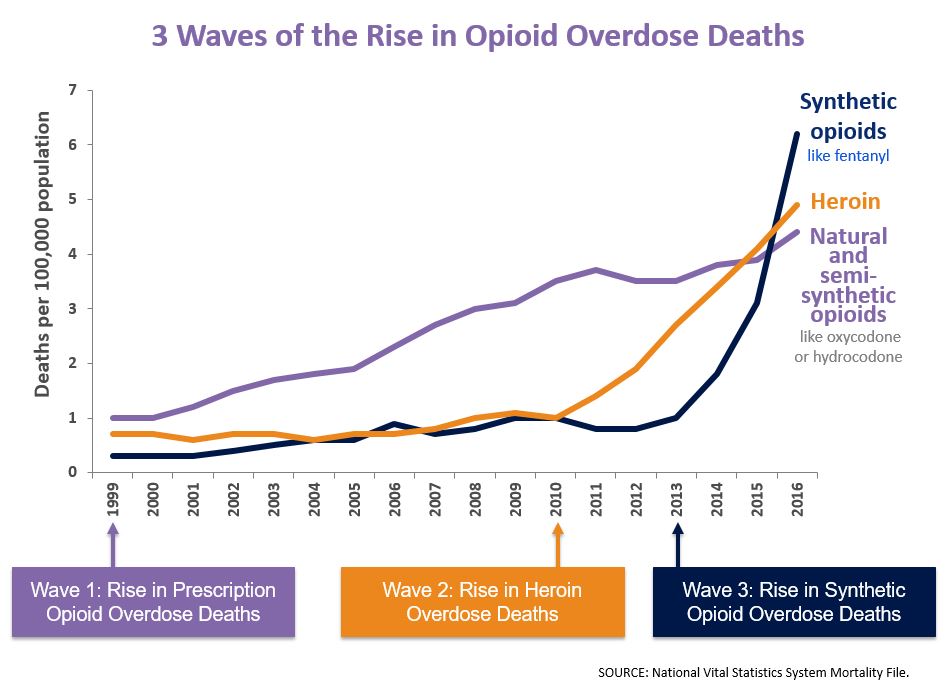 By Natalia Castro
The opioid epidemic has spent years tearing apart American families; no age group, race, social class or region has been safe from the grips of prescription drugs, fentanyl, and heroin. It is therefore no surprise that this issue has taken center stage in the 2018 midterm elections. Since the 2016 election, President Donald Trump has made this issue a priority and in these past many months Congress has too. For representatives hoping to achieve reelection, continuing to combat this epidemic is critical to gaining support.
Overdose deaths in the United States have dramatically risen throughout the 2000s, with synthetic opioids now leading the way. According to the National Institute on Drug Abuse's August 2018 calculations, overdose deaths hit a record high in 2017 with 72,000 deaths. The sharpest increase resulted in deaths related to fentanyl, causing nearly 30,000 fatal overdoses.
President Trump convened a Presidential Commission on Combating Drug Addiction and the Opioid Crisis in March 2017 to produce a report the following year outlining recommendations for reversing this trend of opioid addiction.
In the final report, the Commission called for educational campaigns, better treatment programs, and research and development on alternatives to opioids for pain management. Ultimately though, the Commission acknowledged the abilities of the executive branch are limited without Congressional, state, and local action.
As a result, in July 2018, the White House began the "Truth about Opioids" campaign showing the horrific lengths individuals go to in order to feed their addictions. Considering the Department of Health and Human Services found that in 2015 more than 70 percent of overdose deaths are among those 15 to 24 years old, education was the primary goal of the advertisements.
Health and Human Services Secretary Alex Azar further explained in a USA Today op-ed, "For the second year in a row, the number of Americans misusing legal or illegal opioids dropped. Even more encouraging, the number of Americans initiating heroin use dropped by around half from 2016 to 2017. These are signs that dedicated efforts from the federal government on down to local governments, faith communities, families, and individuals are working… Each life saved from addiction is an important victory. And while the epidemic still rages, we are now seeing signs of national progress."
But more must still be done to truly end this epidemic, the supply chain for these dangerous drugs must be attacked.
President Trump tweeted in August, "It is outrageous that Poisonous Synthetic Heroin Fentanyl comes pouring into the U.S. Postal System from China. We can, and must, END THIS NOW! The Senate should pass the STOP ACT – and firmly STOP this poison from killing our children and destroying our country. No more delay!"
The STOP Act, or Synthetics Trafficking and Overdose Prevention Act, is part of a bipartisan package that requires the U.S. Postal Service to collect electronic information on merchandise arriving to the country so inspectors can screen parcels for fentanyl and other contraband. Currently, these rules exist for private mail carriers, the STOP Act places the same responsibility on the federal postal service.
Montgomery County Sheriff Phil Plummer told WDTN in Ohio of the bill, "It requires foreign countries to properly label their products; lets us know where they're coming, where they're going and what's in them. [Right now] it's just an open system. They can send anything they want from China to your house through the U.S. Post Office with not a whole lot of oversight."
This week, the Senate passed this legislation 99-1 and pushed it back to the House for a vote to approve the Senate language.
This bipartisan achievement could a successful mark for Congress when the majority needs it the most and it could not be coming at a better time.
In 2014, Kentucky was the only state that had political ads mentioning opioids, this year 25 states have reflected on the issue with candidates pledging to usher in change.
A CBS News poll from May 2018 found, 71 percent of voters described the opioid epidemic as a "very serious" issue facing the country. Additionally, nearly 80 percent of all voters said the federal government should do more to address the crisis.
The House must work swiftly to pass the STOP Act and must continue working with the Senate to pass measures which answer the executive branch's calls to action outlined in the Commission report. President Trump has worked hard to combat this national crisis, but he cannot do it alone. It is great that Congress has finally decided to step up, those efforts must continue if representatives hope to be reelected and, ultimately, end this national epidemic.
Natalia Castro is the multimedia manager at Americans for Limited Government.