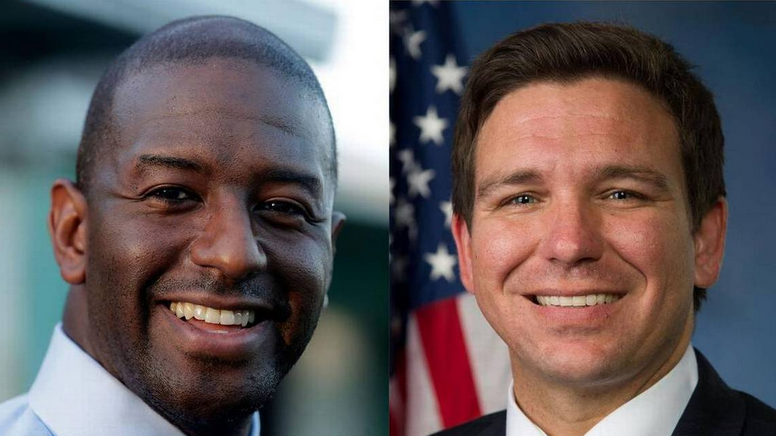 By Natalia Castro
The past few censuses, the Electoral College has increasingly been shifting south. After the 2010 census, for example, Florida picked up 2 electoral votes to move up to 29 and Georgia picked up 1 to get to 16, and for the 2020 census, 270towin.com projects Florida will pick up 2 more to 31. To put the importance of these two states into perspective, without them in his column, Donald Trump would not be President today.
As such, there is a push this year by Democrats to turn these two states blue. Two governor races have drawn national attention as they shift their states into partisan division. In Georgia and Florida, the Democratic and Republican nominees for governor represent the best of the right and the worst of the left. How support sways in these critical states will give all Americans a look into changing attitudes about each political party.
In Georgia, Stacey Abrams is the Democratic nominee and Brian Kemp is the Republican nominee. Abrams would be the first woman of color to serve as Georgia's governor and has ignited support from black communities; however, Kemp still leads in the polls by two points.
Abrams has received endorsements from Senator Bernie Sanders, former President Barack Obama, and failed Democratic nominee for President Hillary Clinton. President Donald Trump and the National Rifle Association have endorsed Kemp.
Abrams is pro-choice, against school vouchers, pro-gun control, and open to exploring a universal coverage option for Medicaid.
Conversely, Kemp has focused his campaign around ending gang violence and violence caused by illegal immigrants, boosting teacher pay, assisting rural businesses, and protecting the Second Amendment.
As the race intensifies both sides have attempted to engage the base by bringing high profile political figures into the state. Abrams has spent the weeks leading up to the election alongside Senator Elizabeth Warren, while Kemp has brought in Vice President Mike Pence, President Trump is expected to visit as well in the coming weeks.
Florida is playing out similarly, with Andrew Gillum acting as the far-left Democratic nominee and Ron DeSantis the Trump-endorsed Republican nominee.
Currently, Gillum leads in conglomerate polls by about three percent, but more recent polls show him leading by one percent, indicating a tightening race.
Gillum, who vows not to be a socialist, has campaigned on Medicare for all, abolishing Immigration and Customs Enforcement, impeaching President Trump, and gun control.
Gillum has campaigned alongside Senator Bernie Sanders, who told voters in August, "Right here in Florida, you have the opportunity to not only transform this state politically by electing a strong progressive but you have an opportunity to send a message that will be heard all over the country."
In August, President Trump tweeted his support for DeSantis, "Congressman Ron DeSantis is a special person who has done an incredible job. He is running in Tuesdays Primary for Governor of Florida….Strong on Crime, Borders and wants Low Taxes. He will be a great Governor and has my full and total Endorsement!"
Many believe this tweet helped propel DeSantis to his primary victory.
While Gillum has seemed to garner support from Florida's black voters, DeSantis has swayed Jewish voters with his promise to be "the most pro-Israel governor" in Florida.
Now, the battle is for Hispanic voters. Currently, of Florida's Hispanic population, about 836,000 are registered Democrats compared to 527,000 registered Republicans, but about 775,000 remain unaffiliated, according to a Pew Research Report released last week.
As the races for governorship in Florida and Georgia continue to heat up, the national will be watching closely to see how voters are responding to current Democratic and Republican rhetoric. If Kemp and DeSantis cannot succeed, Republicans may have to work harder than ever in 2020 and beyond to defeat the false promises of Democratic socialism.
Natalia Castro is the multimedia manager at Americans for Limited Government.