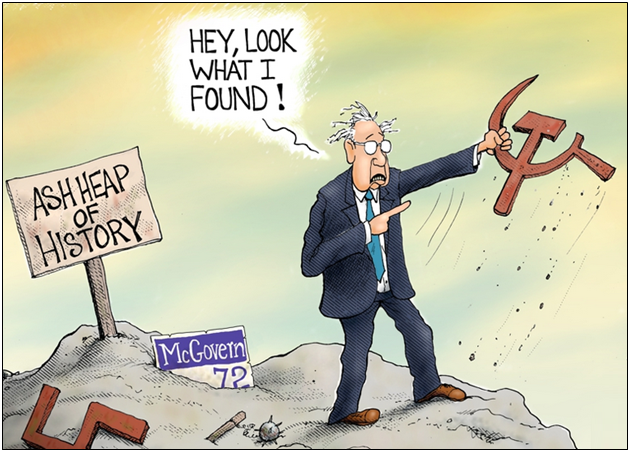 Don't look now, but the New Hampshire primary is just a year away as Democrats compete to take on President Donald Trump in the 2020 general election. And the latest Emerson College poll shows a neck and neck battle between Sen. Bernie Sanders of Vermont and former Vice President Joe Biden.
Sanders garnered 27 percent in the poll, while Biden scored 25 percent, showing a split between the party's progressive wing and its establishment wing. But it is Sanders, an avowed socialist, who has the edge at the moment — and that could mean big trouble for Democrats in 2020.
Sanders ran a close second to Hillary Clinton in 2016 and has now embraced U.S. Rep. Alexandria Ocasio-Cortez's (D-N.Y.) Green New Deal, and so has the dual distinction of being the next in line while also being one of the radical standard bearers for the Democratic plan to reach net zero carbon emissions by 2030.
This creates pressure on the other candidates to turn leftward to "out-radical" each other in order to compete in the primary.
A recent Public Opinion Strategies poll found 77 percent of Democrats think the country would be better off it were "more socialist." They're ready to take the plunge for nationalized health care, oppressive taxation, wealth redistribution, etc.
The trouble for Democrats is that the country is not. According to the same poll, 51 percent overall are opposed, including 56 percent of independents, with only 45 percent overall in favor.
Meaning, if 2020 comes down to a referendum on socialism, socialized health care and the Green New Deal versus President Donald Trump, lower taxes and a strong economy with fair trade deals, the early advantage appears to yield to Trump and Republicans. With unemployment at historic lows, Trump will be the safe bet against the radical changes Democrats are proposing.
Americans can already see what a future of socialism brings to a country in Venezuela, despite having more oil than Saudi Arabia, it faces triple-digit inflation, high unemployment, political instability and starvation in a country with underutilized arable agricultural land. President Trump will have an easy time outlining a century of failure by socialist economies and why freedom and capitalism will always be preferable.
On an ominous note, the same poll found that among younger voters, socialism was preferred 53 percent to 40 percent. That is offset by older voters who disagree 60 percent to 38 percent. But it's a looming majority in the future that could lead to much misery.
For now, what Sanders and Democrats are doing with the Green New Deal and socialism is asking Middle America to take their livelihoods in their hands — risking their families, their homes and their prosperity — to pursue an unobtainable radical utopia that will do more harm than good.
Robert Romano is the Vice President of Public Policy at Americans for Limited Government.