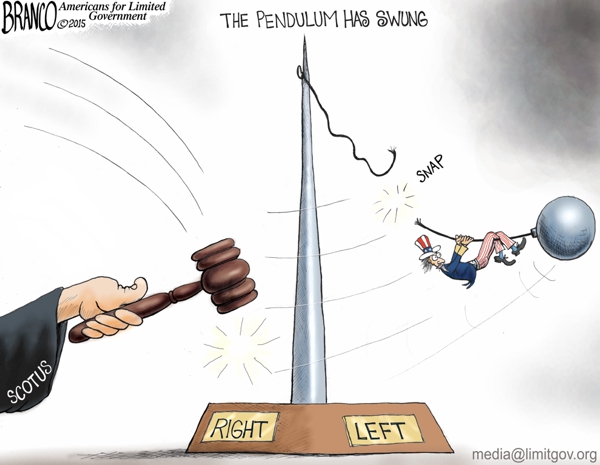 Last fall, Chief Justice John Roberts asserted that "we do not have Obama judges" after President Donald Trump suggested that we did. While it is understandable that Roberts would like for the courts to be viewed as non-partisan, the fact of the matter is that President Trump is right: we do have Obama judges. We have seen that fact demonstrated as these judges have repeatedly sought to thwart the President's agenda.
One area in which Obama judges have obstructed is immigration, and that obstruction started early in the Trump Administration. In April of 2017, William Orrick, a federal district judge in California, blocked Trump's executive order defunding sanctuary cities. Last November, the uber-liberal Ninth Circuit Court of Appeals ruled that the Administration must continue the unconstitutional Deferred Action for Childhood Arrivals (DACA) program, which allows illegal immigrants who arrived as children to stay here. Two of the three judges who made the decision were Obama appointees: John Owens and Jacqueline Nguyen. (The third judge was a Clinton appointee.) That same month, Jon Tigar, a federal district judge in California, blocked Trump's policy requiring asylum seekers to apply at ports of entry.
Three Obama judges have blocked the inclusion of a simple citizenship question in the 2020 census — even though such a question was asked in the past. These three judges are Jesse Furman, a federal district judge in New York, George Hazel, a federal district judge in Maryland, and Richard Seeborg, a federal district judge in California. In addition, earlier this week, Seeborg ruled against Trump's policy of having asylum seekers wait in Mexico while their cases are considered by immigration courts.
Obama judges have also weighed in against Trump's energy policies. For example, Brian Morris, a federal district judge in Montana, blocked construction of the Keystone XL pipeline last November. The Trump Administration has approved construction of the $8 billion pipeline, which would create thousands of jobs. Once complete, the pipeline could transport over 800,000 barrels of oil a day to the Gulf Coast for refining.
When not opposing pipelines, Obama judges can be expected to halt drilling. Rudolph Contreras, a federal district judge in Washington, D.C., blocked drilling on federal lands in Wyoming last month because the Administration "did not sufficiently consider climate change." Soon thereafter, Sharon Gleason, a federal district judge in Alaska, reinstated Obama's ban on offshore drilling in the Arctic Ocean and parts of the northern Atlantic Ocean last month.
Obama judges have also meddled in health care policy. In January, Wendy Beetlestone, a federal district judge in Pennsylvania, and Haywood Gilliam, a federal district judge in California, blocked Trump's regulation designed to free religious businessowners from an Obamacare requirement that they pay for contraceptives that violate their beliefs.  James Boasberg, a federal district judge in Washington, D.C., has blocked two states from requiring able-bodied Medicaid recipients to work. In June of last year, Boasberg blocked Kentucky from implementing work requirements; and, last month, he blocked Arkansas's Medicaid work requirements.
Fortunately, a little over two years into the Trump presidency, 96 judges have been confirmed, and more than 60 judicial nominees are awaiting confirmation. With the confirmation of Paul Matey to the Third Circuit Court of Appeals last month, Republican-appointed judges now make up a majority on that court, which has jurisdiction over Delaware, New Jersey, and Pennsylvania. Three other circuit courts are close to flipping from having a Democrat-appointed majority to having a Republican-appointed majority. Finally, not a moment too soon, Republican Senators voted last week to speed up the confirmation process for district court judges after years of Democrat Senators dragging out debate on nominees to waste time.
While these and other Obama judges seem to view it as their job to resist the duly-elected President, the good news is that Trump and Senate Republicans are making good progress at changing the composition of the courts. It's about time.
Richard McCarty is the Director of Research at Americans for Limited Government.