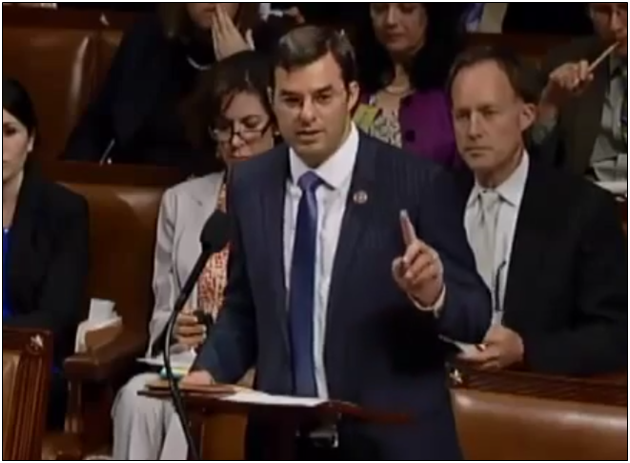 U.S. Rep. Justin Amash (R-Mich.) on May 18 called for the impeachment of President Donald Trump in a Twitter thread, accusing him of committing obstruction of justice and "conduct that violates the public trust," citing the report by Special Counsel Robert Mueller as justification.
Nowhere in the Twitter thread did Amash make a specific allegation of which conduct by President Trump he was referring to that obstructed justice or violated the public trust — although he said there were "multiple examples". In May 2017, Amash did indicate that President Trump firing former FBI Director James Comey could be a basis for impeachment, a topic the Mueller report does consider, so let's assume for the purposes of this discussion that in part that is what he's talking about.
Critically, nowhere in the Twitter thread did Amash mention Russia or the fact that the Mueller report had found no coordination or conspiracy with Russia by President Trump, his campaign or any American for that matter to interfere in the 2016 elections.
Mueller stated in the report, "[T]he investigation did not establish that members of the Trump Campaign conspired or coordinated with the Russian government in its election interference activities." It also stated, "the evidence does not establish that the President was involved in an underlying crime related to Russian election interference."
That is important because the only reason President Trump was under investigation in the first place were false allegations made by former British spy Christopher Steele, beginning in the summer of 2016, paid for by the Democratic National Committee and the Hillary Clinton campaign, that Trump was a Russian agent and his campaign had coordinated the hack of the DNC and posting the emails on Wikileaks with Russia. Those allegations were given to the FBI and eventually formed the basis of the Foreign Intelligence Surveillance Act (FISA) warrant application against the Trump campaign in Oct. 2016.
Amash has always been a hawk on reining in FISA abuse. In July 2013, Americans for Limited Government supported his efforts to rein in mass surveillance by the National Security Agency (NSA). In Jan. 2018, when the USA Rights Act came up as an amendment by Amash, Americans for Limited Government again supported it, specifically because we believed if it had been law, the FISA abuse that occurred in 2016 would not have been possible, and that it might be a means of preventing it.
When more information about the Steele dossier's role in the FISA warrant began to be known in Feb. 2018 with the release of the House Select Committee on Intelligence memorandum, Amash responded on Twitter calling for Congress to enact the USA Rights Act if members of Congress were concerned about FISA abuse.
Of the memo, Amash said, "The central allegation is that a warrant was obtained fraudulently or without sufficient cause. If true, it shows the dangers of the secret Foreign Intelligence Surveillance Court, something @libertycaucus and @freedomcaucus members have been saying for a long time."
Amash noted, "the section of FISA discussed in the memo requires probable cause and a warrant." Here, Amash is referring to 50 U.S. Code Sec. 1805(a)(2), which would have required probable cause that Carter Page, then a Trump campaign official, was acting as a foreign agent for the warrant to be issued.
But there was no probable cause. Steele, we now know in the Oct. 2016 FISA warrant application obtained by Judicial Watch in July 2018 in a Freedom of Information Act request, used "sub-source(s)," and the court was fully aware that Steele was not an eye-witness to the allegations. It stated Steele "tasked his sub-source(s) to collect the requisite information." And then, after Steele "received information from the sub-source(s)," it was passed along to the FBI. So, the court knew it was second-hand or third-hand information, or hearsay.
These were rumors that were given to the FISA Court. The information was unverified, something Steele would later admit in testimony, saying that the allegations needed to be "further corroborated and verified." Steele said his sources were Kremlin officals close to Russian President Vladimir Putin, but so far no evidence has been presented publicly he actually spoke to those sources directly.
In fact, Steele never went to Russia. Instead, according to testimony by Fusion GPS' Glenn Simpson before the Senate Intelligence Committee in Nov. 2017, Steele hired "a network of sources who live in or came from the place that you're interested in… who can travel and talk to people and find out what's going on" to get the dirt. But we don't know who, since, per Simpson, "I didn't ask for the specific identities of specific people."
On why didn't Steele go to Russia himself, Simpson said "[H]e really would not be safe if he went to Russia. He's been exposed as a former undercover British Intelligence officer who worked in Moscow. So it wouldn't be wise for him to go to Russia."
A March 2017 Vanity Fair piece about Steele by Howard Blum similarly stated, "[Steele] could count on an army of sources whose loyalty and information he had bought and paid for over the years. There was no safe way he could return to Russia to do the actual digging; the vengeful F.S.B. would be watching him closely. But no doubt he had a working relationship with knowledgeable contacts in London and elsewhere in the West, from angry émigrés to wheeling-and-dealing oligarchs always eager to curry favor with a man with ties to the Secret Service, to political dissidents with well-honed axes to grind. And, perhaps most promising of all, he had access to the networks of well-placed Joes — to use the jargon of his former profession — he'd directed from his desk at London Station, assets who had their eyes and ears on the ground in Russia."
McCain Institute Senior Director for Human Rights and Human Freedoms David Kramer, testified in federal court about when he met Steele to get the dossier after the 2016 election, with the purpose of giving it to the late Sen. John McCain. Kramer said Steele told him, in Kramer's words, "what was produced … needed to be corroborated and verified, he himself did not feel that he was in a position to vouch for everything that was produced…"
In May 2017, former FBI Director James Comey told the Senate Intelligence Committee that the dossier was "salacious and unverified."
By the time President Trump was being inaugurated in Jan. 2017, the dossier had been published by Buzzfeed. It was known as early as April 2017 that the dossier had been used in the FISA warrant application. That was a month before Comey was fired by President Donald Trump for lying to him about the extent of the investigation.
In his order firing Comey, Trump wrote, "While I greatly appreciate you informing me, on three separate occasions, that I am not under investigation, I nevertheless concur with the judgment of the Department of Justice that you are not able to effectively lead the Bureau."
Steele had alleged in July 2016 that not only had Russia hacked the Democrats and put the emails on Wikileaks, which was already public knowledge since June 2016, but that Trump and his campaign helped with "full knowledge and support" of the operation. Former Trump campaign manager Paul Manafort, as well as campaign advisor Carter Page when he traveled to Moscow in July 2016, were both named by Steele as the key intermediaries to the Kremlin. Steele said then-Trump personal attorney Michael Cohen had traveled to Prague in the summer of 2016 to meet with Russian agents to mop up the fallout of the supposed operation.
The Mueller report debunked those claims, stating, "In particular, the Office did not find evidence likely to prove beyond a reasonable doubt that Campaign officials such as Paul Manafort, George Papadopoulos, and Carter Page acted as agents of the Russian government — or at its direction, control or request — during the relevant time period."
Manafort was brought up on unrelated tax and bank fraud charges. Papadopoulos pled guilty of lying to investigators about his start date with the Trump campaign. Page was not charged with anything. As for Cohen, per the Mueller report, "Cohen had never traveled to Prague…" And so, he very well could not have been there meeting with Russian intelligence officials.
Trump knew all along and was well aware there was no basis for the investigation. For example, it was known as early as Jan. 2017 that Cohen had never traveled to Prague. Trump himself was also in a position to know that Steele's allegations that he was Russian agent were false. So, when it became public that the FBI relied on false allegations to get electronic surveillance on the Trump campaign, and that the investigation into Trump had been carried over into his administration, which Comey lied about to Trump, the President had more than ample basis for firing Comey.
The only reason Mueller was appointed was because Trump fired Comey, who was leading the investigation — which turned out to be into a crime that was not committed by Trump or his team. At the time, Amash was already on the record in May 2017 saying that the firing could be the basis for impeaching Trump.
But Comey should have been fired. The FISA warrant, which Comey signed, and the ensuing investigation that carried over into the Trump administration in 2017 was all based on false information.
The FBI had reason to doubt Steele and his sources, and yet kept going back to renew the FISA warrant. A New York Times report Scott Shane, Adam Goldman and Matthew Rosenberg on April 20 that in Jan. 2017 reported the FBI interviewed one of the main sources for the dossier and came away with "misgivings about its reliability [that] arose not long after the document became public" in Jan. 2017.
Per the Times report: "By January 2017, F.B.I. agents had tracked down and interviewed one of Mr. Steele's main sources, a Russian speaker from a former Soviet republic who had spent time in the West, according to a Justice Department document and three people familiar with the events, who spoke on the condition of anonymity. After questioning him about where he'd gotten his information, they suspected he might have added his own interpretations to reports passed on by his sources, one of the people said. For the F.B.I., that made it harder to decide what to trust."
What is disappointing about Amash is he has previously championed FISA reform in 2013 after the NSA mass surveillance program was exposed by whistleblower Edward Snowden. What does Amash imagine should happen to government officials who abuse the federal government's spying powers? Should they get promotions or something?
By defending Comey's actions, which permitted the FISA court to be defrauded by Steele, the DNC and the Clinton campaign even after the FBI knew it was a fiction, and condemning Trump's actions to fire Comey, Amash is condoning the use of FISA to spy on a presidential campaign, the opposition party, in an election year, for crimes, conspiracy with Russia to interfere with the election, that were not committed by Trump, his campaign or any American.
In short, Amash is buying the Justice Department's official rationale for the Russian collusion investigation that there was "probable cause" that Trump was a Russian agent when we know for a fact that was a lie today. The court was given false information. The call for impeachment comes despite the fact that in Feb. 2018, Amash said that "a warrant… obtained fraudulently or without sufficient cause… shows the dangers of the secret Foreign Intelligence Surveillance Court."
I suppose now Amash no longer believes that fraudulent FISA warrants are dangerous if they're taken out against his political opponents, like President Trump.
Ironically, Amash now warns that "America's institutions depend on officials to uphold both the rules and spirit of our constitutional system even when to do so is personally inconvenient or yields a politically unfavorable outcome." He added, "When loyalty to a political party or to an individual trumps loyalty to the Constitution, the Rule of Law — the foundation of liberty — crumbles."
I agree, and in this case, Amash might want to take his own advice. In July 2013, when the House debated his amendment barring suspicionless surveillance, Amash asked, "When you had the chance to stand up for Americans' privacy, did you?" Today, Amash is failing his own test. So blinded by his apparent political hatred of President Trump is he, Amash is ignoring the flagrant abuse of spying authorities that occurred in 2016 against a political campaign that most certainly endangers the liberty of all Americans. For shame.
Robert Romano is the Vice President of Public Policy at Americans for Limited Government.