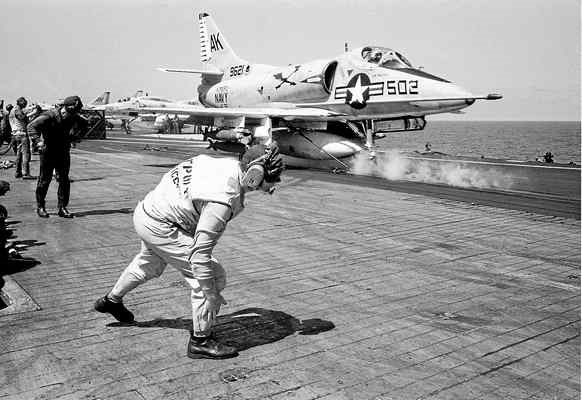 Both the House and Senate have unanimously adopted H.R. 299, the "Blue Water Navy Vietnam Veterans Act of 2019," which extends the presumption of exposure to Agent Orange to Navy veterans who served aboard ships off the shore of Vietnam during the Vietnam War.
Land-based military personnel have been given the same benefit, with the presumption of exposure under "The Agent Orange Act of 1991," which passed both chambers unanimously.
The Senate action on June 12 came just a week after the Blue Water Navy vets had secured another victory, with the Justice Department foregoing any appeal to the Supreme Court of a January 9-2 decision by the U.S. Court of Appeals for the Federal Circuit, that awarded the benefits to 90,000 veterans.
The ruling stated, "These statutes cast no doubt on our conclusion that, by using the formal term 'Republic of Vietnam,' Congress unambiguously referred, consistent with uniform international law, to both its landmass and its 12-nautical-mile territorial sea."
That decision overturned a 2009 federal court ruling that had upheld the Department of Veterans Affairs' interpretation of the statute that service members had to have physically been on the land mass in order to qualify for the benefit, although Congress had made no such stipulation.
But with the Senate action, the issue will forever be settled as the bill proceeds to President Donald Trump for his signature.
This is an issue that hits rather close to home for this author. My father, Anthony, was a boatswain's mate on the U.S.S. Coral Sea from 1966 to 1968. He found out later that his illnesses could be linked to exposure, including two heart attacks (he had his first heart attack when he was 30), lung cancer that resulted in a lung being removed and diabetes. That was all without any prior family history.
The veterans advocate he spoke to told him he had a trifecta of illnesses that have been linked to exposure and that if he had set foot on Vietnamese soil just once he most certainly would have qualified for the benefits.
It was frustrating for him the past year as the same legislation passed the House unanimously but then stalled in the Senate. He is now greatly heartened by this news and feels a sense of justice.
It's a shame it took this long. I'm fairly confident if the Navy or the VA had contacted him in 1991 and said that he might have qualified for this benefit, and that potential exposure could result in certain types of illnesses, he would have probably been in to get checked out.
The thing is, we'll never know if his service resulted in his illnesses. No study could ever prove each individual case. That is why the 1991 legislation passed, because if veterans might have been exposed, and then did in fact get sick, Congress was saying let's take care of them.
And now Congress has said it again, and President Trump will soon sign the bill into law. We are incredibly grateful to Congress, and to Attorney General William Barr for dropping the case and to the President for hearing these veterans. The Blue Water Navy Vietnam Vets have won and I am personally thankful that my father, now 72, lived to see the day.
Robert Romano is the Vice President of Public Policy at Americans for Limited Government.