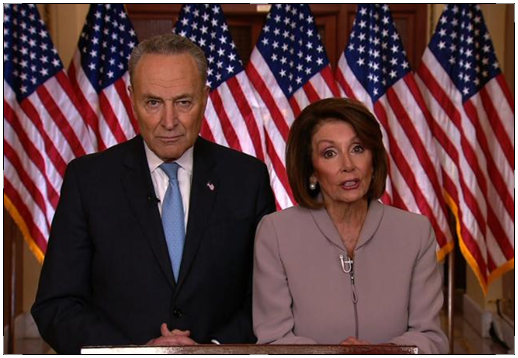 Last week, President Trump tweeted that U.S. Immigration and Customs Enforcement (ICE) would "begin removing the millions of illegal aliens who have illicitly found their way into the U.S." The liberal media was quick to question and express doubt about the President's ability to deport millions of illegal immigrants.
Now, Trump is postponing the mass deportations for two weeks while he negotiates with Democrats in Congress. On June 23, he tweeted, "I want to give the Democrats every last chance to quickly negotiate simple changes to Asylum and Loopholes. This will fix the Southern Border, together with the help that Mexico is now giving us. Probably won't happen, but worth a try. Two weeks and big Deportation begins!"
Here is what we do know: we have, and have had for months, a crisis at our southern border that Democrats have knowingly and willfully neglected. Congressional Democrats must address this crisis so that the humanitarian crisis can be ended and the rule of law can be enforced.
Over a hundred thousand migrants are arriving at the border each month. Furthermore, there is a backlog of over 900,000 immigration cases, and the average wait for a hearing is roughly two years. We do not have sufficient resources to handle so many people, and they are now being dumped in places all across the country straining government agencies and charities while their cases slowly move through the system. The vast majority of these people will never show up for their immigration hearing; but after a number of years in the shadows, they will then claim that they deserve citizenship.
The huge numbers of migrants arriving at the border are putting a tremendous strain on our Border Patrol agents, who are underpaid and understaffed. Even before the recent onslaught, Border Patrol agents had tough and dangerous jobs. In fact, over 30 Border Patrol agents have been killed on duty since 2003. In hot, remote locations, they must contend with violent drug cartels and human traffickers. Making matters worse, it was recently reported that agents are falling ill due to the many sick detainees.
As if all of that were not bad enough, children are being rented or bought to help adults get into our country fraudulently. Some of these children are being forced to cross the border multiple times with different adults. To say that this is dangerous is a gross understatement. Among other things, these children are at risk of physical and sexual abuse, illness, and dehydration.
After the Trump administration's repeated warnings about the border crisis and requests for adequate funding fell on Democrats' deaf ears, the Department of Health and Human Services recently announced that it was ending funding for things "not directly necessary for the protection of life and safety" due to the large number of recent border crossers. Included in the funding cuts were English classes, soccer, and legal services. Democrats reacted furiously, but they have no one to blame but themselves because they have refused to provide additional funds to handle the crisis.
While Congress refuses to act, President Trump has found some politicians — from Mexico and Guatemala — who are willing to work with him to solve the border crisis. Mexico's president has agreed to allow asylum seekers to wait there while their cases are pending here, and Mexico has taken steps to discourage mass migrations through their country to America, including sending troops to its southern border. In addition, the Guatemalan government has agreed to help stem the flow of migrants streaming through its country.
Congressional Democrats want a pay hike, but their stubborn refusal to adequately fund border security is a prime example of why they do not deserve their current six-figure salaries, much less a pay increase. It is truly a sorry state of affairs when foreign leaders are more willing to take action to address a crisis on our border than our own elected representatives. Perhaps now with Trump ready to act, that posture can change. Do better, Democrats.
Richard McCarty is the Director of Research at Americans for Limited Government Foundation.