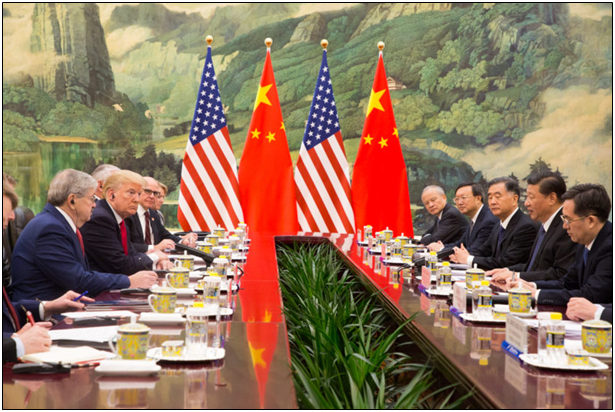 "China has a long history of facilitating an undervalued currency through protracted, large-scale intervention in the foreign exchange market. In recent days, China has taken concrete steps to devalue its currency, while maintaining substantial foreign exchange reserves despite active use of such tools in the past. The context of these actions and the implausibility of China's market stability rationale confirm that the purpose of China's currency devaluation is to gain an unfair competitive advantage in international trade."
That was a statement from U.S. Treasury Secretary Steven Mnuchin officially designating China as a currency manipulator under 22 U.S.C. Section 5304(b), pointing to Beijing's sharp devaluation of the yuan the past few months in response to tariffs imposed by President Donald Trump.
Prior to the announcement of the tariffs in May, the yuan-to-dollar conversion was 6.76, on Aug. 1, it was 6.87. Now, it stands at 7.05, the highest since 2008. Immediately upon President Donald Trump's imposition by Trump of 25 percent tariffs on the first tranche of $250 billion of goods shipped to the U.S., China started devaluing, first by almost 3 percent.
And upon the announcement on Aug. 1 of a new 10 percent tariff on $300 billion of goods shipped to the U.S. that came atop the 25 percent on $250 billion of goods, coupled with the Federal Reserve cutting interest rates, China has responded in kind with another devaluation of the yuan by another 2.6 percent.
That is absolutely currency manipulation. Trump was right about Beijing. China sets the value of the yuan on a fixed basis versus the dollar. When it wants to make the yuan cheaper, it does so arbitrarily. This is in opposition to floating exchange rates that are the norm in global economics.
Fortunately, now the U.S. Treasury is getting involved to officially make the determination under federal law, which provides that "The Secretary of the Treasury shall analyze on an annual basis the exchange rate policies of foreign countries, in consultation with the International Monetary Fund, and consider whether countries manipulate the rate of exchange between their currency and the United States dollar for purposes of preventing effective balance of payments adjustments or gaining unfair competitive advantage in international trade."
The Treasury pointed to a statement from the People's Bank of China as an acknowledgement of its currency intervention which stated that it "has accumulated rich experience and policy tools, and will continue to innovate and enrich the control toolbox, and take necessary and targeted measures against the positive feedback behavior that may occur in the foreign exchange market."
In other news, North Korea has lifted its veil and immediately has fired two missiles into the sea in response. This is no coincidence, in my opinion, it shows connective tissue between trade policy with China and the nuclear threat from Pyongyang. Is China using North Korea to engage in nuclear blackmail to maintain economic dominance? It sure looks that way.
The ostensible reason to devalue currency is to boost exports by reducing prices of goods in the importing country.
China has maintained an artificially cheap yuan vis a vis the dollar since the 1990s, the last time it was designated a currency manipulator between 1992 and 1994. And since China entered the World Trade Organization in 2001, U.S. manufacturing market share has dropped from 13.4 percent to 7.5 percent in 2017, according to World Bank data. China has risen from 5.3 percent to 16.6 percent in 2017, although their percent of global manufacturing market share has peaked in 2015 at 18.8 percent.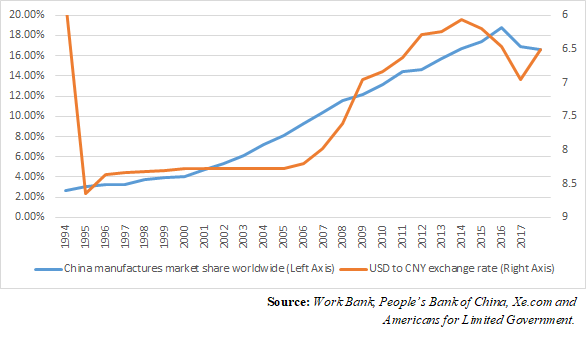 During that time, the U.S. economy has not grown above 4 percent since 2000, and not above 3 percent since 2005 on an annual basis as labor participation declined precipitously.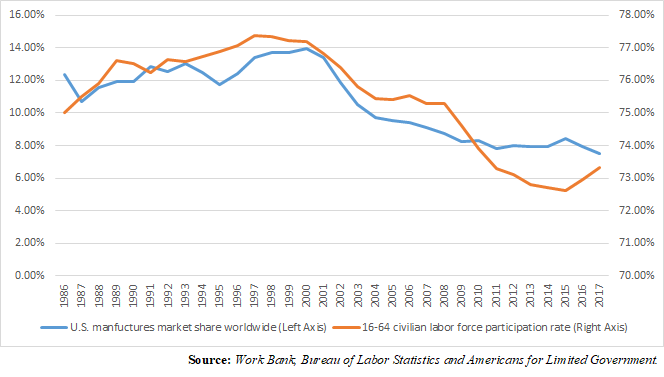 As China has increased it market share, it has also been able to gradually increase prices by revaluing the yuan, beginning at the time of the financial crisis. However, once the U.S. stood up and hit China with the tariffs and said enough is enough, China's immediate reaction was to devalue once again, starting in May.
Meaning, Trump was right all along. China manipulates its currency in response to trade relations and always has.
President Donald Trump blasted the devaluation on Twitter, writing, "China dropped the price of their currency to an almost a historic low. It's called 'currency manipulation.' Are you listening Federal Reserve? This is a major violation which will greatly weaken China over time! Based on the historic currency manipulation by China, it is now even more obvious to everyone that Americans are not paying for the Tariffs – they are being paid for compliments of China, and the U.S. is taking in tens of Billions of Dollars! China has always… used currency manipulation to steal our businesses and factories, hurt our jobs, depress our workers' wages and harm our farmers' prices. Not anymore!"
Trump has got a point. By devaluing the yuan to offset the tariffs, China is losing profits while the American people are not paying the price. Consumer inflation is stable. In fact, the Fed just cut interest rates because it was below their target. The past 12 months, consumer inflation has come in at just 1.6 percent.
In the meantime, long-term the trade fight is hurting China, as it tells manufacturers they can move their factories to a country that is more stable and has better relations with the U.S., or just come back to the U.S. and then there's no tariff. And it might be working, with Chinese economic growth now the slowest in 30 years.
President Trump would prefer that the Federal Reserve take a more aggressive and explicit stance against China and other currency manipulators who are attempting to boost exports. The interest rate cut notwithstanding, Trump wants the central bank to defend the dollar with competitive devaluation.
"What the Market wanted to hear from Jay Powell and the Federal Reserve was that this was the beginning of a lengthy and aggressive rate-cutting cycle which would keep pace with China, The European Union and other countries around the world," Trump wrote on Twitter in response to the rate cut.
Trump added, "As usual, Powell let us down, but at least he is ending quantitative tightening, which shouldn't have started in the first place — no inflation."
Trump is not wrong. One of the deflationary forces playing on the U.S. economy today are the devaluations from China, Mexico and Europe, which make the dollar relatively too strong. Similar forces were at play in the mid-2000s when the U.S. economy began collapsing along with prices, and in the 1930s when countries were leaving the gold standard. We ignore these devaluations at our own peril, but for once, we have a President who is paying attention and is not going to take it. It's about time.
Robert Romano is the Vice President of Public Policy at Americans for Limited Government.