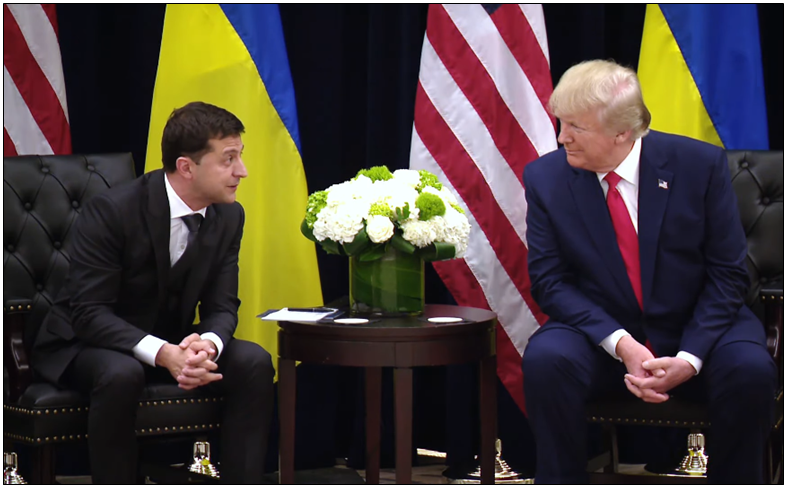 There are many takeaways from the White House releasing the transcript of the July 25 phone conversation between President Donald Trump and Ukrainian President Volodymyr Zelensky, but first and foremost is there was no pressure on Zelensky by Trump or any threats to withhold military aid if Joe Biden wasn't investigated as was alleged by House Speaker Nancy Pelosi when she announced the impeachment inquiry into Trump.
The only mention of military aid was both Zelensky and Trump blasting Europe including Germany and France, for not doing more to help as the U.S. was taking the lead. Zelensky said, "It turns out that even though logically, the European Union should be our biggest partner but technically the United State is a much bigger partner…" Zelensky was thanking President Trump and the U.S., which has been providing military assistance including weapons throughout the entirety of the Trump administration.
It probably does not help Pelosi that Zelensky is affirmatively stating he was not pressured by Trump to reporters at a meeting with Trump in New York on Sept. 25: "Nobody pushed me," Zelensky said, adding, "We had a great phone call. It was normal."
So, with no victim, the core allegation was false. That alone is likely enough, lacking public support for removing President Trump from office, to torpedo House Democrats' nascent attempts at impeachment, but we'll see. The foolish push by Pelosi was more of a sign of desperation than anything else as she rushed to the microphone without the transcript or evidence to support her allegation. But without having to have the House vote on the matter, she can go back to her people and say the committees are looking into it, even if the pursuit is half-hearted. Time will tell if that satisfies the Democrats' radical base. I tend to doubt it.
In the meantime, the substance of the phone call really was not about Biden at all, it was about the potential role Ukraine played in the Russiagate scandal, where President Trump was falsely accused prior to the 2016 election by intelligence agencies and the Justice Department that he was a Russian agent and then the Obama administration obtained top secret surveillance of the Trump campaign, and then secretly carried the investigation over into the Trump administration. The investigation carried on for almost three years, culminating in Special Counsel Robert Mueller's anti-climatic report that ultimately found there was no Trump conspiracy with Russia to interfere in the 2016 elections after all.
Trump asked Zelensky for cooperation on behalf of Attorney General William Barr in the phone call: "I would like you to do us a favor, though, because our country has been through a lot and Ukraine knows a lot about it. I would like you to find out what happened with this whole situation with Ukraine, they say Crowdstrike…  I guess you have one of your wealthy people…  The server, they say Ukraine has it. There are a lot of things that went on, the whole situation… I would like to have the Attorney General call you or your people and I would like you to get to the bottom of it. As you saw yesterday, that whole nonsense ended with a very poor performance by a man named Robert Mueller, an incompetent performance — but they say a lot of it started with Ukraine. Whatever you can do, it's very important that you do it if that's possible."
To which, Zelensky replied, "Yes, it is very important for me and everything that you just mentioned earlier. For me as President, it is very important and we are open for any future cooperation. We are ready to open a new page on cooperation in relations between the United States and Ukraine… I also plan to surround myself with great people and in addition to that investigation, I guarantee as the President of Ukraine that all the investigations will be done openly and candidly. That I can assure you."
Note the favor asked was on getting to the bottom of Spygate, not Biden. Which, by the way, is perfectly legal under the U.S.-Ukraine Mutual Legal Assistance Treaty of 1998, which enables partner countries to cooperate on law enforcement matters.
Here, Trump is implicating that his administration is looking directly at Crowdstrike, the firm hired by the Democratic National Committee to look into the 2015 and 2016 hacks of the DNC servers, where its emails were eventually published on Wikileaks in July 2016, and who pointed the finger at Russia.
As Special Counsel, Robert Mueller brought an indictment on July 13, 2018 of several Russians said to be GRU intelligence operatives who Mueller alleged hacked the DNC, the Democratic Congressional Campaign Committee (DCCC) and Clinton campaign chairman John Podesta and gave the emails to Wikileaks to be published.
The FBI never took possession of the server, based upon publicly available information. In testimony on Jan. 10, 2017 before the Senate Intelligence Committee, then-FBI Director James Comey stated that "Ultimately what was agreed to is the private company [Crowdstrike] would share with us what they saw… Our forensics folks would always prefer to get access to the original device or server that's involved, so it's the best evidence." Here, Comey was referring to the private company analysis that was done by Crowdstrike, which the FBI deferred to for evidence of the hack.
The FBI was given a copy of the server. According to Crowdstrike in a statement to the Washington Times on July 5, 2017, "In May 2016 CrowdStrike was brought to investigate the DNC network for signs of compromise, and under their direction we fully cooperated with every U.S. government request… [The cooperation included] providing of the forensic images of the DNC systems to the FBI, along with our investigation report and findings. Those agencies reviewed and subsequently independently validated our analysis." Meaning, the FBI never had a verifiable chain of custody of the evidence in question.
And now, Trump seems to think that Ukraine has information about this.
For its part, the Justice Department has confirmed that Ukraine does factor into its own investigation of the top secret surveillance of the Trump campaign in 2016. Justice Department spokeswoman Kerri Kupec said on Sept. 25, "A Department of Justice team led by U.S. Attorney John Durham is separately exploring the extent to which a number of countries, including Ukraine, played a role in the counterintelligence investigation directed at the Trump campaign during the 2016 election… While the Attorney General has yet to contact Ukraine in connection with this investigation, certain Ukrainians who are not members of the government have volunteered information to Mr. Durham, which he is evaluating." As far as Biden is concerned, the Justice Department also said Attorney General Barr had not been directed by President Trump to investigate Biden or to work with Ukraine on doing so.
Now that does not necessarily mean that there is anything to what the President is requesting, whether on Crowdstrike or Biden, both referenced in the calls. But Barr is certainly allowed to and is supposed to be investigating what happened in 2016 and beyond with the surveillance on the Trump campaign and the false allegations the campaign were Russian agents, which was debunked by none other than Mueller. Trump has also given Barr declassification authority to release anything about this that he deems to be in the public interest.
And Ukraine certainly is a place to look for answers. Readers will recall that Politico reported in Jan. 2017 about Ukraine's own role in election interference in 2016 on behalf of Hillary Clinton. It could be that we're about to find out more about that. Or maybe not. Just because Trump requested legal assistance on those matters — there are certainly outstanding questions both on Crowdstrike, the DNC hack/leak, and Biden, and also U.S. intervention efforts in Ukraine in 2014 that preceded Russia annexing Crimea — that doesn't necessarily mean it will turn up anything.
Seeking Ukraine's cooperation carries a ton of risks, but those risks were also assumed by Senate Democrats in 2018 including Senators Richard Durbin (D-Ill.), Bob Menendez (D-N.J.) and Patrick Leahy (D-Vt.) when they were demanding Ukraine's top prosecutor cooperate with the Mueller investigation to help get Trump.
But in terms of acting on a diplomatic front to diffuse the civil war in Ukraine and avoid a wider regional conflict with Russia, obtaining legal cooperation with Ukraine especially on the Spygate scandal is essential to putting this all behind us. That is certainly top of mind for Zelensky, who said in his Sept. 25 meeting with Trump, "Thank you for your support, especially now when — you know, when we have two — really, two wars in Ukraine.  The first one is with corruption, you know.  But we'll fight — no, we'll be [the] winner in this fight, I'm sure.  And the priority — my priority is to stop the war on Donbass and to get back our territories: Crimea, Donbass, Luhansk. Thank you for your support in this case.  Thank you very much."
This is an area where President Trump can leave his mark. In 2016, he ran on a platform of improving U.S.-Russian relations — which appears to have in part motivated intelligence agencies to launch the bogus investigation of him — and Ukraine provides an opportunity to bridge the East and West by continuing to promote a peace agreement between Kiev and Moscow. Now is the time to take advantage of the historic opportunity that is now being presented. It looks like President Trump played his cards right. While his opponents were chasing the next shiny object, Trump was laying a foundation for improving relations in the region including with Ukraine — and avoiding war. It's about time.
Robert Romano is the Vice President of Public Policy at Americans for Limited Government.