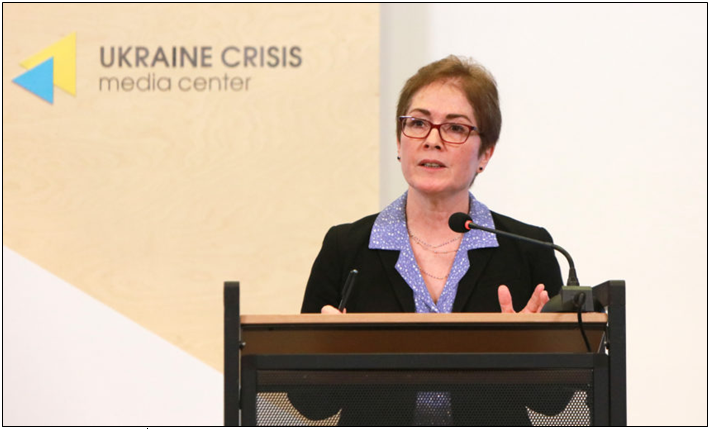 Two days after the anonymous CIA so-called whistleblower complaint was filed with the Intelligence Community Inspector General's office on Aug. 12, alleging President Donald Trump had leveraged military assistance to Ukraine in exchange for cooperation in investigations of any Ukrainian origins of the false allegations by intelligence agencies and the Justice Department that Trump and his campaign were Russian agents and into Ukrainian corruption, on Aug. 14, the House Foreign Affairs committee was in touch with former U.S. Ambassador to Ukraine Marie Yovanovitch.
But when she was questioned about Congressional contacts on Oct. 11, says U.S. Rep. Lee Zeldin (R-N.Y.), she was not truthful.
"I would highly suspect that this Democratic staffer's work was connected in some way to the whistleblower's effort, which has evolved into this impeachment charade," Zeldin said. "We do know that the whistleblower was in contact with [House Intelligence Committee Chairman] Adam Schiff's team before the whistleblower had even hired an attorney or filed a whistleblower complaint even though Schiff had lied to the public originally claiming that there was no contact. Additionally, while the contents of the email from this staffer to Ambassador Yovanovitch clearly state what the conversation would be regarding, Yovanovitch, when I asked her specifically what the staffer was looking to speak about, did not provide these details."
Zeldin added: "I specifically asked her whether the Democratic staffer was responded to by Yovanovitch or the State Department. It is greatly concerning that Ambassador Yovanovitch didn't answer my question as honestly as she should have, especially while under oath."
In her testimony, Yovanovitch stated, "I alerted the State Department, because I'm still an employee, and so, matters are generally handled through the State Department… she emailed me. I alerted the State Department and, you know, asked them to handle the correspondence. And, she emailed me again and said, you know, 'Who should I be in touch with?'"
It turns out, though, that Yovanovitch had responded to the emails, obtained by Fox News, discussing when she and the staffer would meet.
But that is not the only area of Yovanovitch's testimony that is questionable. In her opening statement, she denied giving former Ukrainian Prosecutor General Yuriy Lutsenko a "do-not-prosecute list," a charge he had made in March. She even claimed that Lutsenko had retracted his claim: "As Mr. [Yuriy] Lutsenko, the former Ukrainian Prosecutor General has recently acknowledged, the notion that I created or disseminated a 'do not prosecute' list is completely false — a story that Mr. Lutsenko, himself, has since retracted."
But in the supposed retraction from an April 17 report from the Ukrainian TheBabel publication, translated by the Unian Information Agency, Lutsenko stated of his meeting with Yovanovitch, "The meeting [with the ambassador] took place in the PGO [Prosecutor General's Office], at this very table in January 2017… She was accompanied, so was I. Mrs. Yovanovitch was interested in Vitaliy Kasko's case. The fact was that Mr. Kasko's mother got registered for official housing [in Kyiv], while she had never left Lviv. That had signs of abuse."
Lutsenko says Yovanovitch objected to the Kasko case, and recalled her saying, "the criminal case discredited those who were fighting against corruption."
Lutsenko elaborated, "I shared the details and explained that I could not open and close cases on my own. I listed some so-called anti-corruption activists under investigation. She said it was unacceptable, as it would undermine the credibility of anti-corruption activists. I took a piece of paper, put down the listed names and said: 'Give me a do not prosecute list.' She said: 'No, you got me wrong.' I said: 'No, I didn't get you wrong. Such lists were earlier drawn up on Bankova Street [referring to the Yanukovych administration that was ousted in 2014], and now you give new lists on Tankova Street [referring to the U.S. embassy].' The meeting ended. I'm afraid the emotions were not very good."
In the question and answer portion of her testimony, Yovanovitch was questioned about her exchanges with Lutsenko on this topic, where she admitted that these conversations had taken place.
The questioner stated, "Did you ever think that someone was being prosecuted wrongly because they were a good government actor, they were trying to support anticorruption initiatives?"
Yovanovitch replied, "I think there was probably a lot of politically motivated prosecution going on in Ukraine."
The next question was: "And did you ever urge the prosecutor not to prosecute those individuals or entities?"
Yovanovitch responded, "I think there's kind of a line there. And so, you know, conversations about you need to be sure that, you know, there's a real case that is not politically motivated, that this isn't just harassment and pressure, so those conversations, you know, certainly took place."
"[W]hat we would say is that any kind of prosecution of whoever, whether they are, you know, good actors or bad actors, needs to be done according to the law… and it needs to be not politically motivated."
Question: "And were names used?"
Yovanovitch replied, "Yeah, probably."
Yovanovitch then recalled giving a name, "Sytnek," of one not to prosecute. Lutsenko had mentioned "Kasko." Which points to multiple names used, but in her testimony, Yovanovitch said, "I think we just discussed one person, Mr. Sytnek."
Question: "Is it possible Lutsenko took that name as an example of somebody not to prosecute?
To which, Yovanovich replied, "I can't really speak for his motivations or what was in his mind."
Yeah, probably. Lutsenko says names were given when he alleged when he says Yovanovitch gave her a do-not-prosecute list. As a result, she lost the confidence of prosecutors in Ukraine. But that's not the only reason.
It is worth noting that the allegation by Lutsenko of a do-not-prosecute list had come shortly after Yovanovitch on March 5 called to have anti-corruption prosecutor Nazar Kholodnytskyi fired in a speech to the Ukraine Crisis Media Center, saying, "To ensure the integrity of anticorruption institutions, the Special Anticorruption Prosecutor must be replaced," accusing Kholodnytskyi of corruption.
On April 1, The Hill's Solomon reported Kholodnytskyi  had reopened the office's investigation of Burisma Holdings following former Vice President Joe Biden's Jan. 2018 statement to the Council on Foreign Relations bragging about having the former Prosecutor General Viktor Shokin, Lutsenko's predecessor, fired in March 2016 by threatening $1.2 billion of loan guarantees to then-President Petro Poroshenko.
Kholodnytskyi told Solomon, "We were able to start this case again… [But] we don't see any result from this case one year after the reopening because of some external influence."
As for Viktor Shokin, Lutsenko's predecessor who former Vice President Joe Biden bragged about getting fired in 2016, he told Solomon he was removed in 2016 because of his investigation of Burisma, which Biden's son, Hunter, served on the Board of Directors of. Shokin told Solomon he had "specific plans" to investigate including "interrogations and other crime-investigation procedures into all members of the executive board, including Hunter Biden." Shokin also noted that he was not accusing the Bidens of a crime per se, citing the presumption of innocence, just that he had plans to investigate when he was fired.
Why is it every prosecutor looking at Burisma in Ukraine the federal government and the State Department end up trying to get fired? And why was Yovanovitch and the State Department denying Shokin's visa when he sought to come to the U.S. to share his story? Yovanovitch said it was because of Shokin's "known corrupt activities." But does anyone really believe that?
Robert Romano is the Vice President of Public Policy at Americans for Limited Government.