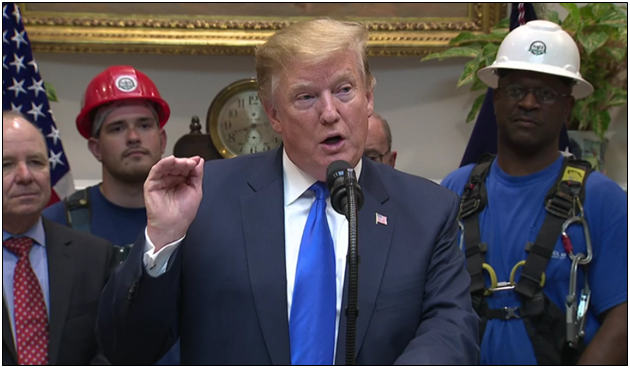 With 3.5 percent unemployment, the lowest since 1969 when U.S. involvement the Vietnam War was still at its height, and 6.7 million jobs created since Jan. 2017 — President Donald Trump is presently overseeing the best peacetime labor market conditions in modern history.
And it could get even better, the reason being because working age adults 16-to-64 years old continue to pour into the U.S. economy at levels nobody expected prior to 2016.
In 2019, 1.1 million more 16-to-64-year-olds found jobs, even as the population of 16-to-64-year-olds decreased by 238,000, according to the latest average, annual, seasonally unadjusted data from the Bureau of Labor Statistics.
As a result, labor participation among working age adults increased to 74.1 percent, its highest level since 2009. While still a ways off from its 1997 high of 77.37 percent participation, it is still dramatically improved from its 2015 low of 72.61 percent when younger workers were still struggling to enter the U.S. economy.
Much of the improvement has been since 2016, and comes at a critical time when labor participation among working age adults had been dropping every single year since 1997 save 2006.
In 2016, this represented about 9.1 million 16-to-64-year-olds who would have been in the labor force had the participation rate remained what it was in 1997. In 2019, that number was down to 6.7 million, an improvement of 2.3 million. But for two decades it was a lost generation of opportunity for millions after the dotcom bust and the financial crisis more recently. We still have not fully recovered, leaving a lot of room to grow to bring more Americans into the labor force.
Within the 16-to-64-year-old group, a majority the job gains have been among females, at 2.7 million new jobs for working aged women versus 2.1 million more jobs for working aged males.
Unemployment for blacks and Hispanics remains near historic lows as well.
487,000 new manufacturing jobs have been created.
All of which makes the Trump economy one of the most equitable in American history, something to aspire to where the financial well-being of the nation is one that benefits Americans of all backgrounds.
Now, to be fair, there are favorable demographics that factor in here in the near-term, namely, as Baby Boomers retire younger Americans are boosting their labor participation and finding jobs that were previously unavailable, and the percent of workers without high school diplomas continues to plummet while those with college education continues to skyrocket.
And the good news economically is those developments will continue for the next several years, which, barring a recession, promise to drive the unemployment rate even lower than its currently historically low numbers.
Finally, for those who, for partisan reasons alone, were aspiring for an economic downturn sometime before the end of the year in the hopes that it would help oust President Donald Trump in November, you might not want to hold your breath. This economy is great, making a strong case for Trump's reelection in 2020, where he can point to his tax cuts, deregulation and new trade deals as being big difference makers, and where everyone who wants a job can find one. It's tough to argue against success.
Robert Romano is the Vice President of Public Policy at Americans for Limited Government.