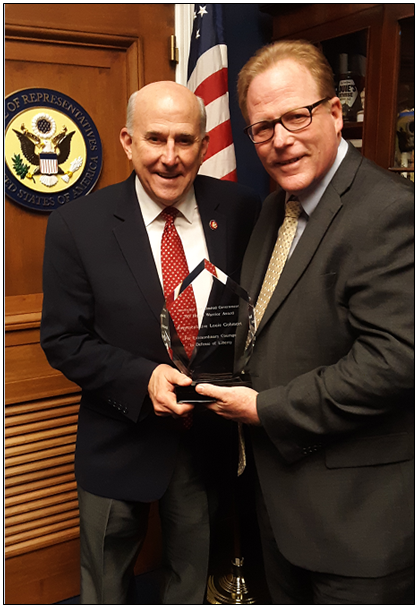 By Rick Manning
Each year, Americans for Limited Government recognizes a few Members of Congress for going above and beyond in the fight for liberty. This year, three Members are going to be recognized for their outstanding exploits.
Representative Louie Gohmert is a familiar face in the media as a defender of limited government values, and in his capacity as a Member of the House Judiciary Committee, in 2019, he has been one of the President's most ferocious defenders against the abuses of power in the Department of Justice and the intelligence community as a whole.
But that is not the main reason why Gohmert was recognized.  The temptation for Members of Congress when their political party goes out of power is to either quit Congress or stop trying to accomplish big things.  That is not what Louie Gohmert did.
Instead, Representative Gohmert used his experience as a former Judge Advocate General in the U.S. Army to review the cases of and advocate for U.S. servicemembers who have been wrongly convicted for actions on the battlefield. Determined to ensure that those who have courageously served our nation receive the same basic rights which they have risked their lives to preserve, Gohmert is the founding co-chairman of the House Congressional Justice for Warriors Caucus.
Gohmert and his staff's effort and dedication to justice bore fruit when in November of 2019, President Donald Trump signed a full pardon for Army First Lieutenant Clint Lorance, Army Major Mathew Golsteyn and an order directing the promotion of Navy Seal Edward Gallagher to the rank of E-7, the rank he held prior to being tried and found not guilty of nearly all the charges against him.
Today, Representative Gohmert continues to courageously fight for our nation's war fighters who have been unjustly accused and, in some cases, wrongly convicted.
There are many freedom battles to fight in Washington, DC, and Representative Louie Gohmert is in the middle of many of them. His fight for justice for our nation's war fighters who have been cast into prison for doing their jobs and protecting their fellow servicemembers and our nation as a whole takes a special courage as he faces a military establishment more interested in reputation than the rule of law.
In the Bible in Luke 4:18-19, Jesus opens the scroll and reads from Isaiah 61:1-2, "The Spirit of the Lord is on me, because he has anointed me to proclaim good news to the poor.  He has sent me to proclaim freedom for the prisoners and recovery of sight for the blind, to set the oppressed free, to proclaim the year of the Lord's favor."
In remembering and fighting to free our nation's unjustly imprisoned warriors, Representative Louie Gohmert not only is upholding the sacred principle of innocent until proven guilty imbedded in our laws, he is also meeting the higher Christian calling to remember the least of these.
Due to this long-time commitment to freedom and justice for all, Americans for Limited Government proudly recognized Representative Louie Gohmert with our 2019 Defender of Liberty Award.
Rick Manning is the President of Americans for Limited Government.