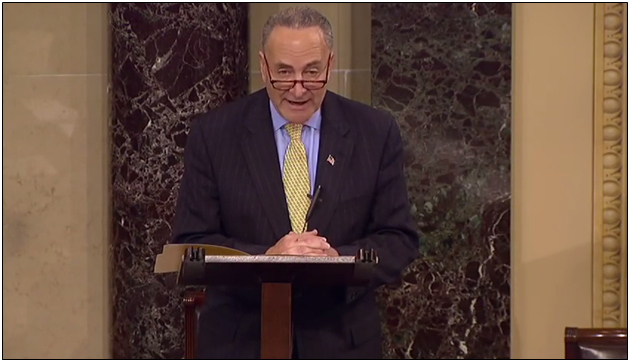 Senate Democrats are holding the U.S. economy hostage after blocking legislation to protect small businesses, guarantee payroll and expand unemployment relief to tens of millions of workers.
The vote failed 47 to 47, with 60 needed to advance the bill.
The fate of 30 million small businesses and critical industries, indeed, the U.S. economy hangs in the balance after the federal and state governments have practically closed everything except for essential services.
The government has put the economy into an induced coma, and now it has a responsibility not to lose the patient.
By forcing almost the entire population to stay home for all intents and purposes, the government must ensure the American people have an economy to go back to. That's where small business relief comes in.
Small businesses employ 60 million workers nationwide and are the backbone of our economy, but right now they are in serious danger of disappearing. Without immediate relief by way of forgivable loans to meet payroll, there may be nothing left on the balance sheets when this is over except debt.
Many of those businesses will never come back—unless Congress acts right now to protect them.
Here is the truth.
People are going to start running out of money very soon as cash reserves are depleted. Without revenues, every aspect of the economy will seize up. Soon, it will become a vast financial crisis as people become rapidly unable to pay their debts. Then, banks.
Already, the Federal Reserve is intervening by purchasing commercial mortgage backed securities and has opened a new $300 billion lending window to businesses and larger employers. Interest rates are back down to zero. And quantitative easing has begun anew.
The Senate bill would provide $300 billion to cover payroll for small businesses and another $200 billion for critical industries. By covering everyone's payroll, everyone will be able to continue paying their mortgages and utilities. Businesses will be able to cover building and maintenance expenses.
Debt markets won't seize up. The financial and digital portions of our economy will continue functioning. Vast uncertainty about the coronavirus outbreak will be alleviated.
These closures in response to a public health emergency are now themselves a financial emergency that must be addressed by Congress before it is too late.
We also need to salvage as much of the economy and businesses can be after the virus passes. After this is all over, we're going to need them to rebuild America in the aftermath.
The Senate and House must take responsibility for everything being closed and to stop putting politics above all of our lives. There is too much at stake.
The only way to safely contain the virus is for Congress to incentivize the American people to stay home. What Congress does affects the health emergency directly. It has to safely house every American for the next several weeks or months.
Or else people and businesses will begin breaking the national lockdown out of desperation.
Robert Romano is the Vice President of Public Policy at Americans for Limited Government.