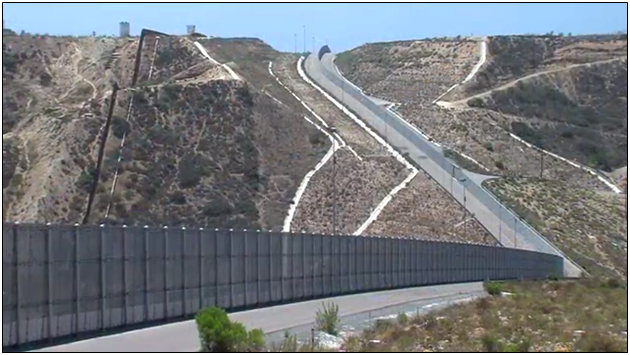 During the 2016 campaign, President Trump ran on cracking down on illegal immigration. After years of border security being largely ignored, Trump made it a central issue. After three years in office, it is clear that he is getting results.
So far, over 120 miles of border wall have been built, and hundreds of more miles of wall are expected to be built this year.  Just last week, Mark Morgan, who leads US Customs and Border Protection, told Congress that one section of border wall had reduced the number of illegal border crossings there by more than 80 percent.
In addition, the administration's Remain in Mexico policy that keeps asylum claimants in Mexico pending hearings is credited with slowing down migration as illegal border crossings continue to drop. This policy requires asylum seekers to wait in Mexico for their immigration court dates; previously, asylum seekers were allowed to wait in the U.S., but many simply disappeared and never reappeared for their court dates.
Thanks to the new policy, in January, the most recent month for which we have official numbers, the number of people apprehended or found to be inadmissible on the Southern border fell to 36,679. In May of last year, that number peaked at 144,116, but it has been declining ever since.
Americans for Limited Government's Frank McCaffrey has reported from respite centers, bus stops and businesses along migrant routes on both the U.S. and Mexican sides of the border attesting that migrant traffic has slowed as the Remain in Mexico policy took effect.
The two policies, the wall and Remain in Mexico, are the heart of the administration's success in combating illegal immigration but remain in constant legal wrangling thanks to lawsuits by left-wing organizations, including the American Civil Liberties Union (ACLU) and the Southern Poverty Law Center (SPLC) and others who are suing to stop the wall and the successful Remain in Mexico policy.
Late last week, the Ninth Circuit Court of Appeals put a hold on the Remain in Mexico policy before staying the injunction allowing enforcement to continue. But should the Ninth Circuit overturn the policy, the Supreme Court will likely end up ruling on this case, too. Previously, it has reversed rulings preventing the wall from being constructed using reprogrammed military construction funds, another case sure to come up again.
In the meantime, the Trump administration not only is Trump working to discourage illegal immigration, he is also hiring more immigration judges to deal with the backlog of immigration cases. Immigration judges matter because they decide issues such as whether immigrants should be deported and whether asylum seekers are granted asylum. At last report, there were 466 immigration judges, which is the most since at least 2010. By comparison, there were 289 immigration judges in FY 2016.
Nor do Trump's efforts to fight illegal immigration stop at our borders. He has also struck deals with El Salvador, Honduras, Guatemala, and Mexico to reduce the number of people arriving at our border. Mexico has been particularly helpful deploying troops to its border to halt the massive caravans of migrants that have strained our immigration system in recent years.
As the old saying goes, charity begins at home. No doubt many of the people seeking asylum do have rough lives in their home countries, but asylum should be limited to those fleeing repressive regimes, not extended to those just looking for a better job or a better neighborhood. As it is, in many parts of our country, we do not have an adequate supply of housing for American citizens; our public schools, too often, struggle to turn out graduates who are functionally literate; and our national debt continues to grow. So we cannot afford to just roll out the welcome mat for anyone who shows up at the border. Every year, we give billions of dollars in foreign aid, but we must not forget that the primary job of the American government is to look out for the interests of the American people. And finally we have a President who is doing just that. It's about time.
Richard McCarty is the Director of Research at Americans for Limited Government Foundation.