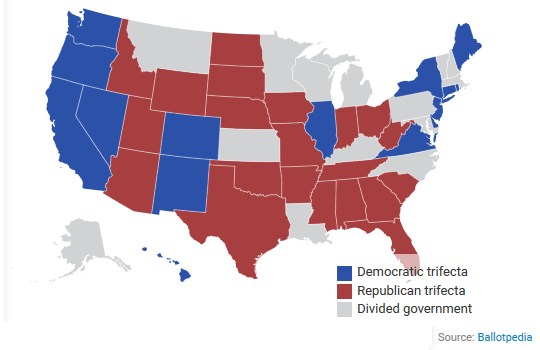 State and local government agencies are shutting down or having workers telecommute in response to the Chinese coronavirus, and now it is the time for GOP governors and legislatures to modernize their governmental operations, not just survive. It should be a good time to assess which departments and employees are vital, and which are not. Once those assessments are made, appropriate cuts should be made.
Of course, public sector unions will vigorously oppose any efforts to rightsize the bureaucracy, and that is why Republican lawmakers should also move to curb the excessive power of government employee unions.
With his signature on Act 10, former Gov. Scott Walker (R-Wis.) transformed public employee unions — and politics — in Wisconsin. Among other things, Act 10 limits most labor negotiations to wages; and any wage increases above the consumer price index must be authorized by a public referendum. The act requires annual elections to determine whether members wish to keep their union; it also directs government agencies to stop collecting union dues. By standing up to the public sector unions, Walker saved taxpayers a fortune. Furthermore, as a result of Act 10, public employee union membership declined in Wisconsin; and it is quite likely that the legislation helped President Trump win the state in 2016.
Decades ago, public employee union members only accounted for a small fraction of all union members; but now, they account for nearly half. According to the U.S. Bureau of Labor Statistics, there were 7.1 million public sector union members and 7.5 million private sector union members last year. This translates into a union membership rate of 33.6 percent in the public sector and a rate of 6.2 percent in the private sector.
While the net benefit of most private sector unions in the modern workplace is debatable as nationwide membership continues to drop, most public sector unions are detrimental. If a private sector union gets too greedy demanding unsustainable wages and benefits and protects too many lazy employees, the employer will be forced to take drastic action, such as replace workers with robots, or eventually go bankrupt.
On the other hand, if a public sector union is able to elect its cronies to office and negotiate sweetheart labor contracts, taxpayers may be stuck with the bills for decades. One need look no further than Connecticut, Illinois, or New Jersey, to see what happens when powerful public employee unions get their way: taxpayers pay, and pay, and pay, and it is still not enough.
Of course, even when public sector unions are not demanding higher pay and lavish benefits, they are often supporting liberal causes and candidates. So which unions are some of the largest public employee unions, and how are they working to advance the Left's agenda?
Unsurprisingly, every, single one of these unions gives over 90 percent of its direct campaign contributions to Democrats. By comparison, the AFL-CIO, which consists of both public and private sector unions, has given between 67 percent and 83 percent of its direct campaign contributions to Democrats over the past five election cycles.
While Senate Republicans are unable to accomplish much legislatively due to the U.S. House being controlled by Democrats, Republicans at the state level have a great opportunity to show their support for taxpayers and fiscal responsibility. Currently, Republicans hold both a majority of state governors' mansions and a majority of state legislative chambers. In Republican-run states that have not already enacted labor legislation along the lines of Wisconsin's Act 10, Republican lawmakers should get to work and get it done.
Richard McCarty is the Director of Research at Americans for Limited Government Foundation.