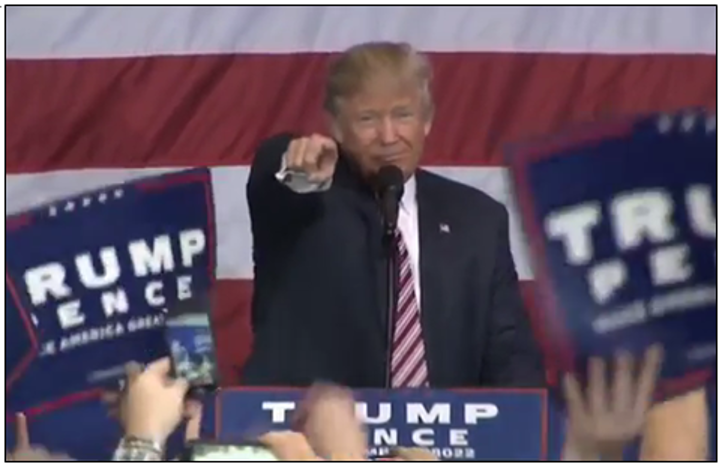 "The quote is, 'Where Ohio goes, so goes the nation.'"
That was Portage County, Ohio Republican Party Chairman Amanda Suffecool in an interview with Americans for Limited Government noting the historical reliability of Ohio as a swing state in presidential elections — and why that could be great news for President Donald Trump in 2020.
"Ohio is part of the heartland and so it's fairly predictive in that manner because we're not any of the extremes," Suffecool stated, adding, "there's actually seven counties that are the swing counties that drive what happens in the state, which drives what happens in the nation."
In fact, in 36 out of the past 40 elections dating back to 1860, Ohio has chosen the winner of the presidential race, far more than any other state — 90 percent of the time. The exceptions were 1884, 1892, 1944 and 1960.
Overall, Ohio has predicted the winner 45 out of 54 elections since it became a state in 1803 — an 83 percent success rate that has only improved with time.
And now, in the latest Fox News poll, President Trump is beating former Vice President Joe Biden in Ohio 48 percent to 45 percent in a poll taken Oct. 17 to Oct. 20. That represents an 8-point swing from the last month's Fox poll in the Buckeye State, which had Biden leading 50 percent to 45 percent.
What a difference a few weeks can make.
Suffecool says that the momentum is definitely with President Trump's campaign in the closing days of the race: "The drive and energy this year, I have absolutely no doubt — we brought Ohio to Trump last election with a really pretty reasonable margin and I expect that to be higher just generally, because of the amount of energy that you see."
Suffecool said Trump's support was unprecedented: "In my political awareness, I have never seen where people spend their own money to support a president in the way that they are Donald Trump: for gear and flags and signs and painting their cars and their boats and those types of things. It is an awareness of politics on a whole new level… Whether it's Ohioans or across the country, he connects in a way that other presidents never have."
On what makes voters connect so well with President Trump, Suffecool explained, "There's a spot where is somewhat irreverent in his statements or somewhat flippant, yet he says things that a lot of people think or would want to say but in our politically correct culture have just not been able to say. I think more people connect with him the same way that they would by the buddy they'd sit around a bonfire with or go have a drink with — they're connecting in that not as necessarily someone that they look up to, it's more on their level."
In other words, the American people look at President Trump as an equal.
I asked Suffecool if she thought international trade with China and elsewhere would factor into the race for 2020, especially considering Biden's past votes in favor of NAFTA and permanent normal trade with China. She said the Covid shutdowns were more important now: "I think that [trade] could and it should be [a factor], but it isn't, simply because Ohioans are so focused on the fact that our governor has us locked down… and there's more immediate issues that they're facing for them and their families associated with states and the lockdown and just in general the short-term jobs issues."
On what she thought about many of the polls in Ohio and nationwide, that have shown Biden leading the race all year long, and on what makes her so confident Trump will prevail in Ohio and in the Electoral College, Suffecool said, "I know that in our county we have been giving out signs and people come back to say 'My sign has been destroyed, my yard has been turfed, my house has been painted, and so I need to replace my stuff. But my neighbors who are also going to vote for Trump are not willing to put anything out because they feel their neighbors will destroy it.' So I believe that there is a lot of people who are silent supporters…"
Suffecool's account confirms that of Robert Cahaly, lead pollster of Trafalgar Group, the only poll that called the 2016 race for Trump in Michigan, who in June said in 2020 the race is a dead heat and that "social desirability bias" is "worse than it was four years ago." Now Trafalgar is once again showing Trump with narrow leads in Pennsylvania and Michigan, and the President building his leads in Ohio and Florida.
Meaning, President Trump may have a silent majority after all, just like in 2016 when he defied expectations by overperforming from where the polls said the race was. In Florida, the average of polls underreported Trump support by 2 percentage points, in North Carolina by 3.3 points, in Ohio by 5.5 points, in Pennsylvania by 3.5 points and Michigan by 4.1 points.
Nationally, polls underreported Trump's nationwide support by 2.5 percentage points, when in the election he received 46.1 percent of the popular vote to Clinton's 48.2 percent.
And those were the polls taken right before the election, which tend to be more accurate than those taken in the spring and summertime.
Suffecool said she didn't put much stock in the polls, stating, "I also believe that the polls, the majority of the polls are not actually looking for real information, they're looking for confirmation of their own beliefs."
In June, President Trump tweeted, "THE SILENT MAJORITY IS STRONGER THAN EVER!!!" at a time when Biden was leading Trump by 10 points nationally, up by 6 points in Florida, tied in Ohio, up by 5.6 points in Pennsylvania and up by 8 points in Michigan.
Now, in the final sprint, the race is up for grabs — and the road to victory may once again be running through Ohio. Stay tuned, this one's coming down to the wire.
Robert Romano is the Vice President of Public Policy at Americans for Limited Government.