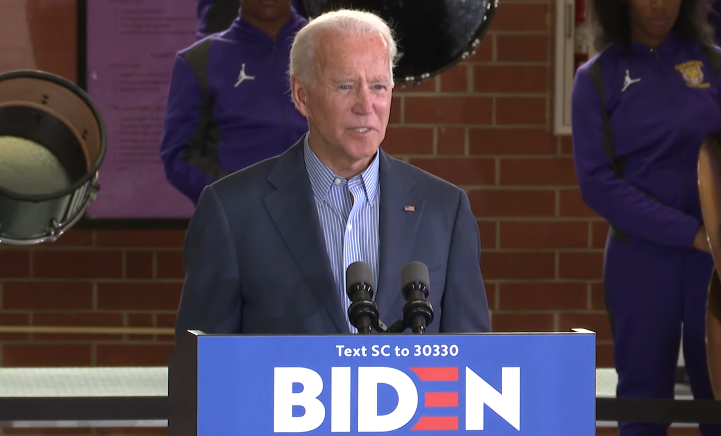 A widely read news service is giving cover to Joe Biden's latest lie. Reuters fact checked a story published two weeks ago in the Washington Times about Biden's claim that he "got started" at the historically black college, Delaware State University (DSU). University officials told the Washington Times that Biden never attended the university.
An open-and-shut-case, right? Biden lied.
Not according to Reuters. Here's what their team of crack fact checkers concluded: "False. Biden did not say that he attended Delaware State University. At a speech he made in South Carolina in 2019 when he said that he "got started" out of DSU, he was likely referring to the support he received when he launched his U.S. Senate bid at the campus there in 1972."
Biden's claim, which he made to an audience of mostly African-American voters at historic Wilson High School in Florence, South Carolina, was clearly an attempt to pander to a voting bloc he desperately needed to win the Democratic nomination.
"Joe Biden owes his nomination to Black voters in South Carolina," said Rick Manning, president of Americans for Limited Government. "He sent a message to those voters that he attended a historically black college. Anyone giving Biden cover now is effectively whitewashing his lie.
"There is only one way to interpret Biden's claim that he 'got started' at a historically black college, he lied about his past to get votes," concluded Manning.
If this were the first time he lied about his past or embellished a story, Reuter's fact checkers might have a case and we might give Biden a pass. But it's not. Biden has spent his career embellishing or outright lying about many aspects of his life.
In his firsts bid for the presidency in 1988, he didn't just steal turns of phrase from the British politician Neil Kinnock; he appropriated his life story as his own, pretending that his family had worked in coal mines and that he too had been the first of his name to get a college degree "in a thousand generations."
Even in the case where Biden deserves our sympathy — the loss of his wife and young daughter in a 1972 car accident — he edits the truth, and not in an innocent way. For many years to told people that his family was killed by a drunk driver. There was no evidence that the other driver was drunk; he wasn't even at fault. That driver's daughter wrote to Biden in 2001 to ask him to stop denigrating her late father, and he wrote a conciliatory note back. But six years later, in his second presidential campaign, he repeated the same false story.
Biden has also been dishonest in his public record. During this presidential run he said that he opposed the Iraq war as soon as it started. In fact, he voted for it and supported it, coming out against it only after two and a half years.
For decades, Biden opposed federal funding for abortion, even sometimes voting against it in cases of rape and incest. In 1994, he wrote a constituent that "the government should not tell those with strong convictions against abortion, such as you and I, that we must pay for them." He flipped on the issue to get through this year's primaries.
During this year's campaign, he had to retract a story he had repeatedly told about being arrested "on the streets of Soweto" while trying to visit Nelson Mandela in prison. Mandela supposedly thanked him for his trouble. It never happened. His revised story is that for a while he wasn't allowed to leave an airport since he refused to go through a door for whites.
Biden's first presidential campaign 32 years ago folded after the media exposed him as a serial plagiarizer and liar. It is shocking that the fact checkers at Reuters today gave him a pass. Either they don't know Biden's past, or didn't bother to check. It's just another reason why Americans don't trust the media.
Catherine Mortensen is the Vice President of Communications at Americans for Limited Government.