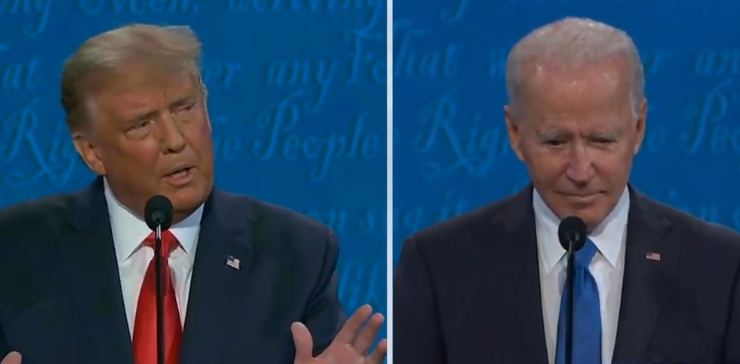 "We can't close up our nation, or you're not going to have a nation."
That was President Donald Trump in the final presidential debate of 2020, making his closing argument to the American people on reopening the economy and getting life back as close to normal as possible following the Covid pandemic lockdowns.
25 million jobs were lost at the height of the state-led economic shutdowns when labor markets bottomed in April, but with President Trump's leadership and insistence on safely reopening, 14 million jobs have already been recovered, according to the Bureau of Labor Statistics.
That leaves 11 million more jobs to get back, and clearly, President Trump will not be satisfied until every American who wants a job, can find one — promising to return to the 50-year low in unemployment that was seen as recently as February before the virus struck.
There is still a long way to go, and the recovery could be muted by the ongoing lockdowns centered in blue states if they go on much longer. In September, although there were a net 970,000 fewer unemployed, of those, 879,000 left the labor force, as unemployment benefits have run out for millions of Americans.
This is one area where actions will speak louder than words.
That is why President Trump's emphasis on safely reopening the economy — especially schools — is so critical to getting millions of parents back to work.
Sadly, the pandemic shutdowns disproportionately knocked women out of the labor force. 13.4 million women and 11.9 million men became unemployed when labor markets bottomed in April. And female labor participation rate fell from 57.8 percent in February to 54.7 percent in April, a low not seen since 1986.
At the debate, Trump said, "I want to open the schools. We have to open our country. We're not going to have a country. You can't do this. We can't keep this country closed, this is a massive country with a massive economy. People are losing their jobs. They're committing suicide. There's depression, alcohol, drugs at a level that nobody's ever seen before. There's abuse, tremendous abuse. We have to open our country… I've said it before, the cure cannot be worse than the problem itself, and that's what's happening, and he wants to close down, he'll close down the country, if one person in our massive bureaucracy says we should close it down."
Trump is right. The longer the schools are shut, the harder the recovery will become on working families. That is why Biden's open-ended statements on getting kids back to school and the economy more broadly are so troubling.
In the first debate, Biden declared, "Schools — why aren't schools open? Because it costs a lot of money to open them safely." He also repeated his line that "You need to shut it down" and "you can't fix the economy until you fix the Covid crisis." This mirrored what Biden told ABC News in August that "we cannot get the country moving until we control the virus" and "in order to keep the country running and moving, and the economy growing and people employed, you have to fix the virus," and adding that if it was recommended to him, "I would shut it down…"
But then in the second debate, Biden contradicted himself, and claimed "I'm going to shut down the virus, not the country." Which is it, Joe?
In fact, the top ten states in the country with the highest unemployment rates in August prior to workers losing their benefits are all run by Democratic governors with the worst lockdowns:
| | |
| --- | --- |
| Nevada | 13.2% |
| Rhode Island | 12.8% |
| Hawaii | 12.5% |
| New York | 12.5% |
| California | 11.4% |
| Massachusetts | 11.3% |
| New Mexico | 11.3% |
| Illinois | 11% |
| New Jersey | 10.9% |
| Pennsylvania | 10.3% |
Those numbers are slightly down in September, but the drop off from the August levels, sadly, is largely people losing their benefits and exiting the labor force altogether. In September alone, 879,000 Americans left the U.S. labor force nationwide. If Biden wins, he'd be punishing his own people the most by going back to lockdowns.

In the meantime, Dr. Anthony Fauci told Politico in early August that following the Trump administration's strategy for virus mitigation that there is no need for another shutdown.
"That would not require shutting down again," Fauci said, adding, "There seems to be a misperception that either you shut down completely and damage a lot of things, mental health, the economy, all kinds of things, or let it rip and do whatever you want. There's a stepwise fashion that you can open up the economy successfully. You don't have to lock down again, but everybody has got to be on board for doing these five or six fundamental public health measures."
Trump, on the other hand, went on offense, and singled out key battleground states suffering through lockdowns by Democratic governors: "Take a look at what's happening in Pennsylvania, where they've had it closed. Take a look at what's happening with your friend in Michigan, where her husband's the only one allowed to do anything. It's been like a prison. Now it was just ruled unconstitutional. Take a look at North Carolina. They're having spikes, and they've been closed. And they're getting killed financially. We can't let that happen, Joe, you can't let that happen. We have to open up."
In the meantime, Biden acts like nothing was done to combat the virus, falsely claiming Trump has no plan. The truth is, on the virus, President Trump acted decisively to keep the American people safe.
On Jan. 29, the President appointed the White House coronavirus task force as the State Department was evacuating U.S. citizens from Wuhan.
On Jan. 31, he suspended all travel from China, and Health and Human Services Secretary Alex Azar declared a public health emergency, with any U.S. citizen returning from China being subjected to a mandatory quarantine.
On March 11, President Trump suspended travel from Europe.
On March 13, President Trump declared a national emergency and joined the coronavirus task force press briefing to present the administration's public-private partnership for drive-thru testing for the virus.
Now, 128.9 million tests have been conducted at about 1 million per day now and rising, according national data compiled by Covidtracking.com. Test positivity is at 5.6 percent, way down from its April peak of over 20 percent, according to John Hopkins University & Medicine.
On March 27, the President signed the $2.2 trillion CARES Act, extending unemployment benefits, shoring up 5 million small businesses supporting 50 million jobs, supporting critical industries including airlines, sending checks to taxpayers, replenish national stockpiles, prepare schools for reopening, providing a lifeline to state and local governments and ramping up hospital resources.
On March 18, on March 27, and again on April 2, the U.S. ramped up production of ventilators as President Trump invoked the Defense Production Act. Thanks to Trump's speed, everybody who needed a ventilator suffering from Covid got one.
On April 8, the Army Corps of Engineers began building field hospitals in states that were experiencing an uptick in cases in response to requests from governors and mayors.
On May 15, President Trump announced Operation Warp Speed as a public-private partnership between the Departments of Health and Human Services, Defense, the Centers for Disease Control and pharmaceutical companies to produce, test, manufacture ahead of time tens of millions of doses and immediately distribute a coronavirus vaccine to the American people as soon as one is approved.
Now, there are six candidates already in production, four of which are in phase three clinical trials, with hopes expressed by Dr. Anthony Fauci that one could be approved by 2021, if not sooner.
At one point, the models were showing that as many as 2 million Americans would die if nothing was done. The current death toll at more than 223,000, while still too many, is far fewer than might have happened.
Now, we have the testing we need, the ventilators we need and the resources to deal with any surge from the virus — and we have what we need to safely return to normal. Now that both candidates have made their closing arguments, we will find out very soon if the American people vote for Biden to keep everything shut down — or if they grant Trump four more years to get America reopen.
Robert Romano is the Vice President of Public Policy at Americans for Limited Government.
Updated 10/26/20.