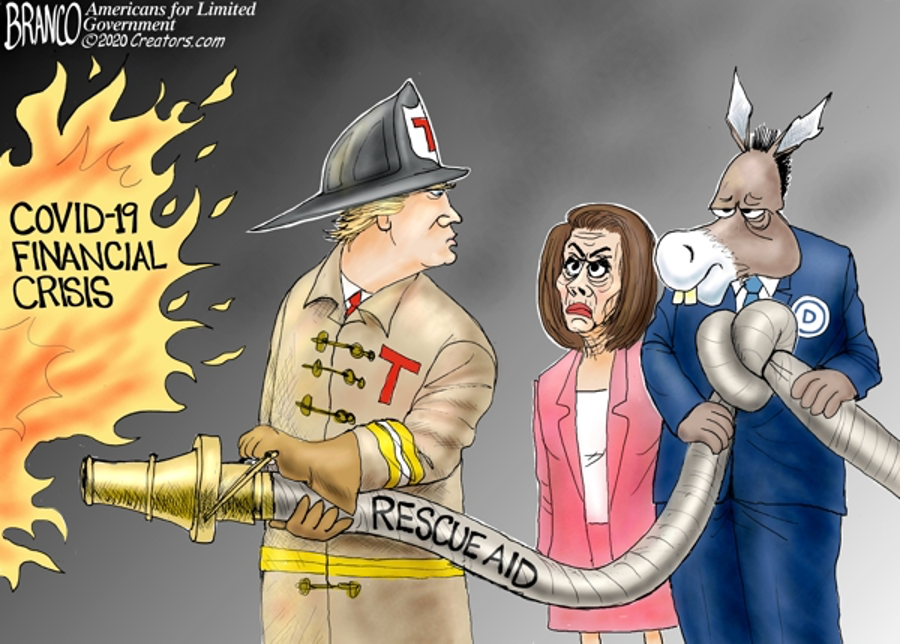 Congress has completed negotiation on a combined $900 billion Covid economic relief legislation, plus the annual $1.4 trillion omnibus appropriations bill, just in time for Christmas.
It comes with a $280 billion renewal of the Paycheck Protection Program that saved as many as 5.2 million small businesses and 50 million jobs last spring. Another $16 billion for airlines and critical industries, another round of $600 checks plus a $600 child tax credit, and an extension of unemployment benefits with a $300-addon to regular benefits are also included.
It also includes $20 billion for vaccine purchases, $8 billion for vaccine distribution and another $20 billion for more Covid testing — all as the Food and Drug Administration has already approved two Covid vaccines on an emergency basis.
Obviously, it is not perfect, but it appears better than it was just a few weeks ago.
For starters, there is no state and local government bailout. Democrats wanted as much as $875 billion to balance state budgets in House Speaker Nancy Pelosi's (D-Calif.) now-abandoned $3 trillion spending proposal earlier this year. Which, without some requirement that states actually use funds to reopen their economies was always a non-starter for Republicans.
The bill still includes $82 billion for schools to safely reopen in the era of Covid — which if you want to reopen the economy, safely returning millions of children to school so working parents can get back to work is an obvious precursor — mirroring prior proposals by both House Democrats and Senate Republicans. That will technically go to states.
In fact, other than the removal of Covid liability protection for businesses — the cost of removing the states bailout — the agreed-upon legislation most closely resembles the $900 billion proposal originally submitted by Senate Republicans, the HEALS Act, earlier this year.
One aspect of the Covid package people have not paid attention to is the issue of surprise medical billing and that it deals with it in a way that does not create one size fits all medical bill rate setting by the federal government. While the compromise language is not perfect it does incorporate an arbitration process between providers and health insurers, rather than the pathway to socialized medicine House Speaker Nancy Pelosi preferred.
And it may not even cost the full $900 billion, with much of the cost being covered by prior unspent monies. According to Senate Majority Leader Mitch McConnell (R-Ky.), in a floor speech on Dec. 21, the figure is closer to $350 billion: "I cited a figure of $900 billion. But listen to this: The net new cost is less than roughly $350 billion. We are recovering more than half a trillion dollars in unspent money that Congress had already set aside and channeling it to these urgent needs."
McConnell went on to tout the provisions of the bill, stating a primary focus for Senate Republicans was to save small businesses by renewing the Paycheck Protection Program: "Back in March, thanks to Chairman Rubio, Senator Collins, and Senator Cardin, we created the Paycheck Protection Program. It's saved small businesses and helped millions of American workers keep receiving paychecks rather than pink slips. It would be insanity for us to have saved these jobs all this time only to drop the ball with the end in sight. So this bill will send more than $280 billion to re-open the PPP for a targeted second round. And we made sure churches and faith-based organizations will stay eligible."
McConnell added, "Of course, millions have already been laid off. So, months after Republicans tried to stop benefits from expiring in the first place, this package will resume a temporary federal supplement to unemployment insurance. And it extends other programs for self-employed and gig workers that would have expired."
McConnell also thanked President Donald Trump and Treasury Secretary Steven Mnuchin for their leadership in pushing for more relief checks: "Thanks to the particular leadership and direction of President Trump and Secretary Mnuchin, households will receive a second round of direct relief checks — $600 per adult and per child."
That is one more Art of the Deal for President Trump, who simultaneously moved mountains to get America as much Covid testing, ventilators and then vaccines and treatments with Operation Warp Speed, and to get the American economy safely reopened. When labor markets bottomed in April, 25 million jobs had been lost, but thanks to Trump's leadership, more than 16 million jobs were recovered in a very short period of time, and the country was fully prepared to meet the pandemic head-on. Thank goodness.
McConnell took a no-nonsense look at the legislative accomplishment: "This is just some of the aid that will be heading Americans' way in a matter of hours. No sprawling left-wing wish list. No unconstrained bailouts for state and local governments, with no connection to COVID needs. Just smart, targeted, bipartisan policies."
In contrast to Pelosi's sprawling, original $3 trillion proposal, this is not bad. It could have been horrible, but this is not bad at all. Pelosi should have passed something before the election when she had the chance, as failure to act nearly cost Democrats the House majority in 2020 because of it. Small business funding expired Aug. 8. Airline funding ran out in September. Unemployment benefits ran out in some cases months ago. Now what do they have to show for it?
Adding to Pelosi's losses, because the $1.4 trillion omnibus bill is passing right now — its gargantuan price tag notwithstanding, that's what happens when you wait to the last minute to pass the entire federal budget — that means there won't be any must-pass funding bills the first few months of 2021 for Pelosi to hold the American people hostage with to demand more states bailouts. Merry Christmas.
Robert Romano is the Vice President of Public Policy at Americans for Limited Government.