Hint: it's not because we're misogynists.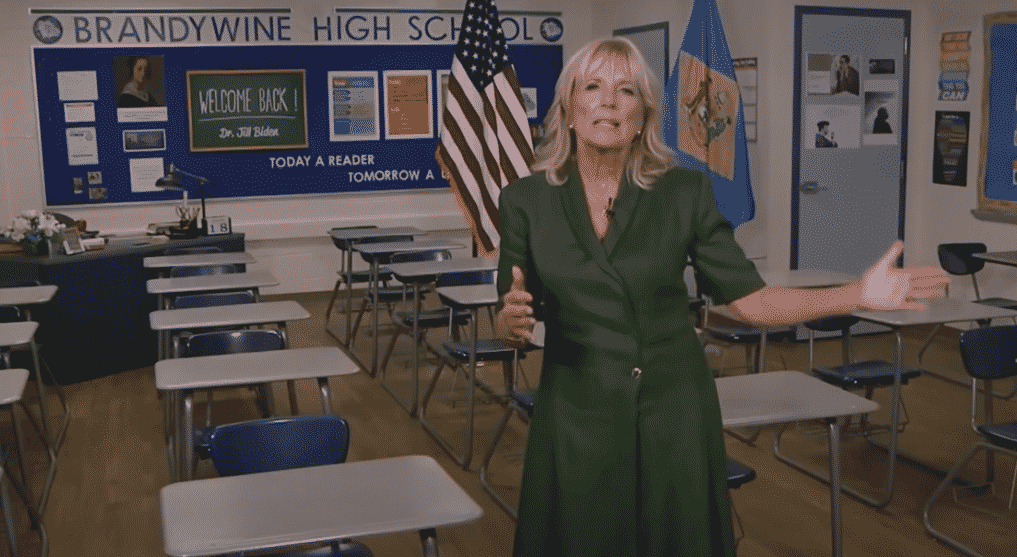 Over the weekend, the Twitter world was buzzing with angry women (and some men) claiming a guest column in the Wall Street Journal mocked Jill Biden over her insistence that she be referred to as Dr. Jill Biden. Biden earned an Ed.D., a doctor of education, from the University of Delaware.
Twitter haters accused essayist Joseph Epstein of having "misogynistic views" for suggesting soon-to-be first lady Jill Biden stop using the title "doctor."
By Sunday night, the paper's editorial page editor, Paul A. Gigot, fired back, "These pages aren't going to stop publishing provocative essays merely because they offend the new administration or the political censors in the media and academe. And since it's a time to heal, we'll give the Biden crowd a mulligan for their attacks on us."
Nearly every major news outlet ran a story over the weekend on the backlash from Epstein's Friday column, which also referred to the 69-year-old educator as "kiddo." Among the critics: Doug Emhoff, husband to Vice President-elect Kamala Harris, Northwestern University, where Epstein says he taught for 30 years, and Biden herself.
Biden's Sunday night tweet seemed to sum up much of the criticism of the WSJ column, by suggesting that Epstein diminished her accomplishments, "Together, we will build a world where the accomplishments of our daughters will be celebrated, rather than diminished."
Together, we will build a world where the accomplishments of our daughters will be celebrated, rather than diminished.

— Dr. Jill Biden (@DrBiden) December 14, 2020
Former First Lady Hillary Clinton tweeted, "Her name is Dr. Jill Biden. Get used to it."
Her name is Dr. Jill Biden. Get used to it.

— Hillary Clinton (@HillaryClinton) December 13, 2020
So then why are reliably Lefty news outlets such as CNN and USA Today not calling her Dr. Jill Biden?
USA Today said it's because, "Many publications including USA TODAY and the [Wall Street] Journal follow AP style, which dictates that "Dr." should not be used for academic credentials in news articles."
If you are not familiar with the AP Stylebook, it refers to the Associated Press style guide used by professional communicators since 1953. According to the Columbia Journalism Review, it grew out of a 1951 AP publication, "The Writing Handbook," whose  "simple goal," the foreword said, "is to make Associated Press writers better writers.  News writing has the highest degree of readability when it informs the reader clearly and quickly, completely and interestingly."
According to the latest AP Stylebook:
If mention of degrees is necessary to establish someone's credentials, the preferred form is to avoid an abbreviation and use instead a phrase such as: John Jones, who has a doctorate in psychology.
Use Dr. in first reference as a formal title before the name of an individual who holds a doctor of dental surgery, doctor of medicine, doctor of optometry, doctor of osteopathic medicine, doctor of podiatric medicine, or doctor of veterinary medicine: Dr. Jonas Salk.
If appropriate in the context, Dr. also may be used on first reference before the names of individuals who hold other types of doctoral degrees. However, because the public frequently identifies Dr. only with physicians, care should be taken to ensure that the individual's specialty is stated in first or second reference.
Do not use Dr. before the names of individuals who hold only honorary doctorates.
Do not continue the use of Dr. in subsequent references.
Those AP style guidelines were still being taught in journalism school when I was an undergrad in the late 1980s. I was taught to write with the goal of being clear, complete, accurate, and interesting.
Back to the question of Jill Biden.  For purposes of clarity and consistency, we will follow the AP Stylebook and refer to her simply as Jill Biden. If a story is about her professional work and adding details about her educational degree would add clarity, then we would include that information.
Biden's demand to be called doctor has already confused many people, including celebrity-turned-political analyst Whoopi Goldberg, who mistakenly identified Mrs. Biden as a physician, suggesting she should become the next surgeon general because she was such a great doctor.
However, we wouldn't be surprised if the Associated Press bowed to political correctness and changed its style guide to accommodate those on the Left who are losing their minds over anyone who refuses to call Jill Biden doctor. I better get this posted before that happens!
Catherine Mortensen is Vice President of Communications at Americans for Limited Government.