"The Trump Rally was a great reminder to fellow patriots that we aren't alone and we won't give up without a fight."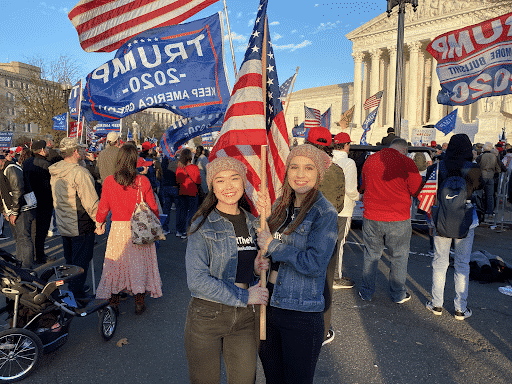 I'm so glad you asked! My best friend and I attended our second Trump rally over the weekend, and we can't wait to tell you about it. 
Today, if you've done any quick skim of fake news headlines about the Trump rally, you'll have been bombarded with negativity and cries about how Trump supporters are evil, racist, sore losers, and blah blah blah. What a surprise, it's the same nonsense we've been hearing for 4 years. I'm just patiently waiting for the Left to get more clever with their insults, like please come at me with something a little more original. They won't because it's all they've got and it's already such a far stretch from the truth!
Women for America First hosted this weekend's March for Trump rally, not a bunch of old, white, racist men, as the Left would want you to believe. The D.C. Freedom Plaza rally was the final stop on the March for Trump bus tour, which traveled from Florida to D.C. in just two weeks.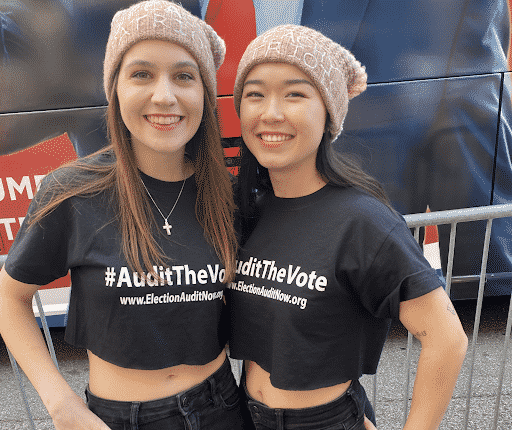 We heard from prominent conservative speakers, such as General Flynn, Sebastian Gorka, Mike Lindell, Pastor Mark Burns, David Harris Jr., to name a few; all of whom shared messages of encouragement to tell patriots to keep fighting for President Trump.
In addition to your classic USA chants, we prayed, sang the National Anthem, exclaimed the Pledge of Allegiance, and even witnessed Marine One fly over us.
— Donald J. Trump (@realDonaldTrump) December 12, 2020
As my friend and I marched from Freedom Plaza to the Supreme Court, we joined in patriotic chants such as, "USA!", "God Bless America!", "4 More Years!", "Stop The Steal!", to name a few.
Outside of the Supreme Court, we sang and danced to "God's Country," "Eye of The Tiger," "We're Not Gonna Take It," "You Can't Always Get What You Want," along with other songs that fit our situation. 
We saw old friends and made new friends. Everyone was excited and full of hope. People were kind, polite, and shining with patriotism. 
When reflecting on the weekend, my friend, Rachel and co-host of Peachy Patriots (a conservative Rumble series), said, "The Trump Rally was a great reminder to fellow patriots that we aren't alone and we won't give up without a fight."
It was so much fun, we created a recap video of our experience!
Megan Marzzacco is a contributing editor for Americans for Limited Government.