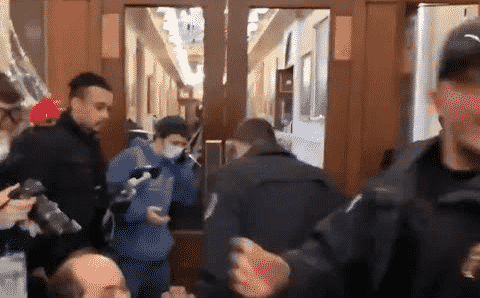 "Missing Context… Independent fact-checkers say this information could mislead people."
That is the warning that Facebook is giving to users who want to look at photograph meme depicting John Earle Sullivan, a Black Lives Matter activist, storming the U.S. Capitol on Jan. 6. The caption reads, "Anti-Trump Founder of Radical Left-Wing Group 'Insurgence USA' John Sullivan, Incited Insurgence of U.S. Capitol."
The meme also quotes Sullivan's biography from his now-suspended Twitter account, stating, "John Sullivan, 26, the founder of Insurgence USA, a group for racial injustice and police reform." Sullivan has since been charged by the Justice Department with being in a restricted building, civil disorder and violent entry and disorderly conduct. Prior to being arrested, he told the Epoch Times "he knew of plans to storm the Capitol" which he had seen in "undergrounds chats and things like that."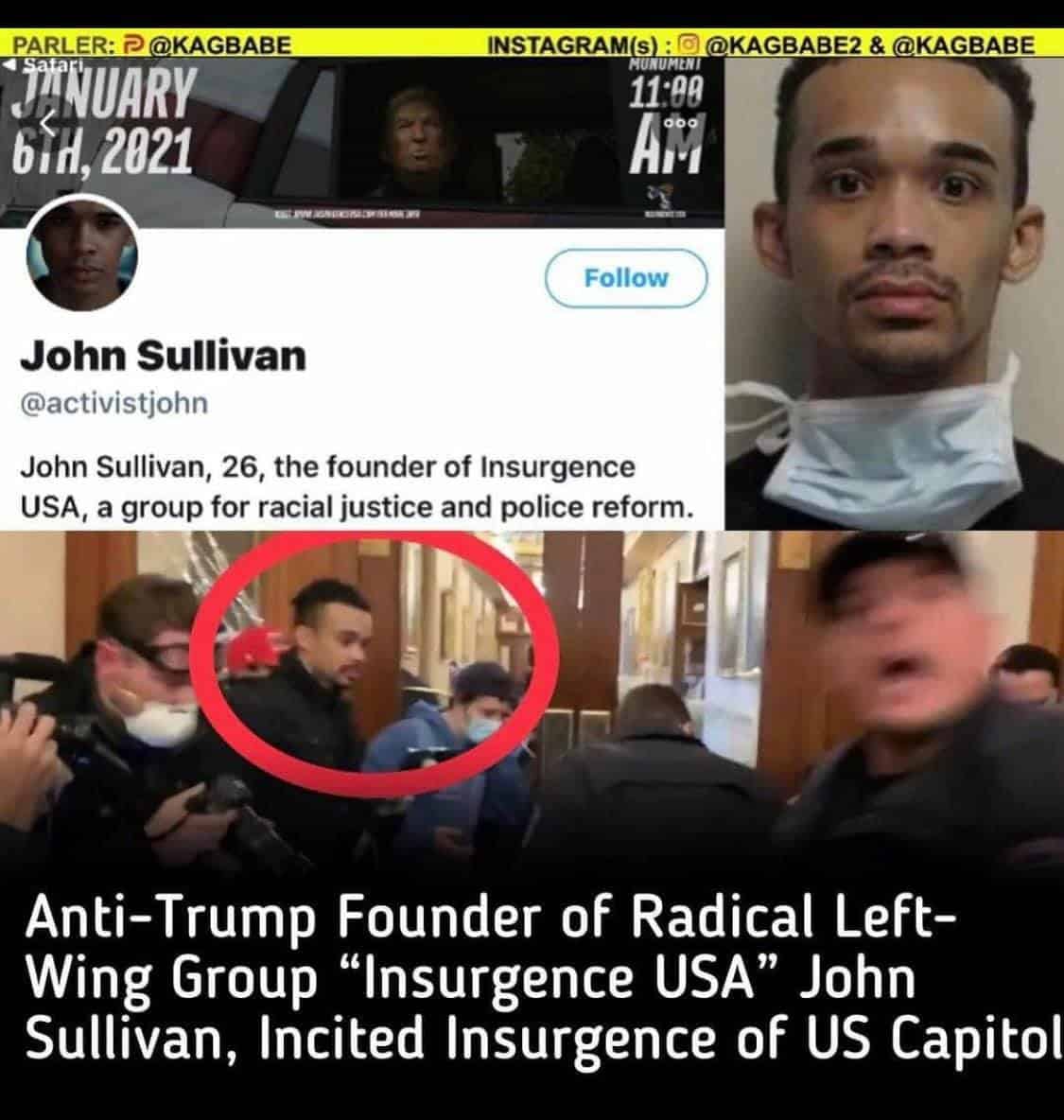 The meme was posted on the Facebook platform by former, reformed Latin Kings gang member Kash Lee Kelly on his Facebook page with 376,000 followers.
Kelly for his part is also facing charges of storming the U.S. Capitol building on Jan. 6 and for violating the terms of his bond while awaiting sentencing on 2017 narcotics distribution charges from the Justice Department with his travel to Washington, D.C. on the day of the riot.
On one video posted on social media, Kelly stated his rationale for going into the Capitol: "We feel like our voices weren't being heard which is why we ran through that Capitol Building. To let them know this is our house, and we were united, black, brown, red, yellow, didn't matter … white, everybody stood together, we ran through that building and let them know this is our house, this is our country, and that's our President… And we're not going to let them (expletive) with us, man, (expletive) with our liberty and our freedoms, we're going to keep doing what we are doing."
To justify the warning label on the meme of Sullivan in the Capitol, Facebook links users to a Politifact article, "Facebook posts wrongly claim left-wing activist, antifa 'incited' U.S. Capitol mob." The article finds the meme to be "mostly false" and in an updated version of the article cited an FBI affidavit to claim "The affidavit does not say Sullivan led the mob."
But the FBI affidavit in question submitted by the Justice Department in court filings against Sullivan clearly states that Sullivan is on video leading the crowd and inciting violence: "SULLIVAN then can be seen leading the crowd in a chant of, 'it's time for a revolution.'"
The affidavit added, "The United States obtained a video of SULLIVAN, posted on YouTube, in which, while attending a protest in Washington, D.C., SULLIVAN can be seen telling a crowd, over a microphone, 'we about to burn this shit down,' 'we got to rip Trump out of office . . . fucking pull him out of that shit . . . we ain't waiting until the next election . . . we about to go get that motherfucker.'" One of the videos shows Sullivan simultaneously filming and participating in the riot and urging rioters onward, and also captures the fatal shooting of Air Force veteran Ashli Babbitt by a Capitol Hill police officer as she attempted to breach a perimeter in the Capitol Building.
Despite clear evidence to the contrary,  Politifact, the self-appointed paragon of the truth, did not change its verdict: "This fact-check was updated to include more detail from Sullivan's video at the Capitol. Our ruling remains the same."
As such, the warning label remains on the original photograph meme on Facebook. And yet in this case clearly Politifact got the facts wrong. It cited an FBI affidavit that states "SULLIVAN then can be seen leading the crowd in a chant of, 'it's time for a revolution'" to falsely claim "The affidavit does not say Sullivan led the mob."
Talk about missing context. Did Politifact even read the full affidavit?
It is fair to say that Sullivan is not singularly responsible for the riot at the Capitol for his statements at the event, everyone who was there that day trespassing and in some cases attacking police officers are to blame. There were many others, including right-wing militia groups who Justice Department filings show were planning the Capitol breach as early as Jan. 1 on Facebook.
The point is, there are individuals from across the political spectrum who are being charged with storming the Capitol. Some, like Kelly, were there to support former President Donald Trump and others, like Sullivan, was there to oppose him and was clearly acting as an agent provocateur.
Others still were pre-planning the attack. The FBI just revealed via a wanted poster that the two bombs placed outside the Republican National Committee and the Democratic National Committee set to go off on Jan.6 were planted the night before on Jan. 5.
All are being charged, as well they should. Political violence is never justified, particularly in this context where the rioters were disrupting the certification of and objections to the certification of the 2020 election by Congress.
Now, all of that nuance does not neatly fit in the media and Democratic Party-driven narrative that it was former President Donald Trump who directed the riot, when in fact on Jan. 6 he called for protesters to be peaceful: "We have come to demand that Congress do the right thing and only count the electors who have been lawfully slated, lawfully slated. I know that everyone here will soon be marching over to the Capitol building to peacefully and patriotically make your voices heard."
But the truth still matters. That fact is multiple groups attacked the Capitol on Jan. 6, in some cases pre-planning it. And there clearly were some members of the crowd who were actively inciting violence. Meaning, it was not incited by Trump. But don't expect to read about that in Politifact.
Robert Romano is the Vice President of Public Policy at Americans for Limited Government.