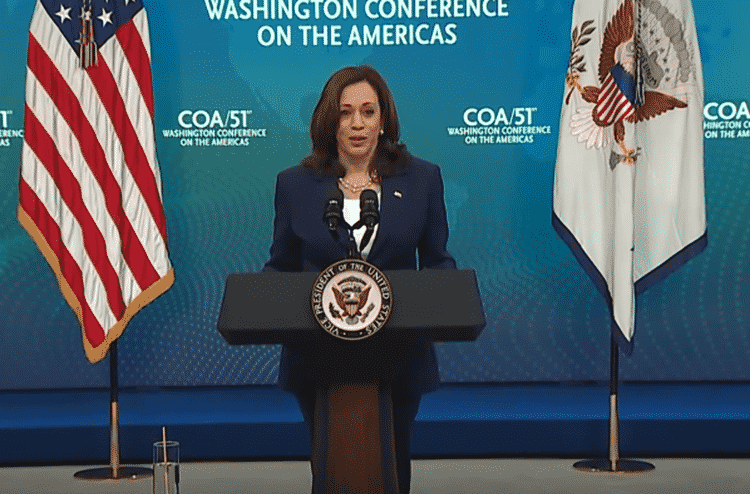 By Rick Manning
Vice President Kamala Harris and Secretary of State Antony Blinken expressed their deep concerns about the state of 'El Salvador's democracy' on Sunday after President Nayib Bukele and his supporters in the legislature voted to fire all five of the Justices on the El Salvador Supreme Court in retaliation for their striking down some of Bukele's policies as unconstitutional.
"An independent judiciary is critical to a healthy democracy and a strong economy. On this front, on every front, we must respond," Harris told the Washington Conference on the Americas.
Has there ever been a less self-aware administration in American history than the Biden-Harris group?
Here in America, President Biden and Vice President Harris' supporters in Congress are actively pushing a scheme to pack the U.S. Supreme Court out of fear that the Court might strike down some of Biden's policies as unconstitutional.
Exactly what the Bukele regime is doing in El Salvador.
So far, Biden has threatened to eliminate the Senate filibuster to pass major legislation. In response, House Democrats released legislation to increase the number of Supreme Court justices to 13 from the current nine that has stood since 1869, under the Judiciary Act of 2021.
The current law, 28 U.S.C. Sec. 1, states, "The Supreme Court of the United States shall consist of a Chief Justice of the United States and eight associate justices, any six of whom shall constitute a quorum." To amend that would normally take 60 votes in the Senate to overcome a Republican-led filibuster.
One of the new bill's cosponsors, U.S. Rep. Mondaire Jones (D-N.Y.) on Twitter declared, "Supreme Court expansion is infrastructure," indicating Democrats might push the bill through on budget reconciliation, and just skip the niceties of Senate rules on permanent changes to law.
If Harris wants to set an example for El Salvador about the importance of an independent judiciary, she and her partner in the White House could urge passage of the Keep Nine constitutional amendment to ensure that neither political party can change the make-up of the Court without the much more difficult amendment process.
Currently, HJR 11 in the House has 160 sponsors, and SJR 9 in the Senate has 18 cosponsors.  Shockingly not one of them is a Democrat.
The Vice President should either prove her support for an independent judiciary by opposing court packing in America, or quit worrying about it when a foreign nation steals a page from the Democrats' playbook.
When it comes to court packing, it is time for Biden and Harris to practice what they preach.
Rick Manning is the President of Americans for Limited Government.