House Speaker Nancy Pelosi schmoozes with Democrats while unmasked  after fining GOP lawmakers for not masking.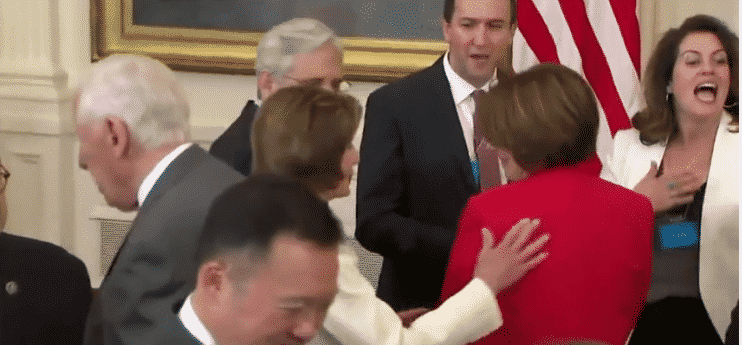 By Frank McCaffrey
According to a story in the Post Millennial, House Speaker Nancy Pelosi issued fines to Republican lawmakers who insisted on following CDC guidance and remained unmasked on the House floor. Pelosi then went to an event at the White House where she and other unmasked Democrats talked together within spitting distance, shook hands, and even embraced.
"Pelosi could be seen schmoozing it up with other Democrat lawmakers, when only two days before she had been issuing orders for GOP legislators to mask up.

"Earlier on Thursday, Pelosi had issued fines to six GOP lawmakers for not masking on the House floor. South Carolina's Rep. Ralph Norman was one of those congressmen. So was Georgia's Marjorie Taylor Greene.

"Pelosi's rules demand compliance from representatives, only allowing them to show their full faces when they are speaking during debate, the New York Post reports. The breaking of those rules results in fines of $500 for first time rule-breakers, and $2,500 if they go for round two.

"Pelosi's House Sergeant-at-Arms sent a letter to representatives after their Tuesday behavior, telling them to mask up or they would be forced to pay up. Two reps chucked the letters, and suffered fines. Six members of the House GOP refused to mask while voting on bills on Tuesday.

"Members Lauren Boebert of Colorado, Kentucky's Thomas Massie, Georgia's Marjorie Taylor Greene, Texas' Chip Roy of Texas, Virginia's Bob Good, Texas' Louie Gohmert and Illinois' Mary Miller all received letters. Fines were issued to Florida's Brian Mast, Iowa's Mariannette Miller-Meeks, and Texas' Beth Van Duyne.
Massie and Greene were both publicly defiant, showing what they thought of the letter by dumping it in a waste bin and posting the picture on Twitter.
Just filed @SpeakerPelosi's letter warning me to follow her mask rule. pic.twitter.com/KwKlbAV0Ml

— Thomas Massie (@RepThomasMassie) May 19, 2021
Greene shared video of her defiance, saying "You can't discriminate against people simply because they won't wear a mask, and today, I refused to wear a mask on the House floor and I received a warning from Speaker Pelosi that leads to fines if I continue to refuse to wear a mask. Well, here's what I think of your warning, Speaker Pelosi," and then she ran the pages through a shedder.
This is what I think of Speaker Pelosi's letter. #FreeYourFace pic.twitter.com/9uujzmtCCP

— Marjorie Taylor Greene 🇺🇸 (@mtgreenee) May 19, 2021
According to the Post Millennial, the Speaker wants everyone in the House to get vaccinated before she'll lift the requirement. About 75 percent of representatives are vaccinated.
But the GOP has said that they are following CDC masking guidance, which says that vaccinated folks don't need to mask, inside or out. Pelosi's rule is only for the House chamber, too, and in the rest of the Capitol people can roam mask-free.
"We have a responsibility to make sure the House of Representatives' chamber is not a petri dish," Pelosi said. "Until they are vaccinated, we cannot have meetings without masks."
Frank McCaffrey is Director of News for the Americans for Limited Government Foundation.