"Not only has Biden done nothing to secure the border, he has actively made it worse."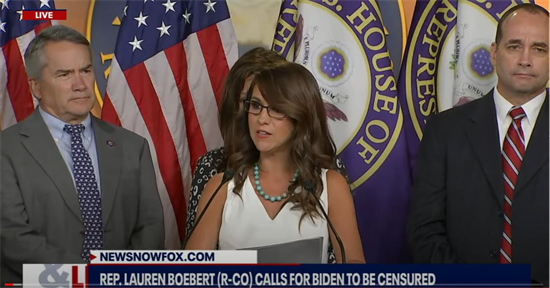 Rep. Lauren Boebert (R, Colo.) and 22 House Republicans have introduced a bill to censure President Joe Biden and hold him accountable for his dereliction of duty at our southern border.
Rep. Boebert traveled to the border in February, again this month to see how much worse the crisis has gotten under Biden's watch. Neither Biden nor his 'border czar' Vice President Kamala Harris have visted the border since taking office. Secretary of Homeland Security Alejandro Mayorkas falsely claims that the border is secure.
"My censure bill holds President Biden accountable for his actions—or lack thereof—at the border," Boebert said. "Not only has Biden done nothing to secure the border, he has actively made it worse by implementing policies that incentivize illegal immigration like amnesty, catch and release, and abolishing the remain in Mexico policy. The result of Biden's mismanagement is staggering, and the numbers speak for themselves."
The border is a national security and humanitarian crisis. According to a press release from Rep. Boebert:
Under President Trump, there were 1,400 children in HHS custody at the border. Today there are 22,000.
Over 1 million illegal aliens have been encountered by Customs and Border Patrol (CBP) since Biden took office, including a record-breaking 180,000 illegal aliens in May.
Since Biden took office, CBP arrested 1,413 alien drug smugglers—up from 386 last year.
Since Biden took office, CBP arrested 40 alien murderers—up from 3 last year.
Since Biden took office, CBP arrested 353 alien sex offenders—up from 156 last year.
Since Biden took office, CBP arrested 1,118 aliens for DUIs—up from 364 last year.
In just the first four months of Biden's term, enough fentanyl to kill every American four times over has been interdicted by Border Patrol.
To read the full text of the censure bill click here.
Instead of trying to fix the crisis, President Biden has proactively made it worse. One of Biden's first acts was to reinstate "catch and release," making it almost impossible for DHS to do its job. In President Trump's last month in office, Border Patrol released just 18 illegal immigrants, but in May, Biden released over 26,000 illegal immigrants into communities across the country. Since he took office, Biden has released almost 100,000 illegal aliens.
Article II, Section 3 of the United States Constitution imposes a duty on the President to "take Care that the Laws be faithfully executed," but President Biden has been derelict in his duty. Specifically, he has not enforced the Immigration and Nationality Act, which requires the President to detain illegal aliens and enforce border security measures. On February 18, 2021, President Biden exhibited even more disrespect for the law by allowing criminal aliens with felony records to remain in the United States.
Rep. Boebert said President Biden usurped legislative power from Congress and violated the Impoundment Control Act by unilaterally deciding that funds Congress had specifically appropriated to build the border wall would not be spent on building the wall.
President Biden's egregious, unconstitutional actions threaten America's standing as a constitutional republic built on law and order.
Rep. Boebert's bill reaffirms the constitutional precedent that the president is not free to ignore duly-passed laws enacted by Congress and to exercise control over appropriations. President Biden's unilateral actions are unlawful, and Rep. Boebert's legislation holds him accountable for threatening Americans' safety, disrespecting the law, and degrading the Office of the President.
Rep. Boebert's bill is supported by: American Principles Project, Citizens for Renewing America, Eagle Forum, Federation for American Immigration Reform (FAIR), Heritage Action, and NumbersUSA.
22 Members of Congress joined Rep. Boebert introducing her bill including: Reps. Andy Biggs, Dan Bishop, Madison Cawthorn, Jeff Duncan, Pat Fallon, Matt Gaetz, Louie Gohmert, Bob Good, Paul Gosar, Morgan Griffith, Diana Harshbarger, Jody Hice, Ronny Jackson, Thomas Massie, Alex Mooney, Barry Moore, Troy Nehls, Ralph Norman, Marjorie Taylor Greene, Bill Posey, Lance Gooden, and Randy Weber.
Catherine Mortensen is Vice President of Communications at Americans for Limited Government.